Arterial cardiovascular diseases and risk of venous thromboembolism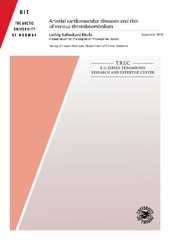 View/Open
Thesis introduction, paper I + paper II (PDF)
(PDF)
(PDF)
Entire thesis in one comprehensive file (PDF)
Date
2018-12-12
Type
Doctoral thesis
Doktorgradsavhandling
Abstract
Despite differences in epidemiology, pathology, and treatment, growing evidence suggests a bidirectional relationship between venous thromboembolism (VTE), a collective term for pulmonary embolism (PE) and deep vein thrombosis (DVT), and arterial cardiovascular diseases (CVD, i.e., myocardial infarction [MI] and ischemic stroke). The aim of this thesis was to investigate the impact of atherosclerosis, MI and ischemic stroke on the risk of incident VTE. Additionally, we aimed to investigate the effect of prothrombotic genotypes and ischemic stroke on the risk of VTE. We recruited study participants from the Tromsø Study, a population-based, prospective cohort study. In all four papers, we used participants from the fourth, fifth and six survey of the Tromsø Study. In paper I, the participants consisted of a subgroup from the Tromsø Study with a more extensive examination, including ultrasonography of the carotid artery. In paper IV, a subgroup of participants with extended genetic analysis was included. We found no association between the formation or progression of asymptomatic atherosclerosis and risk of VTE in time-varying analyses. However, MI and ischemic stroke were associated with a transient risk of VTE after adjusting for potential confounding factors. The study participants with MI had a particularly high risk of developing PE. After both MI and stroke, the risk was particularly high for provoked VTE events. The proportion of patients immobilized before the VTE event was substantially higher in those with compared in those without stroke. We also found a synergistic effect of ischemic stroke and prothrombotic genotypes on the risk of VTE. The risk increased gradually with the number of risk alleles. Our findings imply that incident MI and ischemic stroke are associated with an increased transient risk of VTE, and that genetic risk factors are important in the development of VTE after stroke. The transient nature of the VTE risk suggests that indirect (e.g., hospitalization, immobilization) or direct (e.g. activation of the coagulation system) mechanisms related to the arterial CVD are primarily responsible for the observed association.
Til tross for klare forskjeller i forekomst, sykdomsmekanisme og behandling, er det flere studier som indikerer en sammenheng mellom venøs tromboembolisme (VTE), et samlebegrep for lungeemboli (LE) og dyp venetrombose (DVT), og arterielle kardiovaskulære sykdommer som hjerteinfarkt og iskemisk hjerneslag. Målet med denne avhandlingen har vært å undersøke om aterosklerose, hjerteinfarkt og hjerneslag øker risikoen for VTE i den generelle befolkning. I tillegg har vi undersøkt om kombinasjonen av slag og trombotiske risikogener ga en samlet økt effekt på risikoen for VTE. Studiedeltakerne ble rekruttert fra Tromsøundersøkelsen, en stor prospektiv befolkningsbasert kohortestudie. I alle fire artiklene brukte vi deltakere fra den fjerde, femte og sjette Tromsøundersøkelsen. I artikkel I besto studiedeltakerne av en undergruppe som fikk en utvidet undersøkelse som inkluderte ultralydundersøkelse av halspulsåren. Deltakerne inkludert i artikkel IV bestod av en undergruppe som fikk utført genetiske analyser. Vi fant ingen sammenheng mellom nydannelse eller progresjon av aterosklerose og økt risiko for VTE. Derimot fant vi at både hjerteinfarkt og slag økte risikoen for VTE. For både hjerteinfarkt- og slagpasienter var risikoen for VTE høyest de første månedene etter den opprinnelige hendelsen. Særlig var risikoen for provosert VTE høy hos disse pasientene. Pasienter med hjerteinfarkt har særlig høy risiko for å utvikle LE. Slagpasientene hadde en høyere grad av immobilisering før VTE-hendelsen enn pasienter uten slag. Vi fant at kombinasjonen slag og risikogener ga en høyere risiko for VTE enn de isolerte faktorene. Risikoen ble høyere jo flere risikogener pasientene hadde. Våre funn tyder på at pasienter som får hjerteinfarkt eller hjerneslag har en større risiko for å få VTE, men at denne risikoen er begrenset til den første tiden etter hendelsen. Videre har slagpasienter med protrombotiske gener høyere risiko for VTE enn slagpasienter uten disse genene. Den forbigående risikoen for VTE tyder på at er indirekte eller direkte mekanismer relatert til de kardiovaskulære sykdommene som er hovedgrunnen til den observerte assosiasjonen.
Has part(s)
Paper I: Småbrekke, B., Rinde, L.B., Hald, E.M., Njølstad, I., Mathiesen, E.B., Johnsen, S.H., … Lijfering, W.M. (2017). Repeated Measurements of Carotid Atherosclerosis and Future Risk of Venous Thromboembolism. The Tromsø Study. Journal of Thrombosis and Haemostasis, 15: 2344–2351. The article is available in the thesis introduction. Also available at https://doi.org/10.1111/jth.13858.
Paper II: Rinde, L.B., Lind, C., Småbrekke, B., Njølstad, I., Mathiesen, E.B., Wilsgaard, T. … Hansen, J.B. (2016). Impact of incident myocardial infarction on the risk of venous thromboembolism. The Tromsø Study. Journal of Thrombosis and Haemostasis, 14: 1183-1191. The article is available in the thesis introduction. Also available at https://doi.org/10.1111/jth.13329.
Paper III: Rinde, L.B., Småbrekke, B., Mathiesen, E.B., Løchen, M.L., Njølstad, I., Hald, E.M. … Hansen, J.B. (2016). Ischemic Stroke and Risk of Venous Thromboembolism in the General Population: The Tromsø Study. Journal of American Heart Association, 5:e004311. Also available at https://doi.org/10.1161/JAHA.116.004311.
Paper IV: Rinde, L.B., Morelli, V., Småbrekke, B., Mathiesen, E.B., Løchen, M-L., Njølstad, I. … Hansen, J.B. Effect of prothrombotic genetic variants on the risk of venous thromboembolism in patients with ischemic stroke. The Tromsø Study. (Submitted manuscript).
Publisher
UiT The Arctic University of Norway
UiT Norges arktiske universitet
Collections
Copyright 2018 The Author(s)
The following license file are associated with this item:
Related items
Showing items related by title, author, creator and subject.
Andersen, Sigve

;

Dønnem, Tom

;

Al-Shibli, Khalid Ibrahim

;

Al-Saad, Samer

;

Stenvold, Helge

;

Busund, Lill-Tove

;

Bremnes, Roy M.

(

Journal article; Tidsskriftartikkel; Peer reviewed

,

2011

)

Angiopoietins and their receptor Tie-2 are, in concert with VEGF-A, key mediators in angiogenesis. This study evaluates the prognostic impact of all known human angiopoietins (Ang-1, Ang-2 and Ang-4) and their receptor Tie-2, as well as their relation to the prognostic expression of VEGF-A. 335 unselected stage I-IIIA NSCLC-patients were included and tissue samples of respective tumor cells and ...

Frid, Paula

(

Doctoral thesis; Doktorgradsavhandling

,

2020-10-02

)

The temporomandibular joint (TMJ) is commonly involved in juvenile idiopathic arthritis (JIA), and may lead to impaired mouth opening, pain and facial growth disturbances. Asymptomatic TMJ arthritis may be diagnosed late in the disease course, thus management is challenging. The overall objectives of this thesis were to provide new knowledge on quality of life (QoL), the oral microbiome and interventions ...

Gabrielsen, Endre

(

Master thesis; Mastergradsoppgave

,

2012-06-01

)

I 1983 oppdaget zur Hausen sammenhengen mellom Humant Papillomavirus (HPV) og livmorhalskreft. På denne tiden visste man ikke at det var HPV som var årsaken til at Helaceller kunne leve in vitro. Ny forskning relaterer HPV til en rekke andre cancertyper. En stor andel anal-, oropharyngeal-, penis-, vaginal-, og vulvacancer skyldes HPV. Det er også påvist HPV i tumorvev fra øsofagus, larynx, lunge, ...