The role of complement and Toll-like receptors in thromboinflammation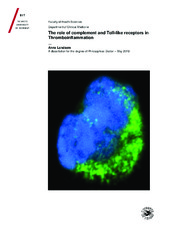 View/Open
Thesis introduction + paper II (PDF)
(PDF)
(PDF)
Date
2019-05-23
Type
Doctoral thesis
Doktorgradsavhandling
Abstract
Sepsis fra bakterier er en alvorlig tilstand som årlig krever mange liv. Selv om immunsystemet og det hemostatiske system samarbeider for å bekjempe bakterieinfeksjoner, kan dette i noen tilfelle skyte over mål. Derfor har vi i denne studien undersøkt om bakterieindusert aktivering av koagulasjon og inflammasjon reduseres av en dobbelthemming av komplementsystemet og toll-like reseptorer (TLR). Det ble benyttet en human fullblodsmodell for inflammasjon der blod fra friske givere tilsettes spesifikke hemmere av komplement og TLR etter stimulering med bla. Gram-negative og Gram-positive bakterier. Etter at rørene ble inkubert i ønsket tid kunne ulike analytter måles ved hjelp av flowcytometri, immunoassay (ELISA), tromboelastometri og polymerase kjedereaksjonen (qPCR). Den kombinerte behandlingen reduserte den Escherichia coli (E.coli)-induserte koagulasjonsaktiveringen målt som protrombin fragment 1+2 og vevsfaktor målt på mRNA nivå, uttrykt på monocyttenes overflate og uttrykt på mikropartikler i plasma. C1-INH, en multifunksjonell serin protease inhibitor, reduserte også denne bakterie-induserte koagulasjonsaktiveringen målt med tromboelastometri. Hemming av komplementfaktor C5 hadde også betydning for E.coli-indusert koagulasjon, men påvirket ikke koagulasjonen under normale forhold. Anti-CD14, som hemmer flere TLR enn den spesifikke TLR4/MD2 hemmeren eritoran, gav mest effektiv hemming av den bakterieinduserte vevsfaktoren og den inflammatoriske responsen. Komplementsystemet og TLR er begge nødvendig for å gjenkjenne bakteriene og starte den inflammatoriske responsen ved sepsis. En kombinert hemming ser ut til å kunne hindre overaktiveringen av denne responsen. Imidlertid gjenstår mye arbeid før kombinasjonshemmingen kan bli en del av sepsisbehandlingen sammen med antibiotika, og viktig støttende terapi som vasopressor og intravenøs væske.
Sepsis is a serious and complex disease leading to 5 million deaths worldwide every year. Although the immune system is working hard to overcome the bacteria, the inflammatory response can escalate and attack the host. Antibiotic is given to kill the bacteria. By studying the complement system, and important part of primary immune system, and its reaction with another part of this system, the Toll-like receptors (TLRs), we aimed to improve the treatment of sepsis. We used a human blood model of inflammation developed at our Research Laboratory. Bacteria was added to blood from healthy donors and specific inhibitors of complement and TLRs were investigated as possible candidate drugs to treat sepsis. We observed that each of the two inhibitors reduced the detrimental effects induced by the bacteria, while the combination of the two virtually abolished bacteria-induced clotting and inflammatory responses. The thesis has given knowledge that may contribute to new treatment of sepsis.
Has part(s)
Paper I: Landsem, A., Fure, H., Christiansen, D., Nielsen, E.W., Østerud, B., Mollnes, T.E. & Brekke, O.L. (2015). The key roles of complement and tissue factor in Escherichia coli-induced coagulation in human whole blood. Clinical & Experimental Immunology, 182(1), 81-89. The paper is not available in Munin due to publisher restrictions. Available at https://doi.org/10.1111/cei.12663.
Paper II: Landsem, A, Fure, H., Mollnes, T.E., Nielsen, E.W. & Brekke, O.L. (2015). C1-inhibitor efficiently delays clot development in normal human whole blood and inhibits Escherichia coli-induced coagulation measured by thromboelastometry. Thrombosis Research, 143, 63-70. The paper is available in the thesis introduction. Also available at https://doi.org/10.1016/j.thromres.2016.04.024.
Paper III: Landsem, A., Fure, H., Ludviksen, J.K., Christiansen, D., Lau, C., Mathisen, M.T. … Brekke, O.L. (2018). Complement component 5 does not interfere with physiologic hemostasis but is essential for Escherichia coli-induced coagulation accompanied by Toll-like receptor 4. Clinical and Experimental Immunology, 196(1), 97-110. Also available at https://hdl.handle.net/10037/14751.
Paper IV: Gustavsen, A, Nymo, S., Landsem, A., Christiansen, D., Ryan, L., Husebye, H. … Mollnes, T.E. (2016). Combined Inhibition of Complement and CD14 Attenuates Bacteria-Induced Inflammation in Human Whole Blood More Efficiently Than Antagonizing the Toll-like Receptor 4-MD2 Complex. The Journal of Infectious Diseases, 214(1), 140-150. Also available at https://hdl.handle.net/10037/10421.
Publisher
UiT The Arctic University of Norway
UiT Norges arktiske universitet
The following license file are associated with this item:
Related items
Showing items related by title, author, creator and subject.
Andersen, Sigve

;

Dønnem, Tom

;

Al-Shibli, Khalid Ibrahim

;

Al-Saad, Samer

;

Stenvold, Helge

;

Busund, Lill-Tove

;

Bremnes, Roy M.

(

Journal article; Tidsskriftartikkel; Peer reviewed

,

2011

)

Angiopoietins and their receptor Tie-2 are, in concert with VEGF-A, key mediators in angiogenesis. This study evaluates the prognostic impact of all known human angiopoietins (Ang-1, Ang-2 and Ang-4) and their receptor Tie-2, as well as their relation to the prognostic expression of VEGF-A. 335 unselected stage I-IIIA NSCLC-patients were included and tissue samples of respective tumor cells and ...

Gabrielsen, Endre

(

Master thesis; Mastergradsoppgave

,

2012-06-01

)

I 1983 oppdaget zur Hausen sammenhengen mellom Humant Papillomavirus (HPV) og livmorhalskreft. På denne tiden visste man ikke at det var HPV som var årsaken til at Helaceller kunne leve in vitro. Ny forskning relaterer HPV til en rekke andre cancertyper. En stor andel anal-, oropharyngeal-, penis-, vaginal-, og vulvacancer skyldes HPV. Det er også påvist HPV i tumorvev fra øsofagus, larynx, lunge, ...

Songstad, Nils Thomas

(

Doctoral thesis; Doktorgradsavhandling

,

2014-09-18

)

Objectives: To investigate how cardiac function, remodeling and gene expression are affected in pregnancy in response to cardiovascular stress, to detect possible adverse effects on the fetus, and to evaluate if coronary endothelial function is influenced by pregnancy and increased cardiac afterload. Methods: Pregnant and non-pregnant rats were subjected to chronic AngII-infusion, transverse aortic ...