Rettighetsvurdering og kvalitet på henvisninger - grad av samsvar mellom fire smertesentre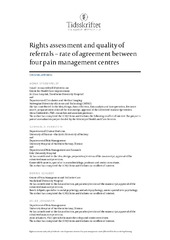 View/Open
Published version
in English (PDF)
Published version
in Norwegian (PDF)
Date
2019-05-24
Type
Journal article
Tidsskriftartikkel
Peer reviewed
Abstract
BAKGRUNN - Langvarige smerter er et utbredt helseproblem. De fire regionale tverrfaglige smertesentrene i Norge mottar årlig ca. 5 000 henvisninger fra fastleger og spesialisthelsetjenesten. Et likeverdig tilbud tilsier at henvisninger bør vurderes likt. Formålet med studien var å evaluere grad av samsvar mellom smertesentrenes inntaksteam i vurdering av kvalitet på mottatte henvisninger og i vurdering av pasientenes rett til nødvending helsehjelp.
MATERIALE OG METODE - Hvert inntaksteam vurderte 40 henvisninger. De foretok «primærvurdering» av 10 ordinært mottatte henvisninger og «sekundærvurdering» av 30 henvisninger sendt ordinært til de øvrige sentrene. Hver henvisning ble kvalitets- og rettighetsvurdert ved hvert senter. Andel enighet og intraklassekorrelasjonskoeffisient (ICC) ble brukt for å vurdere samsvar mellom inntaksteamene.
RESULTATER - Kvaliteten på henvisningene ble vurdert som «ikke god» i 45 % av primærvurderingene og i 43 % av sekundærvurderingene. Samsvar mellom inntaksteamene varierte fra lavt (ICC = 0,19) til moderat (ICC = 0,74). Primærvurderingene og sekundærvurderingene ga begge 63 % av pasientene «rett til helsehjelp». Andel enighet var samlet sett 69 %, dvs. lavere enn det som regnes som «akseptabel enighet» (75 %).
FORTOLKNING - Studien viser at det er behov for strukturerte henvisninger, og at inntaksteamene i større grad bør samstemmes i vurderingene sine for å sikre et likeverdig tilbud på tvers av helseregionene.
BACKGROUND - Chronic pain is a widespread health problem. The four regional interdisciplinary pain management centres in Norway receive approximately 5 000 referrals from GPs and the specialist health service annually. Equality in service provision requires referrals to be identically assessed. The objective of the study was to evaluate the degree of correspondence between the admission teams in the pain management centres in their assessment of the quality of the referrals received and in their assessment of the patients' right to necessary health care.
MATERIAL AND METHOD - Each admission team assessed 40 referrals. They undertook a 'primary assessment' of 10 referrals received in the regular manner and a 'secondary assessment' of 30 referrals sent in the regular manner to the other centres. Each referral was assessed for quality and rights in each centre. The proportion of agreement and the intra-class correlation coefficient (ICC) were used to assess correspondence between the admission teams.
RESULTS - The quality of the referrals was deemed 'not good' in 45 % of the primary assessments and 43 % of the secondary assessments. The degree of correspondence varied from low (ICC = 0.19) to moderate (ICC = 0.74). The primary and secondary assessments both granted 63 % of the patients 'the legal right to health care'. The overall degree of correspondence was 69 %, i.e. lower than what is considered 'acceptable agreement' (75 %).
INTERPRETATION - The study shows that there is a need for structured referrals, and for the admission teams to harmonise their assessments to a greater degree in order to ensure equality in service provision across the health regions.
Publisher
Den norske legeforening
Norwegian Medical Association
Citation
Stedenfeldt M, Kvarstein G, Schjødt B, Johansen A, Berntsen, Brautaset A, Halsteinli V. Rettighetsvurdering og kvalitet på henvisninger - grad av samsvar mellom fire smertesentre. Tidsskrift for Den norske legeforening. 2019;139(9)
Collections
Copyright 2019 The Author(s)