Advanced Non-small Cell Lung Cancer Effects of Chemotherapy and Impact on Health Related Quality of Life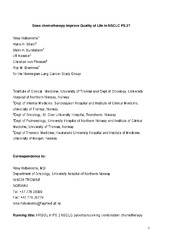 View/Open
Nina Helbekkmo; Hans H. Strøm; Stein H. Sundstrøm; Ulf Aasebø; Christian Von Plessen; Roy M. Bremnes; for the Norwegian Lung Cancer Study Group: 'Does chemotherapy improve Quality of Life in NSCLC PS 2?' (Accepted version, reprinted with permission). Published with slightly different title: Acta Oncologica 2009, Vol. 48, No. 7, Pages 1019-1025 (Taylor & Francis), available at
http://dx.doi.org/10.1080/02841860902795240
(PDF)
Thesis introduction (PDF)
Date
2009-03-13
Type
Doctoral thesis
Doktorgradsavhandling
Abstract
Avhandlingen presenterer behandlingseffekt, bivirkninger og livskvalitet hos lungekreftpasienter som får moderne cellegiftbehandling. Pasientene med performance status (PS) 2 er etterpå vurdert separat.

Avhandlingens tittel er "Advanced non-small cell Lung Cancer – Effects of Chemotherapy and Impact on Health Related Quality of Life". Den ble forsvart for graden PhD 13.03.2009. På verdensbasis er lungekreft den vanligste kreftsykdommen og den som forårsaker flest kreftrelaterte dødsfall. I Norge dør rundt 2000 mennesker av lungekreft hvert år. De fleste pasientene har langtkommet sykdom og kan ikke kureres. Målet med behandling er forlengelse av livet og best mulig livskvalitet. Avhandlingen tar utgangspunkt i VING-studien som ble gjennomført for å undersøke om det var ulik overlevelse, bivirkningsprofil og livskvalitet forbundet med to ulike cellegiftkombinasjoner. Ca 40 % av pasientene med langtkommet lungekreft er i dårlig allmenntilstand ved diagnosetidspunktet. I avhandlingen vurderes nytte og effekt av behandlingen for pasienter med PS 2.

VING-studien var en nasjonal multisenter fase III studie utgått fra Norsk Lungekreftgruppe. Fra september 2003 til desember 2004 inkluderte 33 sykehus over hele landet 432 pasienter i studien. Pasientene fikk tre cellegiftkurer med tre ukers mellomrom, enten vinorelbin/carboplatin, eller gemcitabin/carboplatin. De fylte ut livskvalitetsskjema ved studiens start, før hver kur og deretter regelmessig ved kontroller. Sammenligning av de to behandlingsalternativene viste at overlevelse og livskvalitet var den samme, men at behandling med vinorelbin gir mindre tiltakskrevende bivirkninger. Som en konsekvens av dette, ble cellegiftkombinasjonen vinorelbin/carboplatin standardbehandling ved langtkommet lungekreft i Norge. Undersøkelser av hvordan PS 2 pasientene tålte behandlingen, viste at disse hadde gevinst av behandlingen. De oppnådde bedring i generell livskvalitet og pusteproblemer, samt mindre smerter, utmattelse, søvn- og appetittproblemer. Man frykter at cellegiftbehandling er en for stor påkjenning for de sykeste, men disse resultatene tyder på at man i større grad enn tidligere bør tilby behandling til pasienter som ønsker det.
Description
Papers number 1 and 2 of the thesis are not available in Munin, due to publishers' restrictions:
1. Helbekkmo N, Sundstrom SH, Aasebo U, Brunsvig PF, von Plessen C, Hjelde HH, Garpestad OK, Bailey A, Bremnes RM; for the Norwegian Lung Cancer Study Group: 'Vinorelbine/carboplatin vs gemcitabine/carboplatin in advanced NSCLC shows similar efficacy, but different impact of toxicity.' British Journal of Cancer (2007) 97, 283-289 (Nature Publishing Group). Available at
http://dx.doi.org/10.1038/sj.bjc.6603869
2. Helbekkmo N, Aasebø U, Sundstrøm SH, von Plessen C, Brunsvig PF, Bremnes RM; for the Norwegian Lung Cancer Study Group: 'Treatment outcome in performance status 2 advanced NSCLC patients administered platinum-based combination chemotherapy.' Lung Cancer (2008) 62, 253-260 (Elsevier). Available at
http://dx.doi.org/10.1016/j.lungcan.2008.03.003
Publisher
Universitetet i Tromsø
University of Tromsø
Collections
Copyright 2009 The Author(s)
The following license file are associated with this item: