Old antibiotics as alternative treatment options for urinary tract infections caused by ESBL-, AmpC- and carbapenemase-producing Escherichia coli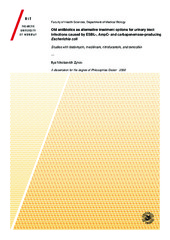 View/Open
Thesis introduction, papers 2 and 3 (PDF)
Entire thesis in one comprehensive file (PDF)
File(s) with restricted access are under embargo until
2025-05-25
Date
2020-05-25
Type
Doctoral thesis
Doktorgradsavhandling
Abstract
Multidrug-resistant (MDR) bacteria, including Escherichia coli, producing extended-spectrum β-lactamase (ESBL), AmpC or carbapenemases, are acknowledged among the most significant global health threats. Growing rates of MDR E.coli can lead to an increase in the use of reserve antimicrobials. Re-introducing "old antimicrobials" could offer a timely solution. This work aimed at evaluating the role of fosfomycin, mecillinam, temocillin, and nitrofurantoin as the treatment options for urinary tract infections (UTIs) caused by MDR ESBL-, AmpC-, and carbapenemase-producing E. coli. In paper 1, we investigated the susceptibility patterns among a Norwegian nationwide collection of ESBL-producing E. coli from 2010-2011. A high proportion of isolates (91-100%) was sensitive to fosfomycin, mecillinam, temocillin, and nitrofurantoin and had low co-resistance. This is comparable to amikacin and carbapenems (95-100%). In contrast, high levels of resistance were observed to broad-spectrum β-lactams such as 3rd generation cephalosporins and aztreonam (67-100%). Moreover, we observed a high proportion of resistance for trimethoprim-sulfamethoxazole (71%), gentamicin (40%), tobramycin (50%), and ciprofloxacin (74%) and co-resistance among them (36% for three and 40% for two drug classes). In papers 2 and 3, we further studied fosfomycin and mecillinam, respectively, in a murine UTI model. For fosfomycin, we performed the pharmacokinetic/pharmacodynamic (PK/PD) analysis and tested in vivo efficacy against MDR plasmid-mediated AmpC-/ESBL-/carbapenemase-producing clinical E. coli isolates. The optimal PK/PD index, based on fosfomycin bloodstream levels, was Cmax, followed by AUC/MIC0–72. Fosfomycin reduced the CFU/ml in urine, bladder, and kidneys of all susceptible MDR strains, except for one harboring fosA. In paper 3, two mecillinam dosing regimens were calculated. We aimed to mimic human PK for pivmecillinam dosing regimens of 200 mg and 400 mg TID. For both doses, mecillinam reduced the urinary CFU-counts for all strains except one ESBL-producer at 400 mg TID. Efficacy was shown against carbapenemase-producers, including NDM-1 (mecillinam MIC 2 mg/L) and VIM-29 (mecillinam MIC 64 mg/L). The present works suggest old drugs to be promising alternatives to reserve drugs against UTIs caused by MDR E. coli.
Has part(s)
Paper 1: Zykov, I.N., Sundsfjord, A., Småbrekke, L. & Samuelsen, Ø. (2016). The antimicrobial activity of mecillinam, nitrofurantoin, temocillin and fosfomycin and comparative analysis of resistance patterns in a nationwide collection of ESBL-producing Escherichia coli in Norway 2010–2011. Infectious Diseases, 48(2), 99-107. Published version not available in Munin due to publisher's restrictions. Published version available at https://doi.org/10.3109/23744235.2015.1087648.
Paper 2: Zykov, I.N., Samuelsen, Ø., Jakobsen, L., Småbrekke, L., Andersson, D.I., Sundsfjord, A. & Frimodt-Møller, N. (2018). Pharmacokinetics and pharmacodynamics of fosfomycin and its activity against ESBL-, plasmid-mediated AmpC-and carbapenemase-producing Escherichia coli in a murine urinary tract infection model. Antimicrobial Agents and Chemotherapy, 62, e02560-17. Also available in Munin at https://hdl.handle.net/10037/14564.
Paper 3: Zykov, I.N., Frimodt-Møller, N., Småbrekke, L., Sundsfjord, A. & Samuelsen, Ø. (2020). Efficacy of mecillinam against clinical multidrug-resistant Escherichia coli in a murine urinary tract infection model. International Journal of Antimicrobial Agents, 55(2), 105851. Also available in Munin at https://hdl.handle.net/10037/17908.
Publisher
UiT The Arctic University of Norway
UiT Norges arktiske universitet
Collections
Copyright 2020 The Author(s)
The following license file are associated with this item:
Related items
Showing items related by title, author, creator and subject.
Andersen, Sigve

;

Dønnem, Tom

;

Al-Shibli, Khalid Ibrahim

;

Al-Saad, Samer

;

Stenvold, Helge

;

Busund, Lill-Tove

;

Bremnes, Roy M.

(

Journal article; Tidsskriftartikkel; Peer reviewed

,

2011

)

Angiopoietins and their receptor Tie-2 are, in concert with VEGF-A, key mediators in angiogenesis. This study evaluates the prognostic impact of all known human angiopoietins (Ang-1, Ang-2 and Ang-4) and their receptor Tie-2, as well as their relation to the prognostic expression of VEGF-A. 335 unselected stage I-IIIA NSCLC-patients were included and tissue samples of respective tumor cells and ...

Frid, Paula

(

Doctoral thesis; Doktorgradsavhandling

,

2020-10-02

)

The temporomandibular joint (TMJ) is commonly involved in juvenile idiopathic arthritis (JIA), and may lead to impaired mouth opening, pain and facial growth disturbances. Asymptomatic TMJ arthritis may be diagnosed late in the disease course, thus management is challenging. The overall objectives of this thesis were to provide new knowledge on quality of life (QoL), the oral microbiome and interventions ...

Gabrielsen, Endre

(

Master thesis; Mastergradsoppgave

,

2012-06-01

)

I 1983 oppdaget zur Hausen sammenhengen mellom Humant Papillomavirus (HPV) og livmorhalskreft. På denne tiden visste man ikke at det var HPV som var årsaken til at Helaceller kunne leve in vitro. Ny forskning relaterer HPV til en rekke andre cancertyper. En stor andel anal-, oropharyngeal-, penis-, vaginal-, og vulvacancer skyldes HPV. Det er også påvist HPV i tumorvev fra øsofagus, larynx, lunge, ...