Waiting for nursing home placement: a study of the life situation of frail elderly and their carers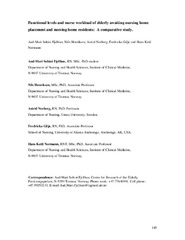 View/Open
Fjelltun AMS, Henriksen N, Norberg A, Gilje F and Normann HK. (2008): 'Comparison of elderly awaiting nursing home placement and nursing home residents. A quantitative study.' Scandinavian Journal of Caring Sciences (accepted version) © Blackwell-Wiley. Reprinted with permission. The definitive version (with altered title) is available at
http://dx.doi.org/10.1111/j.1471-6712.2008.00672.x
(PDF)
Fjelltun AMS, Henriksen N, Norberg A, Gilje F and Normann HK: 'Carers' experiences with respite care: a qualitative study.' (submitted version). Published version available at
http://hdl.handle.net/10037/2159
(PDF)
Fjelltun AMS, Norberg A, Gilje F and Normann HK. (2008): 'Carers' and nurses' appraisals of needs of nursing home placement for elderly in Norway.' Journal of Clinical Nursing (accepted version) © Blackwell-Wiley. Reprinted with permission. The definitive version (with slightly altered title) available at
http://dx.doi.org/10.1111/j.1365-2702.2008.02663.x
(PDF)
Fjelltun AMS, Henriksen N, Norberg A, Gilje F and Normann HK. (2008): 'Nurses' and carers' appraisals of workload in care of frail elderly awaiting nursing home placement.' Scandinavian Journal of Caring Sciences (accepted version) © Blackwell-Wiley. Reprinted with permission. The definitive version available at
http://dx.doi.org/10.1111/j.1471-6712.2007.00590.x
(PDF)
Thesis introduction (PDF)
Date
2009-01-30
Type
Doctoral thesis
Doktorgradsavhandling
Abstract
Den forventede levealderen har økt nesten over hele verden. Dette har ført til at antall eldre stiger raskt, og veksten er ventet å fortsette. I Norge vokser gruppen eldre over 80 år raskest. Det er gjennomført mye internasjonal forskning om eldre og det å være deres pårørende. Fokus i denne studien var eldre som ventet på sykehjemsplass i en nordnorsk kommune, og deres pårørende. Det ble ikke funnet tidligere forskning om deres situasjon. Det var tidligere vurdert at disse eldre trengte sykehjemsplass, men mangel på sykehjemsplasser medførte at de måtte klare seg hjemme med hjelp av familie og hjemmetjeneste. Selv om de eldres pårørende tidligere hadde gitt signaler om at de ikke lenger ønsket å gi omsorg til de eldre i hjemmet, måtte disse pårørende fortsette å gjøre dette på ubestemt tid på grunn av manglende sykehjemsplass.
I denne forskningen er det benyttet kvalitative og kvantitative metoder. Artikkel I bygger på intervjuer med 11 pårørende og 11 pleiere om livssituasjonen til de samme eldre, samt angivelser av informantenes fysiske og psykiske belastning. Belastningsangivelsene er gitt på en delskala av The Multi-Dimensional Dementia Assessment Scale (MDDAS), som er et vurderingsskjema for eldre personer med demenssykdom. Intervjuene er analysert ved hjelp av kvalitativ innholdsanalyse. Data fra delskalaen er analysert ved hjelp av deskriptiv statistisk analyse. Artikkel II bygger på de samme 22 intervjuene og sammenligner pårørendes og pleiernes vurderinger av de eldres behov for sykehjemsinnleggelse. Artikkel III bygger på 15 intervjuer med pårørende og beskriver deres erfaringer med avlastning. I artikkel IV sammenlignes funksjonsnivået til eldre som ventet på sykehjemsplass med funksjonsnivået til beboere på et sykehjem ved hjelp av MDDAS. Data ble bearbeidet gjennom komparativ statistisk analyse (SPSS).
Noen pårørende og pleiere vurderte belastningen som maksimal i forhold til hva de kunne klare. Pårørende følte et stort ansvar for de eldre, og uttrykte vanskelige følelser og ambivalens i forhold til de eldres fremtid (I). Pårørende og pleierne var i den aktuelle situasjonen ikke alltid enige om behovet for sykehjemsplass. Sosiale og økonomiske forhold, samt frykt for at det ble nødvendig å bruke tvang i forbindelse med flyttingen, medførte at flere pårørende takket "nei" til tilbud om sykehjemsplass (II). Pårørendes erfaringer med avlastning varierte. Det var viktig at avlastningen var til støtte for hele familien (III). Samlet sett hadde beboerne på sykehjemmet et lavere funksjonsnivå enn de eldre som bodde hjemme, men på viktige områder hadde gruppene likheter. Statistisk signifikante forskjeller ble funnet i forhold til, blant annet, ADL-funksjoner, språk og orienteringsevne (IV).
Eldre som ventet på sykehjemsplass var en sammensatt gruppe. De fleste hadde et reelt behov for sykehjemsomsorg, noe likhetene med sykehjemsbeboerne dokumenterte. Noen av de eldre ble av informantene vurdert til å leve under utrygge og uverdige forhold. Selv om hjemmetjenesten var innom dem opp til fem ganger i døgnet, opplevde flere pårørende at de hadde et 24 timers omsorgsansvar og en veldig vanskelig livssituasjon. Flere av de eldre nektet å ta imot hjelp og å flytte på sykehjem. De ville heller ikke dra dit på avlastning. Et sentralt spørsmål for pårørende og pleierne var om det var riktig å bruke tvang for å gi de eldre nødvendig helsehjelp. Det er en stor utfordring for en hjemmetjeneste med begrensede ressurser å kunne gi en fleksibel og tilrettelagt pleie og omsorg til eldre som venter på sykehjemsplass, samt å støtte deres pårørende.
Life expectancy at birth has risen all over the world, resulting in a quickly increasing number of elderly. It is likely that life expectancies will continue to rise. In Norway, increases in life expectancy are growing fastest for individuals greater than 80 years old. Many international studies have been conducted about the elderly and their carers. The present study is unique because it examines the situation of elderly awaiting nursing home placement and their carers in a municipality in northern Norway. The elderly in the study had been assessed to need nursing home placement, but had to manage at home with assistance from community nurses and carers due to a shortage of nursing home beds. Though their carers earlier did not want to continue their caregiving, they had to continue during the indefinite waiting period.
In this study, qualitative and quantitative methods are used. Paper I draws from interviews with 11 carers and 11 nurses. Carers and nurses were asked about the elderly they care for, as well as their own physical and psychological workloads, assessed by a subscale of the Multi-Dimensional Dementia Assessment Scale (MDDAS). The interviews are analyzed by qualitative contentanalysis. Data from the subscale is analyzed by descriptive statistics. Paper II is based on the same 22 interviews, and compares the nurses' and the carers' assessments of the elderly's needs for nursing home placement. Paper III examines the carers' experiences of respite care, based on 15 interviews. Paper IV compares the functional levels of elderly awaiting nursing home placement and residents in a nursing home, assessed by the MDDAS, and analyzed in SPSS by comparative statistics.
Some carers and nurses assessed their workloads as maximal, related to their capacity. The carers sensed a great responsibility for the elderly. They felt burdened and felt ambivalence about the future of the elderly (I). Sometimes, carers and nurses disagreed about the need of nursing home placement. Due to social and economic conditions, and fear of coercion in connection with nursing home placement, some carers rejected offers of placement (II). The carers' had various experiences with respite care. It was crucial that the respite care was experienced as supportive for the family as a unit (III). The nursing home residents had lower levels of functioning than the elderly awaiting nursing home placement. For example, statistically significant differences were found with regard to ADL-functions, speech and orientation ability. However, the groups had similarities in important areas (IV).
Elderly awaiting nursing home placement were a complex group. Most of them needed nursing home placements, documented by the similarities between them and the nursing home residents. Some elderly were appraised to live in unsafe conditions. The nurses visited the elderly up to five times a day. Still, some carers were responsible for care 24 hours a day, and many described their situation as very difficult. Some elderly rejected care and nursing home placement, even for respite care. The question of use of coercion, in order to provide necessary care, was central to carers and nurses. It is a great challenge for home health services, with limited resources, to provide flexible and individual care to the elderly awaiting nursing home placement and to support their carers.
Publisher
Universitetet i Tromsø
University of Tromsø
The following license file are associated with this item: