Cardiovascular risk factors and pulmonary function in long-term survivors of testicular cancer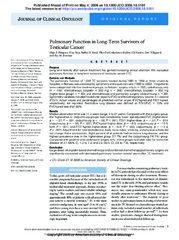 View/Open
Haugnes HS, Aass N, Fosså SD, Dahl O, Brydøy M, Aasebø U, Wilsgaard T, Bremnes R.: 'Pulmonary function in long-term testicular cancer survivors.' Journal of Clinical Oncology, in press. Later published: Vol 27, No 17 (June 10), 2009: pp. 2779-2786. Reprinted with permission. © American Society of Clinical Oncology. All rights reserved. (PDF)
Sagstuen H, Aass N, Fosså SD, Dahl O, Klepp O, Wist EA, Wilsgaard T, Bremnes RM.: 'Blood pressure and body mass index in long-term survivors of testicular cancer.' Journal of Clinical Oncology 23:4980-4990, 2005. Reprinted with permission. © American Society of Clinical Oncology. All rights reserved. (PDF)
Thesis introduction (PDF)
Date
2009-04-24
Type
Doctoral thesis
Doktorgradsavhandling
Abstract
Testikkelkreft er den vanligste kreftformen blant unge menn, og >95 % blir i dag helbredet av sykdommen. Dermed er kunnskap om mulige seneffekter etter behandlingen viktig.
Avhandlingen "Cardiovascular risk factors and pulmonary function in long-term survivors of testicular cancer" ble forsvart for graden ph.d 24. april 2009. Takket være effektiv cytostatikabehandling som ble tatt i bruk på slutten av 70-tallet, er overlevelsen ved metastatisk testikkelkreft blitt betraktelig bedret de siste 30 årene. Standard behandling ved metastatisk testikkelkreft er i dag 3-4 kurer med cisplatin-basert kjemoterapi. Behandlingsmuligheter for pasienter med lokal sykdom er operasjon, stråleterapi eller kun en kjemoterapikur. Siden denne sykdommen primært rammer menn i 20- og 30-årene, og disse forventes å ha en nærmest normal levetid etter behandlingen, er det svært viktig å avklare om behandlingen kan føre til senbivirkninger. Vi har sett spesielt på risikofaktorer for kardiovaskulær sykdom og lungefunksjonen og om disse kan være relatert til noen av behandlingstypene.
Avhandlingen er basert på en landsomfattende etterkontroll av norske menn som ble behandlet og kurert for testikkelkreft i perioden 1980-1994. Etterkontrollen ble utført ved fem universitetsklinikker i perioden 1998-2002, og bestod av et omfattende spørreskjema, klinisk undersøkelse ved kreftpoliklinikk inkludert måling av blodtrykk, vekt, høyde, blodprøver og spirometri. Totalt ble 1814 menn invitert til å delta, og av disse var det 1463 (81 %) som deltok. En kontrollgruppe bestående av menn uten tidligere testikkelkreft ble etablert gjennom Tromsøundersøkelsen. Vi fant ut at menn som tidligere var blitt behandlet med cisplatinbasert cytostatika, særlig i høye doser, hadde høyere forekomst av hypertensjon, fedme og metabolsk syndrom, både sammenlignet med menn som kun var behandlet med kirurgi og sammenlignet med kontroller. Menn behandlet med høye doser cisplatinbasert cytostatika og kombinasjonen cytostatika/lungekirurgi hadde redusert lungefunksjon sammenlignet med menn behandlet med kirurgi alene. Mennene som var blitt behandlet med cytostatika hadde også lavere nivåer av testosteron. Behandling med stråleterapi påvirket ikke kardiovaskulære risikofaktorer eller lungefunksjonen.
Description
Paper 2 of the thesis is not available in Munin due to publisher's restrictions:
2. Haugnes HS, Aass N, Fosså SD, Dahl O, Klepp O, Wist EA, Svartberg J, Wilsgaard T, Bremnes RM.: 'Components of the metabolic syndrome in long-term survivors of testicular cancer.' Annals of Oncology 18:241-248, 2007 (Oxford University Press), available at
http://dx.doi.org/10.1093/annonc/mdl372
Publisher
Universitetet i Tromsø
University of Tromsø
Collections
Copyright 2009 The Author(s)
The following license file are associated with this item:
Related items
Showing items related by title, author, creator and subject.
Nikolaisen, Trygg Einar

(

Mastergradsoppgave; Master thesis

,

2018-05-15

)

Introduction: Liposomes as drug delivery systems has been widely studied as a way to solubilize poorly soluble drugs, reduce side effects of chemotherapeutics and increase circulation time in vivo. Since the first descriptions of liposomes over 60 years ago, they have shown tendencies to shrink and swell when the external environment of the liposomes is altered. This phenomenon has been studied in ...

Frid, Paula

(

Doctoral thesis; Doktorgradsavhandling

,

2020-10-02

)

The temporomandibular joint (TMJ) is commonly involved in juvenile idiopathic arthritis (JIA), and may lead to impaired mouth opening, pain and facial growth disturbances. Asymptomatic TMJ arthritis may be diagnosed late in the disease course, thus management is challenging. The overall objectives of this thesis were to provide new knowledge on quality of life (QoL), the oral microbiome and interventions ...

Andersen, Sigve

;

Dønnem, Tom

;

Al-Shibli, Khalid Ibrahim

;

Al-Saad, Samer

;

Stenvold, Helge

;

Busund, Lill-Tove

;

Bremnes, Roy M.

(

Journal article; Tidsskriftartikkel; Peer reviewed

,

2011

)

Angiopoietins and their receptor Tie-2 are, in concert with VEGF-A, key mediators in angiogenesis. This study evaluates the prognostic impact of all known human angiopoietins (Ang-1, Ang-2 and Ang-4) and their receptor Tie-2, as well as their relation to the prognostic expression of VEGF-A. 335 unselected stage I-IIIA NSCLC-patients were included and tissue samples of respective tumor cells and ...