The Metabolome and Lipidome of Ulcerative Colitis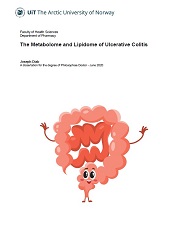 View/Open
Thesis introduction, Paper I and III (PDF)
Entire thesis in one comprehensive file (PDF)
File(s) with restricted access are under embargo until
2025-10-09
Date
2020-10-09
Type
Doctoral thesis
Doktorgradsavhandling
Abstract
The two major forms of Inflammatory bowel disease (IBD), Ulcerative Colitis (UC) and Crohn's Disease (CD), are characterized by a dysregulated mucosal immune response triggered by several genetic and environmental factors in the context of host-microbe interaction. This overwhelming complexity makes IBD ideal for metabolomic studies to unravel the disease pathobiology and to improve the patient stratification strategies. Colon mucosa biopsies were collected from treatment-naive UC patients, UC patients in deep remission, and healthy subjects. Metabolomic analysis was performed by combining GC-TOF-MS and UPLC-QTOF-MS, while lipidomic analysis was performed by means of UPLC-QTOF-MS. In total, 177 metabolites from 50 metabolic pathways, and 220 lipids from 11 lipid classes were quantified. Additionally, we mapped the omega-3 and omega-6 polyunsaturated fatty acids related bioactive metabolites, which are known as oxylipins and endocannabinoids (eCBs). Accordingly, the levels of 35 oxylipins and 11 eCBs were quantified by means of UPLC-TQ-MS/MS. Multivariate analysis revealed a distinct lipidome and metabolome profile for each of the study groups. Altered phospholipids and sphingolipids metabolism is the hallmark of the active UC metabolome. Several mucosal metabolic signatures might reflect the mucosal inflammation and the state of dysbiosis in the gut, such as the disruption in acyl carnitine profile, amino acid metabolism, galactosylceramide profile, and short chain fatty acids metabolism. In addition, results showed increased levels of ω-6-related oxylipins and decreased levels of ω-3-related eCBs in UC patients. We report several metabolic fingerprints of potential clinical value as markers for UC activity and prognosis, such as PE38:3 and very log chain ceramids. Likewise, Trptophan metabolism seems to be a key aspect of the impaired metabolism in the onset of UC, and the levels of lipid mediators correlate with disease activity. This thesis demonstrates the importance of metabolomics in IBD to identify key drivers of pathogenesis which prerequisite personalized treatment.
Has part(s)
Paper I: Diab, J., Al-Mahdi, R., Gouveia-Figueira, S., Hansen, T., Jensen, E., Goll, R., … Forsdahl, G. (2019). A Quantitative Analysis of Colonic Mucosal Oxylipins and Endocannabinoids in Treatment-Naïve and Deep Remission Ulcerative Colitis Patients and the Potential Link with Cytokine Gene Expression. Inflammatory bowel diseases, 25(3), 490-497. Also available in Munin at https://hdl.handle.net/10037/19447.
Paper II: Diab, J., Hansen, T., Goll, R., Stenlund, H., Ahnlund, M., Jensen, E., … Forsdahl, G. (2019). Lipidomics in Ulcerative Colitis Reveal Alteration in Mucosal Lipid Composition Associated With the Disease State. Inflammatory bowel diseases, 25(11), 1780-1787. Published version not available in Munin due to publisher's restrictions. Published version available at https://doi.org/10.1093/ibd/izz098. Accepted manuscript version available in Munin at https://hdl.handle.net/10037/17085.
Paper III: Diab, J., Hansen, T., Goll, R., Stenlund, H., Jensen, E., Moritz, T., Florholmen, J. & Forsdahl, G. (2019). Mucosal Metabolomic Profiling and Pathway Analysis Reveal the Metabolic Signature of Ulcerative Colitis. Metabolites, 9(12), 291. Also available in Munin at https://hdl.handle.net/10037/17121.
Publisher
UiT The Arctic University of Norway
UiT Norges arktiske universitet
Collections
Copyright 2020 The Author(s)
The following license file are associated with this item: