Human platelet antigen (HPA)-1a alloimmunization - Why only blame it on the platelets?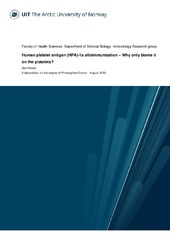 View/Open
Thesis introduction, papers II, III & IV (PDF)
Entire thesis in one comprehensive file (PDF)
File(s) with restricted access are under embargo until
2022-01-15
Date
2021-01-15
Type
Doctoral thesis
Doktorgradsavhandling
Abstract
Antibodies against human platelet antigen (HPA)-1a are the most common cause of fetal and neonatal alloimmune thrombocytopenia (FNAIT) in Caucasians, and is a break of the tolerance normally seen for the fetus in pregnant women. The initiation of immunization is suggested to be feto-maternal transfer of platelets during pregnancy and at delivery, and one of the consequences of anti-HPA-1a antibodies is thrombocytopenia. However, the antigen is also expressed both on trophoblast cells and in fetal endothelium, and trophoblast debris is shed into the maternal circulation due to placental turnover during pregnancy, and may be potential sources of antigen. Anti-HPA-antibodies may, due to differences in specificity have effector functions both through binding to platelets, trophoblast cells and endothelial cells. We have used isolated HPA-1a antigen from an extravillous trophoblast cell line, and show that HPA-1a-specific T cells are activated by this antigen from trophoblast in the same way as from platelets. We also show, using the same cell line, that anti-HPA-1a antibodies bind the HPA-1a epitope on vitronectin receptor and affect adhesion and migration of this cell line. In addition, we find HPA-1a positive vesicles of fetal origin, likely of placental origein, in plasma of HPA-1bb women pregnant with HPA-1ab fetuses, by analysis in flow cytometry. HPA-1a immunization is strongly associated with the HLA allele DRB3*01:01. Several other HLA alleles have also been suggested to be associated with immunization, with conflicting reports. By genotyping of immunized women and a control group of random blood donors, we aimed to more precisely define which alleles that actually have a role in HPA-1a immunization. We find that the prevalence of HPA-1a immunization is higher when the DRB3*01:01 allele is associated with the DR3-DQ2 haplotype, and that the DQB1*02 allele actually also may play a role in immunization. Both the definition of risk factors in women and the knowledge of when and how immunization occurs, which our work contributes to, are important for follow up and to decide how and when to treat women at risk.
Has part(s)
Paper I: Heide, G., Husebekk, A., Skogen, B.R., Ahlen, M.T. & Stuge, T.B. The role of Placenta-derived Human Platelet Antigen-1a in HPA-1a alloimmunization. (Manuscript).
Paper II: Ahlen, M.T., Heide, G., Husebekk, A., Skogen, B.R., Kjeldsen-Kragh, J. & Stuge, T.B. (2020). The prevalence of HPA-1a alloimmunization and the potential risk of FNAIT depends on both the DRB3*01:01 allele and associated DR-DQ haplotypes. Scandinavian Journal of Immunology, 92, e12890. Also available at https://doi.org/10.1111/sji.12890.
Paper III: Heide, G., Stuge, T.B., Skogen, B.R., Husebekk, A. & Ahlen, M.T. (2013). The DR7-DQ2 haplotype in a native Norwegian population. (Letter to the editor). Scandinavian Journal of Immunology, 77(5), 429. Also available at https://doi.org/10.1111/sji.12031.
Paper IV: Eksteen, M., Heide, G., Tiller, H., Zhou, Y., Hersoug Nedberg, N., Martinez, I.Z., … Kjaer, M. (2917). Anti-Human Platelet Antigen (HPA)-1a antibodies affect trophoblast functions and may have significance for placenta development: a laboratory study using an in vitro model. Reproductive Biology and Endocrinology, 15(1), 28. Also available in Munin at https://hdl.handle.net/10037/11730.
Publisher
UiT The Arctic University of Norway
UiT Norges arktiske universitet
Collections
Copyright 2021 The Author(s)
The following license file are associated with this item: