Student evaluation practice: A qualitative study on how student evaluation of teaching, courses and programmes are carried out and used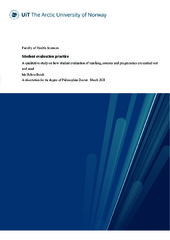 View/Open
Thesis introduction, Papers 1 & 2 (PDF)
Entire thesis in one comprehensive file (PDF)
File(s) with restricted access are under embargo until
2026-08-27
Date
2021-08-27
Type
Doctoral thesis
Doktorgradsavhandling
Abstract
This study explores how internal student evaluation of teaching, courses and programmes at eight health profession education programmes are carried out and used. Student evaluation is a mandatory part of quality assurance systems in Norway and is meant to be used in educational quality assurance and enhancement. At the university of this study, these evaluations are also considered part of students' learning processes and student empowerment. The study investigates pedagogical and organisational dimensions to evaluation practice, including how different actors interact in evaluation processes and how the interplay between policy and practice are balanced. The study has an exploratory qualitative research design and comprises different research methods: semi-structured interviews with academics, focus group interviews with students and document analysis of internal evaluation documents. The study reveals that organisational and pedagogical dimensions of evaluation practice seem to affect how evaluation is carried out and limit use of evaluation for enhancement purposes. A noteworthy gap is revealed between intended use and practice articulated in the local quality assurance system, and the actual use described by the academics and students. Evaluation practice is decoupled from the evaluation guidelines and the quality assurance system. The system is developed and communicated by administrative staff on behalf of the university management with an expectation that academics will follow the system guidelines. The academics are not familiar with details in the system and are left to themselves in evaluation practice but they still make sure evaluation is carried out. However, they request more support and knowledge about evaluation. Student evaluations seemed to be better suited for quality assurance than quality enhancement. A framework for a student-learning-centred evaluation practice is developed based upon the findings. In this framework student evaluation is integrated in constructive alignment wherein a student learning perspective is central. The framework can be used as support for universities that want to strengthen the learning focus in evaluation practice.
Has part(s)
Paper 1: Borch, I., Sandvoll, R. & Risør, T. (2020). Discrepancies in Purposes of Student Course Evaluations: What Does It Mean to Be "Satisfied"? Educational Assessment, Evaluation and Accountability, 32(1), 83-102. Also available in Munin at https://hdl.handle.net/10037/17937.
Paper 2: Borch, I. (2020). Lost in Translation: From the University's Quality Assurance System to Student Evaluation Practice. Nordic Journal of Studies in Educational Policy, 6(3), 231–244. Also available in Munin at https://hdl.handle.net/10037/19951.
Paper 3: Borch, I., Sandvoll, R. & Risør, T. (2021). Student Course Evaluation Documents: Constituting Evaluation Practice. Assessment & Evaluation in Higher Education. Published version not available in Munin due to publisher's restrictions. Published version available at https://doi.org/10.1080/02602938.2021.1899130.
Publisher
UiT The Arctic University of Norway
UiT Norges arktiske universitet
Collections
Copyright 2021 The Author(s)
The following license file are associated with this item:
Related items
Showing items related by title, author, creator and subject.
Hansen, John-Bjarne

;

Hunskaar, Steinar

;

Breivik, Jarle

;

Figenschau, Kristian

;

Siebke, Maje

;

Tømmerås, Karin

(

Journal article; Tidsskriftartikkel; Peer reviewed

,

2009-07-14

)

Background: The Medical Student Research Programme is a national education and grant scheme for medical students who wish to carry out research in parallel with their studies. The purpose of the programme is to increase recruitment of people with a standard medical degree to medical research. The Research Programme was established in 2002 and underwent a thorough evaluation during the spring of ...

Figenschau, Kristian

;

Hunskaar, Steinar

;

Breivik, Jarle

;

Hansen, John-Bjarne

;

Siebke, Else-Marie

;

Tømmerås, Karin

(

Journal article; Tidsskriftartikkel; Peer reviewed

,

2009

)

Hoel, Anniken

(

Master thesis; Mastergradsoppgave

,

2017-05-02

)

When response rates on student evaluation of teaching (SET) are low, the results cannot be interpreted as reliable and therefore not be used as intended. The low response rates, followed by departments inability to properly interpret responses from the students who do participate is a big problem. Where does the motivation to participate break down, and where and how does it make sense for the ...