Mechanism and structural requirements for formation of p62 bodies and degradation of p62 by selective autophagy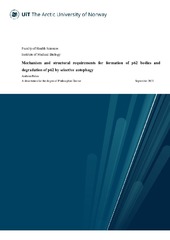 View/Open
Thesis introduction & Paper I (PDF)
Entire thesis in one comprehensive file (PDF)
File(s) with restricted access are under embargo until
2023-12-03
Date
2021-12-03
Type
Doctoral thesis
Doktorgradsavhandling
Abstract
Selective autophagy is responsible for the lysosomal degradation of damaged and surplus cytoplasmic components, including misfolded proteins and dysfunctional organelles. Selective autophagy is required for protein and organelle quality control basally and upon stress. For the autophagic process to be precise, selective autophagy receptors (SARs) like SQSTM1/p62 are required. Autophagic substrates are often tagged with ubiquitin. Ubiquitinated substrates can be recognized by p62 and other p62-like SARs. SARs bind to lipidated ATG8 protein family members at the inner phagophore membrane and act as bridges that connect the substrate with the phagophore. Both SARs and their substrates are degraded after the fusion of the autophagosome with one or more lysosomes. Hence, p62 is both a substrate and a receptor for selective autophagy. p62 can polymerize into helical filaments via its N-terminal PB1 domain, bind to ATG8 proteins via its LIR (LC3 interacting region) motif and to the ubiquitin E3 ligase subunit KEAP1 via the adjacent KIR (KEAP1 interacting region) motif. The C-terminal UBA domain of p62 interacts with ubiquitinated substrates. The ability to form helical filaments and to bind to ubiquitin chains endows p62 with the property to form droplets in both the cytoplasm and nucleus of cells by liquid-liquid phase transition. The droplets have been called p62 bodies. They contain p62 and also other SARs like NBR1 and TAXBP as well as KEAP1 and ubiquitinated substrates. By recruiting ATG8 proteins and core autophagy components like FIP200 the droplets are degraded by selective autophagy. The p62 bodies can also function as signalosomes (signal transmitting, multimolecular protein complexes) which can also be degraded by selective autophagy to terminate their signaling. This thesis presents new studies of the roles of the PB1 domain, the LIR and KIR motifs and the UBA domain in the formation and degradation of p62 bodies. The first paper, a collaborative study led by the research group of Carsten Sachse, demonstrated the importance of the PB1-mediated polymerization of p62 into filaments for the formation of p62 bodies and their degradation by autophagy. In the second paper, we explored if a specific LIR-mediated binding of LC3B is required for autophagic degradation of p62. In our third paper, we focused on the UBA domain of p62 and post-translational modifications that occur and their effects on p62 droplet formation and degradation. It was clear from our findings that K435 plays a crucial role in the degradation of p62 by selective autophagy.
Has part(s)
Paper I: Jakobi, A.J., Huber, S.T., Mortensen, S.A., Schultz, S.W., Palara, A., Kuhm, T., … Sachse, C. (2020). Structural basis of p62/SQSTM1 helical filaments and their role in cellular cargo uptake. Nature Communications, 11, 440. Also available in Munin at https://hdl.handle.net/10037/18550.
Paper II: Palara, A., Nager, M., Olsvik, H.L., Øvervatn, A.K., Evjen, G., Larsen, K.B., Lamark, T. & Johansen, T. Replacement of the LIR of p62 with LIRs from FYCO1 or ULK1 blocks starvation induced autophagic degradation of p62. (Manuscript).
Paper III: Palara, A., Olsvik, H.L., Nager, M., Øvervatn, A.K., Evjen, G., Larsen, K.B., Lamark, T. & Johansen, T. The C-terminal Lys435 residue is required for efficient degradation of p62/SQSTM1 by autophagy. (Manuscript).
Publisher
UiT The Arctic University of Norway
UiT Norges arktiske universitet
Collections
Copyright 2021 The Author(s)
The following license file are associated with this item: