Nursing homes as learning environments : a study of experiences and perceptions of nursing students and supervising nurses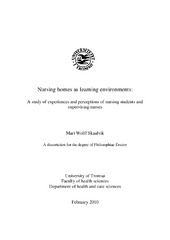 Åpne
Thesis introduction (PDF)
Mari W Skaalvik, Hans Ketil Normann and Nils Henriksen: «Student experiences in learning person-centred care of patients with Alzheimer's disease as perceived by nursing students and supervising nurses», accepted version (Wiley-Blackwell – reprinted with permission). Published version: Journal of Clinical Nursing, Volume 19, Issue 17-18, pages 2639–2648, September 2010, available at
http://dx.doi.org/10.1111/j.1365-2702.2010.03190.x
(PDF)
Mari W Skaalvik, Hans Ketil Normann and Nils Henriksen: «To what extent does the oral shift report stimulate learning among nursing students? A qualitative study», accepted version (Wiley-Blackwell – reprinted with permission). Published version: Journal of Clinical Nursing, Volume 19, Issue 15-16, pages 2300–2308, August 2010, available at
http://dx.doi.org/10.1111/j.1365-2702.2010.03217.x
(PDF)
Mari W Skaalvik, Hans Ketil Normann and Nils Henriksen: «Clinical learning environments and supervision: experiences of Norwegian nursing students. A questionnaire survey». Submitted manuscript (Wiley-Blackwell – reprinted with permission.) Published version: Journal of Clinical Nursing, Volume 20, Issue 15-16, pages 2294–2304, August 2011, available at
http://dx.doi.org/10.1111/j.1365-2702.2011.03727.x
(PDF)
Mari W Skaalvik, Hans Ketil Normann and Nils Henriksen: «Nursing students' experiences of nursing homes as learning environments». Submitted manuscript (Elsevier - reprinted with permission). Published with altered title in Nurse Education Today, 2011, and available at
http://dx.doi.org/10.1016/j.nedt.2011.03.001
(PDF)
Entire thesis in one comprehensive file (PDF)
Dato
2010-06-03
Type
Doctoral thesis
Doktorgradsavhandling
Sammendrag
Avhandlingen bygger på 12 sykepleiestudenters erfaringer og oppfatninger om sykehjem som læringsmiljø for praksisstudier i eldreomsorg, og hvordan et utvalg på 407 norske sykepleierstudenter evaluerer læringsmiljøet i sykehjem og sykehus. Videre har jeg intervjuet 11 sykepleiere om deres syn på læringsmiljøet i sykehjem.
Levealderen i Norge ventes å øke, og man må regne med at fremtidens kommunale helsetjeneste vil stå overfor store utfordringer. Flere studier viser at få studenter ønsker eldreomsorg som fremtidig karrierevei, og det er dokumentert at sykepleierstudenter ofte vender tilbake til steder hvor de har hatt positive praksiserfaringer.
Forskningen er gjennomført ved hjelp av kvalitative og kvantitative metoder. Artiklene I, II og III bygger på datamateriale fra feltobservasjoner, feltnotater og intervjuer med sykepleierstudenter og deres kontaktsykepleiere i 2006/2007. Dette datamaterialet er analysert ved hjelp av innholdsanalyse og fokuserer på: læringsmiljø (I), læring av personsentrerte tilnærminger til personer med demenssykdom (II) og rapporten som en potensiell læringssituasjon (III). I artikkel IV presenteres et utvalg av norske sykepleierstudenters evalueringer av det kliniske læringsmiljøet i henholdsvis sykehjem og sykehus fra 2009.
Studiens funn viste varierende erfaringer og oppfatninger vedrørende læringsmiljøet i sykehjemmene. Avhandlingen viser at det eksisterer utfordringer innenfor de områdene de fire artiklene omhandler. Et godt læringsmiljø inkluderer veiledning, tilbakemelding, faglige diskusjoner og kritiske refleksjonsprosesser i et inkluderende faglig fellesskap. (I). Det var variasjoner i sykepleierstudentenes og kontaktsykepleiernes oppfatninger med hensyn til læring av pleie og omsorg for pasienter med Alzheimer's sykdom. Sykepleierstudentene erfarte begrenset læring av personsentrerte tilnærminger i pleie og omsorg for pasienter med Alzheimer's sykdom. Kontaktsykepleierne oppfattet sykehjemmet som et praksissted med rike muligheter for å lære personsentrert omsorg (II). Funnene viser at muntlige rapporter kan utgjøre en viktig læringssituasjon. Dette gjelder spesielt hvis studentene engasjeres i faglige diskusjoner med personalet. Funnene peker på tiltak for å styrke muntlige rapporters læringsverdi for sykepleierstudenter (III). Data fra spørreskjemaundersøkelsen viste at sykepleierstudenter evaluerte sykepleiepraksis i sykehjem alt overveiende mer negativt enn de som evaluerte praksis i sykehus (IV).
The thesis is based on the experiences of 12 nursing students and 11 supervising nurses about how they view nursing homes as a learning environments for clinical studies in care for older people, and how a selection of 407 Norwegian nursing students evaluate the learning environment in nursing homes and hospitals.
The living age is expected to increase in Norway, and it is expected that the municipal health services in the future will face big challenges. Several studies show that few students want care for older people as a future career path, and it is documented that nursing students often return to places where they have had positive clinical experiences.
The research is carried out by using qualitative and quantitative methods. Articles I, II and III are based on data material from field observations, field notes and interviews with nursing students and their supervising nurses in 2006/2007. This data material is analyzed by using content analysis and focuses on: Learning environment (I), learning of person centered approaches to persons with Alzheimer's disease (II) and the oral shift report as a potential learning situation (III). In article IV there is a presentation of a selection of Norwegian nursing students' evaluation of the clinical learning environment from 2009 in nursing homes and hospitals respectively.
The research shows that there exist challenges within the topics studied in the 4 articles in this thesis. A good learning environment includes supervision, feedback, professional discussions and critical reflection processes in an including professional community (I). There were variations in the nursing students' and contact nurses' perceptions as regards to learning of care for patients with Alzheimer's disease. The nursing students experienced limited learning of person centered approaches in nursing and care for patients suffering from Alzheimer's disease. The contact nurses perceived the nursing home as a practice place with rich possibilities to learn person centered care (II). The findings show that oral reports can constitute an important learning situation. This is particularly the case if the students are engaged in the professional discussions with the staff. The findings also point at measures which might be taken to strengthen the learning value of oral reports for nursing students (III). Data from the questionnaire survey showed that nursing students who responded in referring to clinical practice in nursing homes were predominantly more dissatisfied than those who referred to clinical practice in hospitals (IV).
Forlag
Universitetet i Tromsø
University of Tromsø
Følgende lisensfil er knyttet til denne innførselen: