Myocardial metabolic, structural and functional remodelling following nutritional and hormonal stress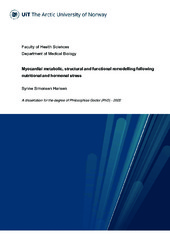 View/Open
Thesis introduction, Review, Papers I & II (PDF)
Entire thesis in one comprehensive file (PDF)
File(s) with restricted access are under embargo until
2024-06-22
Date
2022-06-22
Type
Doctoral thesis
Doktorgradsavhandling
Abstract
The overall aim of this thesis was to increase our knowledge related to the underlying mechanisms of diabetes-induced cardiomyopathy. The primary objective of the first two papers was to elucidate the role of the reactive oxygen species (ROS) producing enzyme, NADPH oxidase 2 (NOX2), in the development of cardiac dysfunction in obesity/diabetes. We also wanted to examine the potential link between activators of NOX2, such as Angiotensin II (AngII) and fatty acids, in mediating cellular stress, myocardial oxygen wasting and impaired energetics in the heart. In paper I, we investigated whether NOX2 activity would influence cardiac function, energetics and substrate utilization following obesity by using ablation or pharmacological inhibition of NOX2. In paper II, we examined the direct effects of AngII on cardiac function, efficiency, substrate utilization, and mitochondrial respiration using a cardiac specific NOX2 overexpressing mouse model. Lastly, in paper III, we investigated whether hydrolysed wax ester (WEH) from the marine supplementation Calanus oil could promote protective effects during palmitate-induced nutritional stress in cardiomyoblasts. Our main findings were that inhibition of NOX2 attenuated obesity-induced left ventricular remodelling and dysfunction. NOX2 inhibition also improved myocardial energetics due to decreased myocardial oxygen demand for non-mechanical work. In addition, obesity-induced mitochondrial ROS production was abrogated. Cardiac-specific overexpression of NOX2 resulted in an aggravation of AngII-induced metabolic, structural, and functional remodelling in the heart. WEH from Calanus oil prevented palmitate-induced cell death in cardiomyoblasts. The protective effects of WEH were not mediated through reduced oxidative stress, but it ameliorated the palmitate-induced endoplasmic reticulum stress and impairment of autophagic flux.
Målet med dette doktorgradsarbeidet var å få en bedre forståelse av endringer som kan forekomme i hjertemuskelcellene ved fedmeindusert hjertesvikt. I de to første artiklene undersøkte vi rollen til enzymet NADPH oksidase 2 (NOX2) som har vist seg å være sentral i utviklingen av flere typer hjertesvikt. Dette enzymet øker produksjonen av frie radikaler (ROS) og kan føre til økt oksidativt stress i hjertecellene. Ved fedme sees en hel rekke systemiske endringer, blant annet økte fettsyrer og glukose i blodbanen, samt økt utskillelse av hormonet angiotensin II (AngII). Flere av disse endringene kan øke aktiviteten av NOX2, men effekten av dette i hjertet ved fedme er ikke klarlagt.
Resultatene i denne graden viser at NOX2 spiller en rolle i fedme-indusert hjertesvikt, og at det dette kan være knyttet til ROS-medierte strukturelle og metabolske endringer. Våre data støtter også at hormonet AngII kan spille en direkte rolle i de metabolske, strukturelle og funksjonelle endringer i hjertet og at dette forverres ved økt NOX2 aktivitet. Til slutt fant vi at et hydrolysat fra kosttilskuddet Calanus har direkte beskyttende egenskaper i hjerteceller som ble utsatt for et metabolsk stress, og det vil være interessant å videreføre denne studien for å avdekke mekanismene som kan forklare dette.
Has part(s)
Review: Hansen, S.S., Aasum, E. & Hafstad, A.D. (2018). The Role of NADPH Oxidases in Diabetic Cardiomyopathy. Biochimica et Biophysica Acta – Molecular Basis of Disease, 1864(5), 1908-1913. Also available at https://doi.org/10.1016/j.bbadis.2017.07.025. Accepted manuscript available in Munin at https://hdl.handle.net/10037/14429.
Paper I: Hafstad, A.D., Hansen, S.S., Lund, J., Santos, C.X.C., Boardman, N.T., Shah, A.M. & Aasum, E. (2020). NADPH Oxidase 2 Mediates Myocardial Oxygen Wasting in Obesity. Antioxidants, 9, 171. Also available in Munin at https://hdl.handle.net/10037/20596.
Paper II: Hansen, S.S., Pedersen, T.M., Marin, J., Boardman, N.T., Shah, A.M., Aasum, E. & Hafstad, A.D. (2022). Overexpression of NOX2 Exacerbates AngII-Mediated Cardiac Dysfunction and Metabolic Remodelling. Antioxidants, 11, 143. Also available in Munin at https://hdl.handle.net/10037/25474.
Paper III: Hansen, S.S., Jansen, K.M., Larsen, K.B., Hafstad, A.D., Olsen, R.L., Larsen, T.S. & Aasum, E. Hydrolysed Wax Ester from Calanus Oil Protects H9c2 Cardiomyoblasts from Palmitate-Induced Lipotoxicity. (Manuscript).
Publisher
UiT The Arctic University of Norway
UiT Norges arktiske universitet
Collections
Copyright 2022 The Author(s)
The following license file are associated with this item: