All roads lead to the lysosome: exploring the degradation of TNIP1 by selective autophagy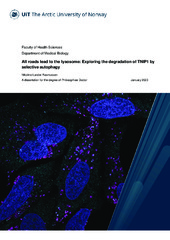 View/Open
Thesis introduction, Papers I & III (PDF)
Entire thesis in one comprehensive file (PDF)
File(s) with restricted access are under embargo until
2025-04-21
Date
2023-04-21
Type
Doctoral thesis
Doktorgradsavhandling
Abstract
Selective autophagy is important for maintaining cellular homeostasis. Generally, autophagy is considered cytoprotective and anti-inflammatory, acting to limit infection and accumulation of deleterious material. Key to this function is the ability to select cargo to be degraded, and here, selective autophagy receptors play a central role. In this thesis, we show that the anti-inflammatory and pro-survival adaptor TNIP1 is a selective autophagy substrate. Moreover, we identify two LIR motifs in TNIP1, of which LIR2 is primarily responsible for binding to ATG8 proteins. While TNIP1 is constitutively degraded by autophagy in resting cells, inflammatory signaling via TLR3 resulted in increased degradation of TNIP1. Activation of the kinase TBK1 was demonstrated to directly phosphorylate LIR2 in TNIP1, leading to enhanced ATG8 interaction and increased TNIP1 degradation by ATG7-dependent macroautophagy. The degradation of TNIP1 correlated with the increased activation of downstream inflammatory signaling. This suggests that the reduction of TNIP1 protein levels by autophagy upon inflammatory stimuli occurs to allow the mounting of a robust inflammatory response. Many studies of TNIP1 function have been done using mouse models. We found that human LIR1 is impaired by the presence of a proline, making LIR2 the main functional LIR in human TNIP1. In mice, however, LIR1 can augment binding to LC3A in conjunction with LIR2. Nonetheless, we discover that the constitutive turnover of human and mouse TNIP1 occurs independently of LIRs, contrary to the inflammation-induced degradation by macroautophagy. We show that a part of TNIP1 that binds to TAX1BP1 and NBR1 is required for lysosomal degradation. Our study of the constitutive turnover of TNIP1 highlights the existence of alternative routes to the lysosome beyond canonical macroautophagy. Finally, we provide an overview of the ancestral selective autophagy receptor NBR1. Here, we explore the evolution of NBR1 and selective autophagy, and discuss the role of NBR1 in different forms of selective autophagy.
Has part(s)
Paper I: Zhou, J., Rasmussen, N.L., Olsvik, H.L., Akimov V., Hu Z., Evjen G., … Dengjel, J. (2023). TBK1 phosphorylation activates LIR-dependent degradation of the inflammation repressor TNIP1. Journal of Cell Biology, 222(2), e202108144. Also available at https://doi.org/10.1083/jcb.202108144.
Paper II: Rasmussen, N.L., Olsvik, H.L., Evjen, G., Øvervatn A., Lamark, T. & Johansen, T. TNIP1 is a constitutive autophagy substrate independent of ATG8 lipidation and LIRs. (Manuscript).
Paper III: Rasmussen, N.L., Kournoutis, A., Lamark, T. & Johansen, T. (2022). NBR1: The archetypal selective autophagy receptor. Journal of Cell Biology, 221(11), e202208092. Also available in Munin at https://hdl.handle.net/10037/28316.
Publisher
UiT The Arctic University of Norway
UiT Norges arktiske universitet
Collections
Copyright 2023 The Author(s)
The following license file are associated with this item:
Related items
Showing items related by title, author, creator and subject.
Andersen, Sigve

;

Dønnem, Tom

;

Al-Shibli, Khalid Ibrahim

;

Al-Saad, Samer

;

Stenvold, Helge

;

Busund, Lill-Tove

;

Bremnes, Roy M.

(

Journal article; Tidsskriftartikkel; Peer reviewed

,

2011

)

Angiopoietins and their receptor Tie-2 are, in concert with VEGF-A, key mediators in angiogenesis. This study evaluates the prognostic impact of all known human angiopoietins (Ang-1, Ang-2 and Ang-4) and their receptor Tie-2, as well as their relation to the prognostic expression of VEGF-A. 335 unselected stage I-IIIA NSCLC-patients were included and tissue samples of respective tumor cells and ...

Frid, Paula

(

Doctoral thesis; Doktorgradsavhandling

,

2020-10-02

)

The temporomandibular joint (TMJ) is commonly involved in juvenile idiopathic arthritis (JIA), and may lead to impaired mouth opening, pain and facial growth disturbances. Asymptomatic TMJ arthritis may be diagnosed late in the disease course, thus management is challenging. The overall objectives of this thesis were to provide new knowledge on quality of life (QoL), the oral microbiome and interventions ...

Gabrielsen, Endre

(

Master thesis; Mastergradsoppgave

,

2012-06-01

)

I 1983 oppdaget zur Hausen sammenhengen mellom Humant Papillomavirus (HPV) og livmorhalskreft. På denne tiden visste man ikke at det var HPV som var årsaken til at Helaceller kunne leve in vitro. Ny forskning relaterer HPV til en rekke andre cancertyper. En stor andel anal-, oropharyngeal-, penis-, vaginal-, og vulvacancer skyldes HPV. Det er også påvist HPV i tumorvev fra øsofagus, larynx, lunge, ...