Risk and protective factors associated with internalizing symptoms in Sami and non-Sami adolescents in Arctic Norway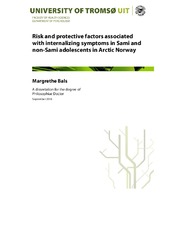 View/Open
Thesis introduction (PDF)
Bals, M., Turi, A. L., Skre, I., & Kvernmo, S.: 'The relationship between internalizing and externalizing symptoms and cultural resilience factors in indigenous Sami youth from Arctic Norway' (accepted manuscript version). Published version: International Journal of Circumpolar Health 2011; 70(1): 37-45, available at
http://ijch.fi/show_abstract.php?abstract_id=1072
(PDF)
Date
2011-01-14
Type
Doctoral thesis
Doktorgradsavhandling
Abstract
This thesis examined common and culture-specific risk and protective factors for internalizing (anxiety and depression) symptoms in Sami and non-Sami adolescents. This is a cross-sectional study, and the data are from The Norwegian Arctic Adolescent Health Study which was conducted among 10th graders in junior high schools in Arctic Norway in 2003-2005. The sample consisted of 4,449 adolescents, of whom 450 (10 %) were indigenous Sami and 3,999 (90 %) were non-Sami. The findings from this thesis were: (1) There were no differences between Sami and non-Sami adolescents in internalizing symptoms; (2) Strong ethnic identity, ethnic discrimination and loss of native language were cultural risk factors associated with increasing internalizing symptoms; (3) In the family socialization context, there were mostly similarities, but also some cultural differences in the impact of family factors on internalizing symptoms; (4) Engaging in cultural activities and ethnic pride were identified as cultural protective factors associated with decreasing symptom level; (5) Gender differences appeared in both ethnic groups in symptom level and in risk and protective factors associated with symptoms; (6) General protective factors, like self-efficacy, may strengthen the impact of the cultural protective factors. Findings from this study indicate both similarities and differences between Sami and non-Sami youth, and point out that the unique experience of indigenous Sami youth is related to symptoms of anxiety and depression. The integration of cultural protective factors with the well-known general protective factors is important when focusing on mental health problems and development in adolescents.
Denne avhandlingen undersøker felles og kulturspesifikke risiko- og beskyttelsesfaktorer for internaliseringsvansker (angst- og depresjonssymptomer) hos samiske og ikke-samiske ungdom. Dette er en tverrsnittstudie, og data er hentet fra ungdomsundersøkelsen "Ungdom og Helse" som ble gjennomført blant 10 klassingene i ungdomskolene i Nord Norge i 2003-2005. Utvalget består av 4449 ungdom der 450 (10 %) var samer 3999 (90 %) var ikke-samer. Funnene fra avhandlingen viste følgende: (1) Det var ingen forskjeller mellom samer og ikke-samer på symptomnivå i internaliseringsvansker; (2) Sterk etnisk identitet, etnisk diskriminering og tap av samisk språk viste seg å være kulturelle risikofaktorer assosiert med økende grad av internaliseringssymptomer; (3) I en familiesosialiserings kontekst, var det mest likheter, men også noen kulturelle forskjeller i hvilke familiefaktorer som var assosiert med internaliseringssymptomer; (4) Å delta i kulturelle aktiviteter og etnisk stolthet var identifisert som kulturelle beskyttelsesfaktorer og hadde sammenheng med reduksjon av symptomer; (5) Kjønnsforskjeller ble avdekket i begge etniske grupper både når det gjaldt symptomnivå og også i hvilke risiko og beskyttelsesfaktorer som var assosiert med symptomer; (6) Felles beskyttelsesfaktorer, som for eksempel tro på egen mestring, ser ut til å forsterke effekten av kulturelle beskyttelsesfaktorer. Funnene fra avhandlingen indikerer både likheter og forskjeller hos samer og ikke-samer når det gjelder internaliseringssymptomer, samt at det også viser at de unike erfaringene urfolksungdom har, er relatert til angst- og depresjonssymptomer. Integreringen av kulturelle beskyttelsesfaktorer sammen med de mer generelle beskyttelsesfaktorene er viktig når fokuset er psykiske plager og utvikling hos ungdom.
Dát nákkusgirji iská internaliserenváttuid (váttut baluin ja lossa mielain) oktasaš ja kultuvrralaš riska- ja gáhttenfáktoriid sámi ja eará nuorain. Dá lea jearahallaniskkadeapmi, ja data lea vižžon nuoraid dearvvašvuođaiskkadeamis mii čađahuvvui buot 10. luohkáin davvi Norgga nuoraidskuvllain jagiid 2003-2005. Dan iskkadeapmái serve 4449 nuora, ja sis ledje 450 (10 %) sámi nuorat ja 3999 (90 %) ges eará nuorat. Nákkusgirjjis ledje čuovvovaš bohtosat: (1) Sámi ja eará nuorain eai lean erohusat internaliserenváttuin; (2) Nanu etnalaš identitehta, etnalaš vealaheapmi ja sámegiela massin ledje kultuvrralaš riskafáktorat mat ledje čadnon internaliserenváttuid lassáneapmái; (3) Čájehuvvui ahte bearaškonteavsttas ledje ollu seammaláganvuođat, muhto maiddai kultuvrralaš erohusat das makkár bearašfáktorat ledje čadnon internaliserenváttuide; (4) Searvat kultuvrralaš doaimmaide ja leat rámis iežas etnalaš joavkkuin ledje kultuvrralaš gáhttenfáktorat mat ledje čadnon váttuid njiedjamii; (5) Sohkabealerohusat gávdnojedje goappaš etnalaš joavkkuin, sihke dan ektui man ollu váttut ledje ja makkár fáktorat ledje čadnon váttuide; (6) Obbalaš gáhttenfáktorat, nugo buorre iešdovdu, orrot nanneme kultuvrralaš gáhttenfáktoriid ávkki. Nákkusgirjji bohtosat čájehit sihke seammaláganvuođaid ja erohusaid internaliserenváttuin sámi ja eará nuoraid gaskkas. Bohtosat čájehit dasa lassin ahte leat álgoálbmot nuorran lea maiddái čadnon ballui ja lossa millii. Lea dehálaš váldit vuhtii sihke oktasaš ja kultuvrralaš gáhttenfáktoriid go iská nuoraid psyhkalaš váttisvuođaid ja ovdáneami.
Description
papers number 1 and 2 of the thesis are not available in Munin due to publishers' restrictions:
1. Bals, M., Turi, A. L., Skre, I., & Kvernmo, S.: 'Internalization symptoms, perceived discrimination and ethnic identity in indigenous Sami and non-Sami youth in Arctic Norway', Ethnicity and Health, 15(2), 2010, p. 165-179 (Taylor & Francis). Available at
http://dx.doi.org/10.1080/13557851003615545
.
2. Bals, M., Turi, A. L., Vittersø, J., Skre, I., & Kvernmo, S.: 'Self-reported internalization symptoms and family factors in indigenous Sami and non-Sami adolescents in North Norway', Journal of Adolescence (in press) (Elsevier). Available at
http://dx.doi.org/10.1016/j.adolescence.2010.08.005
Collections
Copyright 2011 The Author(s)
The following license file are associated with this item: