Novel serum biomarkers and their association with measured and estimated GFR decline in the general population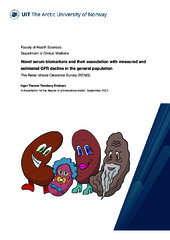 View/Open
Thesis introduction, Papers I & III (PDF)
Entire thesis in one comprehensive file (PDF)
File(s) with restricted access are under embargo until
2025-09-29
Date
2023-09-29
Type
Doctoral thesis
Doktorgradsavhandling
Abstract
Chronic kidney disease (CKD) is an increasing health problem globally, now affecting 8-13% of the world's population. The prevalence of CKD increases dramatically with age because kidney function, as assessed by the glomerular filtration rate (GFR), declines with age. The rate of GFR loss varies significantly between individuals regardless of known risk factors. However, current kidney biomarkers are suboptimal at predicting those at high risk of accelerated glomerular filtration rate (GFR) decline, especially when GFR is >60 ml/min/1.73m2. Thus, there is an unmet need to identify high-risk individuals or groups of people for early measures to delay or prevent CKD development. This thesis explores the relationship between baseline levels of 18 serum biomarkers and GFR decline over 5.6 and 11.0 years of follow-up in 1627 individuals in a healthy general middle-aged population, without cardiovascular disease, kidney disease, or diabetes at baseline. The GFR was measured (mGFR) using iohexol clearance at baseline and follow-up. We also investigated whether there are discrepancies in the relationship between the biomarkers and GFR decline when using the measured GFR or the commonly used estimated GFR (eGFR) from creatinine or cystatin C. Only one biomarker (MMP7) was independently associated with GFR decline independent of follow-up time, estimated or measured GFR, or how GFR decline was defined. MMP7 also predicted incident CKD and accelerated GFR decline beyond traditional CKD risk factors. Associations between the other proteins and GFR decline varied depending on whether the GFR was estimated or measured using iohexol. Thus, for some biomarkers, associations with eGFR decline may not be reproducible with mGFR. Results from studies on biomarkers for GFR decline, using eGFR and particularly eGFR from cystatin C, should be interpreted with caution.
Has part(s)
Paper 1: Enoksen, I.T., Svistounov, D., Norvik, J.V., Stefansson, V.T.N., Solbu, M.D., Eriksen, B.O. & Melsom, T. (2022). Serum matrix metalloproteinase 7 and accelerated glomerular filtration rate decline in a general non-diabetic population. Nephrology Dialysis Transplantation, 37(9), 1657-1667. Also available in Munin at https://hdl.handle.net/10037/23837.
Paper 2: Enoksen, I.T., Rinde, N.B., Svistounov, D., Norvik, J.V., Stefansson, V.T.N., Solbu, M.D., Eriksen, B.O. & Melsom, T. (2023). Validation of eGFR for Detecting Associations Between Serum Protein Biomarkers and Subsequent GFR Decline. Article in press, now published in Journal of the American Society of Nephrology, 34(8), 1409-1420. Published version not available in Munin due to publisher's restrictions. Published version available at https://doi.org/10.1681/ASN.0000000000000147.
Paper 3: Rinde, N.B., Enoksen, I.T., Melsom, T., Fuskevåg, O.M., Eriksen, B.O. & Norvik, J.V. (2023). Nitric oxide precursors and dimethylarginines as risk factors for accelerated GFR decline in the nondiabetic general population. Kidney International Reports, 8(4), 818-826. Also available at https://hdl.handle.net/10037/30295.
Publisher
UiT The Arctic University of Norway
UiT Norges arktiske universitet
Collections
Copyright 2023 The Author(s)
The following license file are associated with this item: