Zinc binding and chelating compounds as inhibitors of bacterial metalloproteases and human matrix metalloproteases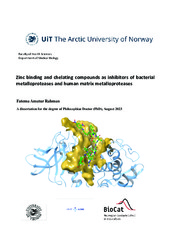 View/Open
Thesis introduction, Papers I & II (PDF)
Entire thesis in one comprehensive file (PDF)
File(s) with restricted access are under embargo until
2024-04-13
Date
2023-10-13
Type
Doctoral thesis
Doktorgradsavhandling
Abstract
Bacterial multi-drug resistance is a major health problem worldwide. Inhibition of bacterial virulence is suggested to be a promising strategy in the development of new antibacterial drugs. The present work has focused on identifying new inhibitors of the bacterial virulence factors thermolysin (TLN), pseudolysin (PLN, LasB) and aureolysin (ALN), which are all zinc metalloproteases (MPs) using enzyme kinetics studies and molecular modelling. A chemical group chelating the catalytic zinc ion of MPs, referred to as the zinc-binding group (ZBG) (e.g., phosphinate (PO2), carboxylate (COO-), thiolate (S-) and hydroxamic acid HONH-CO, sulfhydryl, etc.) is important for essential inhibition. The strategy in the present work was to use different compounds with a putative ZBG, including compounds with nitrogen as the zinc donor atom. The structure of the active site cleft of the virulence factors is very similar to that of the matrix metalloproteases (MMPs) and other human zinc MPs. Bacterial virulence inhibitors as drugs against bacterial infections should have limited effects on human endogenous zinc MPs. Therefore, we also tested their inhibition of human MMP-9 and MMP-14. Several compounds were found to inhibit the activity of the virulence factors, but most of the compounds also inhibited the human enzymes. However, the studies showed that the bisphosphonate-containing compound RC2 bound stronger to the bacterial virulence factors than to the human enzymes, while the catechol-containing compound BF471 was found to inhibit ALN. To our knowledge, this is the first reported small molecule inhibiting ALN. These compounds may be used as scaffolds to design new and potentially stronger inhibitors of bacterial virulence factors with therapeutic potential.
Has part(s)
Paper I: Rahman, F., Nguyen, T.M., Adekoya, O.A., Campestre, C., Tortorella, P., Sylte I. & Winberg, J.O. (2021). Inhibition of bacterial and human zinc-metalloproteases by bisphosphonate- and catechol-containing compounds. Journal of Enzyme Inhibition and Medicinal Chemistry, 36(1), 819-830. Also available in Munin at https://hdl.handle.net/10037/21906..
Paper II: Rahman, F., Wushur, I., Malla, N., Åstrand, O.A.H., Rongved, P., Winberg, J.O. & Sylte, I. (2022). Zinc-Chelating Compounds as Inhibitors of Human and Bacterial Zinc Metalloproteases. Molecules, 27, 56. Also available in Munin at https://hdl.handle.net/10037/23748.
Paper III: Rahman, F., Wushur, I., Chaulagain, B., Nguyen, T.M., Adekoya, O.A., Malla, N., Winberg, J.O. & Sylte, I. Interactions of substrates and phosphinyl-containing inhibitors with human MMPs and bacterial virulence factors. (Manuscript).
Publisher
UiT The Arctic University of Norway
UiT Norges arktiske universitet
Collections
Copyright 2023 The Author(s)
The following license file are associated with this item: