Socio-technical integration in health care : a case study from a hospital-based laboratory context.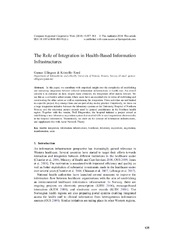 View/Open
Gunnar Ellingsen and Kristoffer Røed: 'The Role of Integration in Health-Based Information Infrastructures', Computer Supported Cooperative Work (2010) vol. 19, no. 6:557-584. Published version available at
http://dx.doi.org/10.1007/s10606-010-9122-y
(PDF)
Thesis introduction (PDF)
Date
2012-03-30
Type
Doctoral thesis
Doktorgradsavhandling
Abstract
This thesis deals with socio-technical approaches to the work of implementing ICT systems in health care. In the thesis, I address and reflect on challenges related to design and implementation as well as integration of ICT systems with hospital laboratories. Based upon empirical examples gathered from a longitudinal case study using interpretive methods, the results suggest how health care practices can shape the implementation of integrated systems and what role users may have in these projects. The thesis concerns not only the practical challenges of integration, but also how large-scale integration challenges may be handled. In recent decades, several projects and national strategies aimed at enabling electronic interactions within the health care system have failed. Despite heavy investment of resources, the results of many projects are still far from the initial goals. Major delays and budget overruns are common. One important reason for such outcomes is that designers and project managers do not manage to grasp the complexities in the existing practices when they draw up strategies for more efficient health care. My objective is to spell out this complexity in detail. By reflecting on previous research, I emphasize that ICT systems, when designed, do not adequately address existing practices and existing portfolios in health care organizations. In the light of the diversity and variations across different health care practices, a broader approach and understanding is necessary to understand the impact of these differences. In this thesis, integration is seen from a broader socio-technical perspective, which offers an important foundation for increased cooperation between designers of ICT systems and members of organizations. I illustrate the importance of such cooperation by showing that users may be an unexploited resource in large-scale ICT projects. In some cases, users should be regarded as co-designers of ICT systems.
Description
Papers 1, 2 and 4 are not available in Munin:
1. Røed, K.: 'Slow organizations and fast technologies" How existing practices and systems shape integration projects in health care' (submitted manuscript to New Technology, Work and Employment)
2. Røed, K., Monteiro, E. and Ellingsen, G.: 'Integration as Escalation of Complexity', (accepted paper at the 6th Mediterranean Conference on Information Systems (MCIS), Cyprus).
4. Røed, K. and Ellingsen, G.: 'Users as Heterogeneous Engineers - The Challenge of Designing Sustainable Information Systems in Health Care', 44th Hawaii International Conference on System Sciences (HICSS) (2011) pp. 1-10. Available at
http://doi.ieeecomputersociety.org/10.1109/HICSS.2011.475
Collections
Copyright 2012 The Author(s)
The following license file are associated with this item: