The Effect of Ethnicity and Economy upon Intergenerational Coresidence : Northern Norway during the Last Part of the Nineteenth Century
DOI
doi: 10.1177/0363199011406634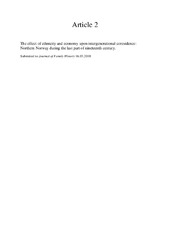 Date
2011
Type
Journal article
Tidsskriftartikkel
Peer reviewed
Abstract
During the last part of the nineteenth century, Finnmark province and the Northern part of Troms experienced a decline in intergenerational coresidence. This article discusses what impact ethnic affiliation and economic activity had on the living arrangements of the elderly, and what contributed to the change. Logistic regression shows that ethnicity played a role, but its effect disappears after controlling for economic activity. Intergenerational coresidence was positively associated with being a married Sámi male with an occupation in farming or combined fishing and farming. As such a person grew older, he was increasingly likely to live separately from an own adult child. This pattern changed towards the end of nineteenth century. By the close of the century, ethnic differences had disappeared, and headship position, irrespective of marital status, was strongly related to coresidence.
Publisher
National Council on Family Relations
Citation
Journal of Family History 36(2011) nr. 3 s. 263-285
The following license file are associated with this item:
Related items
Showing items related by title, author, creator and subject.
Krogsæter, Tor-Ivar

(

Lecture; Forelesning

,

2016-06-19

)

Kolstad, Charlotte Renland

(

Master thesis; Mastergradsoppgave

,

2014-05-15

)

I 1994 ble rundt 800 000 mennesker drept i et lite sentralafrikansk land, størrelsen på landet kan sammenlignes med Troms fylke i Norge. Hendelsen er kjent som folkemordet i Rwanda. I senere tid har det blitt utgitt et relativt bredt spekter av litteratur på feltet, hvor forskere har hatt forskjellige ståsteder som har resultert i ulike synsvinklinger. Prosjektet tar for seg sentrale oppfatninger ...

Krogsæter, Tor-Ivar

(

Master thesis; Mastergradsoppgave

,

2015-11-27

)

Avhandlinga søker å finne svar på spørsmålet «Hvordan endret romernes syn på seksualitet seg i løpet av den tidlige keisertida, fra seinrepublikken til de første århundrene av prinsipatet?» ved å studere lovarbeid og litteratur i den aktuelle perioden og om vi kan se tendenser til endring i disse. Bakgrunnen for dette spørsmålet, ligger i keiser Augustus' morallover «lēx Iūlia dē marītandīs ōrdinibus» ...