High North Research Documents : a new thematic and global service reusing all open sources.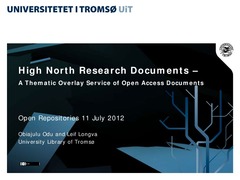 View/Open
Powerpoint presentation (PDF)
Presentation manuscript (PDF)
Date
2012
Type
Conference object
Konferansebidrag
Abstract
High North Research Documents is a thematically tailored search service, based on all the open and freely available research documents in the world. The relevant documents are identified through their freely available metadata records. A set of specialized keywords are applied to this end, in a filtering algorithm. An automatic filter process is emphasized, minimizing the need for manual labor in the process. The filtered records relevant to high north are ingested into a customized DSpace repository which serves as end user search and discovery interface. The metadata records used as input are made available through a co-operation with Bielefeld University Library and their BASE service, the harvester of open repositories worldwide.
Publisher
University of Tromsø
Universitetet i Tromsø
Citation
Open Repositories 11 July 2012
The following license file are associated with this item: