African sleeping sickness in The Democratic Republic of Congo : on the edge of an outbreak?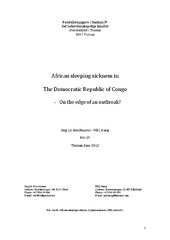 View/Open
Filmsnutt fra Kinshasa. Trypanosomer i mikroskop. (Unknown)
Versjon med figurer og tabeller som vedlegg på slutten av oppgaven (PDF)
(PDF)
Date
2012-06-01
Type
Master thesis
Mastergradsoppgave
Abstract
Background: African sleeping sickness is one of the World Health Organizations (WHO) defined neglected tropical diseases. It is endemic in 36 sub-Saharan Africa countries. Even though the incidence has decreased in all these countries the last decade, the incidence of infected travelers is increasing due to increased tourism. The disease is challenging to diagnose, and is regarded as fatal if left untreated. Material and methods: This is a literature review based on systematic search in PubMed. In addition cross-section surveys were carried out in Zanzibar (Tanzania), a former HAT-endemic island (n=50) and in Kasongo (the Democratic Republic of Congo, DRC), a current HAT-infected area (n=50). Clinical experience was obtained in different health care centers and hospitals in Kinshasa (DRC) and Kasongo (DRC). We interviewed people on all levels working with HAT. E.g the health minister of Maniema, the leader of the Belgium partner (BTC-CTB) and mobile team workers in Kinshasa, and remote Kasongo. Results and principal findings: Human African trypanosomiasis (HAT) still poses a major problem in the remote and poorest parts of Africa. The lack of vaccine and prophylaxis against HAT makes it even more important with sufficient prevention and control programs. The disease is caused by the parasite of the species Trypanosoma brucei. Its vector is the tsetse fly. The disease is divided into two stages, separated by whether trypanosomes are present in the central nervous system or not. The first stage presents a fever illness. The second stage presents several of neurological symptoms, such as sleeping disorder. The clinical feature alone is insufficient to set the diagnosis, and the diagnostic tools presented today do not show enough accuracy. The treatment of late stage HAT has severe side effects. The last 60 years has only seen one new drug for HAT. We found the awareness of HAT in Zanzibar to be limited to 30%. In Kasongo 78% of the population were found to have knowledge of HAT. Among those who had knowledge, only 32% knew that the tsetse fly was the transmitter. Conclusion: As the incidence of HAT is decreasing, so is the attention. HAT may well go from being a neglected disease to an ignored disease. Thus we cannot rule out the possibility of a new outbreak. To prevent an increase of HAT, or even a new epidemic, it is of great importance to maintain the prevention and control programs. The development of more specific diagnosis and staging tools is urgent. The Holy Grail will be the development of a vaccine, though there is still a long way to go.
Publisher
Universitetet i Tromsø
University of Tromsø
Collections
Copyright 2012 The Author(s)
The following license file are associated with this item:
Related items
Showing items related by title, author, creator and subject.
Nikolaisen, Trygg Einar

(

Mastergradsoppgave; Master thesis

,

2018-05-15

)

Introduction: Liposomes as drug delivery systems has been widely studied as a way to solubilize poorly soluble drugs, reduce side effects of chemotherapeutics and increase circulation time in vivo. Since the first descriptions of liposomes over 60 years ago, they have shown tendencies to shrink and swell when the external environment of the liposomes is altered. This phenomenon has been studied in ...

Frid, Paula

(

Doctoral thesis; Doktorgradsavhandling

,

2020-10-02

)

The temporomandibular joint (TMJ) is commonly involved in juvenile idiopathic arthritis (JIA), and may lead to impaired mouth opening, pain and facial growth disturbances. Asymptomatic TMJ arthritis may be diagnosed late in the disease course, thus management is challenging. The overall objectives of this thesis were to provide new knowledge on quality of life (QoL), the oral microbiome and interventions ...

Andersen, Sigve

;

Dønnem, Tom

;

Al-Shibli, Khalid Ibrahim

;

Al-Saad, Samer

;

Stenvold, Helge

;

Busund, Lill-Tove

;

Bremnes, Roy M.

(

Journal article; Tidsskriftartikkel; Peer reviewed

,

2011

)

Angiopoietins and their receptor Tie-2 are, in concert with VEGF-A, key mediators in angiogenesis. This study evaluates the prognostic impact of all known human angiopoietins (Ang-1, Ang-2 and Ang-4) and their receptor Tie-2, as well as their relation to the prognostic expression of VEGF-A. 335 unselected stage I-IIIA NSCLC-patients were included and tissue samples of respective tumor cells and ...