The coagulase negative staphylococci; molecular studies on Staphylococcus haemolyticus and novel treatment of staphylococcal biofilms in vitro and in vivo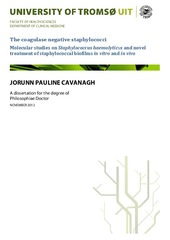 View/Open
Thesis introduction (PDF)
Flemming K, Klingenberg C, Cavanagh JP, Sletteng M, Stensen W, Svendsen JS and Flaegstad T.: 'High in vitro antimicrobial activity of synthetic antimicrobial peptidomimetics against staphylococcal biofilms', Journal of Antimicrobial Chemotherapy (2009) vol. 63, 136–145. Published with permission. Available on journal website on
http://dx.doi.org/10.1093/jac/dkn464
(PDF)
Date
2013-01-25
Type
Doctoral thesis
Doktorgradsavhandling
Abstract
The coagulase negative staphylococci (CoNS) were earlier regarded as innocuous inhabitants of the human normal skin flora, but are now emerging as opportunistic pathogens. In addition to their biofilm producing ability CoNS are frequently multi-resistant, and a high prevalence of methicillin resistant CoNS is found. Staphylococcus haemolyticus is an emerging cause of nosocomial infections, primarily associated with catheter related infections in immunocompromised patients, e.g. patients with haematological disease and premature infants. Molecular identification of bacterial lineages, more prone to causing disease is important in understanding the establishment and transfer of bacterial infectious epidemiology. The tracking of bacterial isolates belonging to a defined clone allows implementation of preventive measures, such as patient isolation and bacterial sanification. In this study two methods; Multi Locus Sequence Typing (MLST) and Multi Locus Variable number of tandem repeat Fingerprinting (MLVF) enabling molecular tracing of S. haemolyticus were established. However the application of MLST and MLVF did not provide a satisfactory discriminatory power. Whole genome sequencing of a global collection of 134 S. haemolyticus isolates was used for investigating their phylogenetic relationship, and the evolution of antibiotic resistance in the population. Whole genome sequencing revealed the presence of a clonal expansion of hospital-adapted isolates of S. haemolyticus in European hospitals. Resistance towards several classes of antimicrobial agents underlines the importance of this opportunistic pathogen in the accumulation and spread of resistance genes to the common staphylococcal gene pool. Biofilm formation protects against several external factors such as antimicrobial agents, desiccation, shear stress and the host immune system. Biofilm forming Staphylococcus epidermidis is a prevalent cause of peritonitis during peritoneal dialysis. Due to their biofilm forming ability they often cause persisting infections. Newly developed synthetic antimicrobial peptidomimetics (SAMPs) are promising as new drugs against pathogenic bacteria. Due to resistance towards many conventional antibiotics the antimicrobial potential of SAMPs were investigated. Our studies showed that Ltx SAMPs were clearly more effective in reducing metabolic activity in staphylococcal biofilms at low concentrations compared to antibiotics in vitro. We further aimed to compare the efficacy of a synthetic antimicrobial peptidomimetics (Ltx 21) versus vancomycin in a murine model mimicking a device-related peritonitis. Treatment with vancomycin or Ltx 21 in vivo was not sufficient to achieve complete bacterial clearance on implants, underlining the difficulties of treating such infections. The low-grade infection may attenuate the inflammatory response and contribute to impaired bacterial clearance.
Description
Papers 1, 2 and 4 of this thesis are not available in Munin:
1. Cavanagh JP, Klingenberg C, Hanssen AM, Fredheim EA, Francois P, Schrenzel J, Flægstad T & Sollid JE.: 'Core genome conservation of Staphylococcus haemolyticus limits sequence based population structure analyses', Journal of Microbiological Methods (2012), vol. 89 (3):59–166. Available at
http://dx.doi.org/10.1016/j.mimet.2012.03.014
2. Cavanagh JP, Hjerde E, Holden M, Klingenberg C, Flægstad T & Sollid JE.: 'Whole genome sequencing reveals clonal expansion of multi-resistant Staphylococcus haemolyticus in European hospitals' (manuscript).
4. Cavanagh JP, Granslo HN, Fredheim EA, Christophersen L, Jensen PØ, Thomsen K, Bjarnsholt T, van Gennip M, Klingenberg C, Høiby N, Svendsen JS, Stensen W, Flægstad T & Moser C.: 'Efficacy of a synthetic antimicrobial peptide versus vancomycin in a Staphylococcus epidermidis device related murine peritonitis model' Journal of Antimicrobial Chemotherapy (2013), Online before print. Available at
http://dx.doi.org/10.1093/jac/dkt161
Publisher
University of Tromsø
Universitetet i Tromsø
The following license file are associated with this item: