Social capital and public libraries: The need for research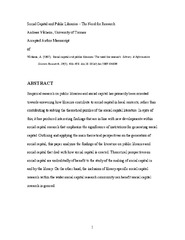 Dato
2007
Type
Journal article
Tidsskriftartikkel
Peer reviewed
Sammendrag
Empirical research on public libraries and social capital has primarily been oriented toward discovering how libraries contribute to social capital in local contexts, rather than contributing to solving the theoretical puzzles of the social capital literature. In spite of this, it has produced interesting findings that align with new developments in social capital research. These findings emphasize the significance of institutions in generating social capital. By outlining and applying the main theoretical perspectives on generating social capital, this paper analyzes the findings of the literature on public libraries and how social capital is created. Theoretical perspectives on social capital will undoubtedly benefit the study of social capital's creation in and by the library. Including library-specific social capital research within the wider social capital research community can benefit social capital research in general.
Sitering
Library & Information Science Research 29(2007) nr. 3 s. 416-428
Følgende lisensfil er knyttet til denne innførselen:
Relaterte innførsler
Viser innførsler relatert til tittel, forfatter og emneord.
Attah, Ambrose Ojadale

(

Master thesis; Mastergradsoppgave

,

2017-11-02

)

Nigeria is witnessing continuing advocacy and increase in number of individuals yearning for computerization of health information and healthcare processes. However, little is known about the opinions of the diverse healthcare providers who would ensure the successful implementation and meaningful use of health information technology in the country (Adeleke, Erinle et al. 2015). This study explores ...

Viken Valvåg, Steffen

(

Doctoral thesis; Doktorgradsavhandling

,

2012-01-30

)

MapReduce has become a widely employed programming model for large-scale data-intensive computations. Traditional MapReduce engines employ dynamic routing of data as a core mechanism for fault tolerance and load balancing. An alternative mechanism is static routing, which reduces the need to store temporary copies of intermediate data, but requires a tighter coupling between the components for ...

Maurer, Anina

(

Master thesis; Mastergradsoppgave

,

2012-09-03

)

This thesis assesses the obligations of landlocked states (LLSs) to protect the marine environment as a whole. In order to limit the scope, three international instruments are focussed upon: the United Nations Convention on the Law of the Sea (UNCLOS), the Convention on Biological Diversity (CBD), and the Fish Stocks Agreement (FSA). This thesis then goes one step beyond the existing regulations, ...