Social capital and public libraries: The need for research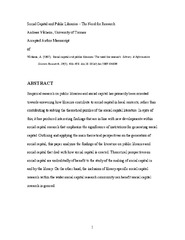 Date
2007
Type
Journal article
Tidsskriftartikkel
Peer reviewed
Abstract
Empirical research on public libraries and social capital has primarily been oriented toward discovering how libraries contribute to social capital in local contexts, rather than contributing to solving the theoretical puzzles of the social capital literature. In spite of this, it has produced interesting findings that align with new developments in social capital research. These findings emphasize the significance of institutions in generating social capital. By outlining and applying the main theoretical perspectives on generating social capital, this paper analyzes the findings of the literature on public libraries and how social capital is created. Theoretical perspectives on social capital will undoubtedly benefit the study of social capital's creation in and by the library. Including library-specific social capital research within the wider social capital research community can benefit social capital research in general.
Citation
Library & Information Science Research 29(2007) nr. 3 s. 416-428
The following license file are associated with this item:
Related items
Showing items related by title, author, creator and subject.
Nikolaisen, Trygg Einar

(

Mastergradsoppgave; Master thesis

,

2018-05-15

)

Introduction: Liposomes as drug delivery systems has been widely studied as a way to solubilize poorly soluble drugs, reduce side effects of chemotherapeutics and increase circulation time in vivo. Since the first descriptions of liposomes over 60 years ago, they have shown tendencies to shrink and swell when the external environment of the liposomes is altered. This phenomenon has been studied in ...

Attah, Ambrose Ojadale

(

Master thesis; Mastergradsoppgave

,

2017-11-02

)

Nigeria is witnessing continuing advocacy and increase in number of individuals yearning for computerization of health information and healthcare processes. However, little is known about the opinions of the diverse healthcare providers who would ensure the successful implementation and meaningful use of health information technology in the country (Adeleke, Erinle et al. 2015). This study explores ...

Pedersen, Aleksander

(

Doctoral thesis; Doktorgradsavhandling

,

2020-10-20

)

In applications for technical problems, Geometric modeling and sensor technology are key in both scientific and industrial development. Simulations and visualization techniques are the next step after defining geometry models and data types. This thesis attempts to combine different aspects of geometric modeling and sensor technology as well as to facilitate simulation and visualization. It includes ...