Staphylococcus aureus nasal carriage – Interplay between host, microbe and the environment.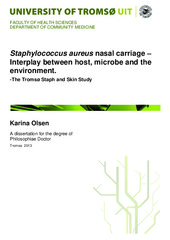 View/Open
Thesis introduction without figure 1 (PDF)
Olsen K, Falch BM, Danielsen K, Johannessen M, Sollid JUE, Thune I, Grimnes G, Jorde R, Simonsen GS, Furberg A-S.: 'Staphylococcus aureus nasal carriage is associated with serum 25-hydroxyvitamin D levels, gender and smoking status. The Tromsø Staph and Skin Study', European Journal of Clinical Microbiology & Infectious Diseases (2012), vol. 31(4):465-473. (PDF)
Date
2013-09-20
Type
Doctoral thesis
Doktorgradsavhandling
Abstract
Background: S. aureus colonizes persistently 20–30% of the adult human population (S. aureus carriers), and can also cause serious infections. The main objectives of this thesis were to investigate whether the modifiable risk factors such as serum vitamin D levels and obesity, and environmental factors such as current smoking, being a healthcare worker and residing with children were associated with S. aureus nasal colonization and carriage in an adult general population. The Tromsø Staph and Skin Study is part of the sixth Tromsø Study (Tromsø 6) carried out from October 2007 to December 2008 in the municipality of Tromsø. Our study supports the view that there is a complex interplay between host-, microbial- , and environmental factors during colonization and carriage. The current study indicates an inverse dose-response association between serum vitamin D concentration and the odds of S. aureus nasal colonization and carriage in non-smoking men. We observed that obese young and premenopausal women had increased odds of S. aureus nasal colonization independent of pre-diabetes and diabetes. Work in healthcare services was associated with increased odds of S. aureus nasal carriage among women. Odds were even higher among women residing with children. Our study suggests that a synergism between work and household is of importance for the overall S. aureus carrier state in HCWs.
Description
Paper 2 of this thesis is not available in Munin:
2. Olsen K, Danielsen K, Wilsgaard T, Sangvik M, Sollid JUE, Thune I, Eggen AE, Simonsen GS, Furberg A-S.: 'Obesity and Staphylococcus aureus nasal colonization among women and men in a general population' (manuscript)
Publisher
UiT Norges arktiske universitet
UiT The Arctic University of Norway
Series
ISM skriftserie, nr 138
The following license file are associated with this item:
Related items
Showing items related by title, author, creator and subject.
Andersen, Sigve

;

Dønnem, Tom

;

Al-Shibli, Khalid Ibrahim

;

Al-Saad, Samer

;

Stenvold, Helge

;

Busund, Lill-Tove

;

Bremnes, Roy M.

(

Journal article; Tidsskriftartikkel; Peer reviewed

,

2011

)

Angiopoietins and their receptor Tie-2 are, in concert with VEGF-A, key mediators in angiogenesis. This study evaluates the prognostic impact of all known human angiopoietins (Ang-1, Ang-2 and Ang-4) and their receptor Tie-2, as well as their relation to the prognostic expression of VEGF-A. 335 unselected stage I-IIIA NSCLC-patients were included and tissue samples of respective tumor cells and ...

Gabrielsen, Endre

(

Master thesis; Mastergradsoppgave

,

2012-06-01

)

I 1983 oppdaget zur Hausen sammenhengen mellom Humant Papillomavirus (HPV) og livmorhalskreft. På denne tiden visste man ikke at det var HPV som var årsaken til at Helaceller kunne leve in vitro. Ny forskning relaterer HPV til en rekke andre cancertyper. En stor andel anal-, oropharyngeal-, penis-, vaginal-, og vulvacancer skyldes HPV. Det er også påvist HPV i tumorvev fra øsofagus, larynx, lunge, ...

Hoem, Gry

(

Master thesis; Mastergradsoppgave

,

2012-06

)

Fragile X syndrome (FXS) is caused by an expanded CGG repeat (>200 repeats) in the 5' un-translated portion of the fragile mental retardation 1 gene (FMR1) leading to deficiency or absence of the FMR1 protein (FMRP). FMRP is an RNA carrier protein that controls the translation of a number of other genes that regulate synaptic development and plasticity. Autism occurs in approximately 30% of FXS ...