Genital Chlamydia trachomatis infections among adolescents in a high-incidence area in Norway: genotypes, prevalence, early sexual behaviour and testing patterns – a cross-sectional study The Finnmark High School Study (FHSS)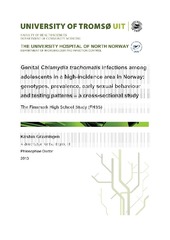 View/Open
Thesis introduction and appendixes (PDF)
Gravningen K, Christerson L, Furberg AS, Simonsen GS, Ödman A, Herrmann B.: 'Multilocus sequence typing of genital Chlamydia trachomatis in Norway reveals multiple new sequence types and a large genetic diversity', Plos One (2012), vol. 7:e34452 (PDF)
Gravningen K, Furberg AS, Simonsen GS, Wilsgaard T.: 'Early sexual behaviour and Chlamydia trachomatis infection - a cross-sectional study on gender differences among adolescents in Norway', BMC Infectious Diseases (2012), vol. 12:319 (PDF)
Gravningen K, Simonsen GS, Furberg AS, Wilsgaard T.: 'Factors associated with Chlamydia trachomatis testing in a high school based screening and previously in clinical practice: a cross-sectional study in Norway', BMC Infectious Diseases (2013), vol. 13:361. (PDF)
Full thesis with articles and appendixes (PDF)
Date
2013-12-06
Type
Doctoral thesis
Doktorgradsavhandling
Abstract
Chlamydia trachomatis is the most commonly reported curable sexually transmitted infection in Western high-income countries and can cause severe female reproductive tract morbidity. Despite extensive control efforts, chlamydia rates have increased in most countries since the mid-1990s. Young persons and especially adolescent girls have the highest infection rates. In general, girls are tested far more frequently than boys. High-resolution genotyping provides detailed information on the molecular epidemiology and genetic diversity of C. trachomatis. In this thesis, we investigated; i) C. trachomatis genotype distribution and genetic diversity using MLST (multilocus sequence typing) and ompA genotyping in Finnmark, a high-incidence area in Norway, ii) associations between early sexual behaviour and prevalent chlamydia infection, and iii) demographic and sexual behaviour factors associated with chlamydia testing in a high school based screening and previous clinic based testing, among girls and boys aged 15-20 years who participated in the Finnmark High School Study conducted from September to November 2009. We detected a large genetic diversity, multiple novel sequence types and alleles by MLST, and an atypical genovar distribution with predominance of G in a previously unmapped area. C. trachomatis genetic diversity in rural Finnmark and two other urban areas was similar. Chlamydia prevalence in sexually active girls was 7.3% and in boys 3.9%. Girls started their sexual career and were more sexually active at an earlier age and thus had a different risk profile from boys which may contribute to higher prevalence. Threefold more girls than boys reported previous clinic based testing which was associated with known chlamydia risk factors. School based screening reached 93% of participants and was associated with factors unknown to increase risk thus suggesting other motives. Half of infections were detected in those only tested at school. We confirmed the efficiency of school based screening to increase testing and detect hidden infections and we thus suggest this approach to be tried as a complement to other chlamydia control strategies in selected high-morbidity areas in Norway.
Chlamydia trachomatis er den hyppigst rapporterte seksuelt overførbare infeksjonen i vestlige land. Ubehandlet infeksjon hos kvinner kan føre til svangerskap utenfor livmoren og barnløshet. Tross omfattende kontrolltiltak har forekomsten av klamydiainfeksjoner økt i de fleste land siden midten av 90-tallet. Unge personer og særlig kvinner har høyest forekomst. Jenter tester seg generelt mer enn gutter. Genotypimetoder med høy oppløselighet kan gi kunnskap om molekylærepidemiologien og den genetisk diversiteten av C. trachomatis. I denne avhandlingen har vi undersøkt; i) distribusjon og genetisk diversitet av C. trachomatis genotyper ved bruk av MLST (multilokus sekvenstyping) og ompA-typing i Finnmark som har den høyeste insidensraten av klamydia i Norge, ii) om kjønnsforskjeller i tidlig seksualatferd er relatert til prevalent klamydiainfeksjon, og iii) om demografiske faktorer og seksualatferd har betydning for deltakelse i en klamydiascreening i videregående skole og for tidligere testing i klinisk praksis blant jenter og gutter i alderen 15-20 år som deltok i en forskningsstudie ved fem skoler i Finnmark fra september til november 2009. Vi påviste stor genetisk diversitet, mange nye alleler og sekvenstyper ved MLST, samt en atypisk genovarfordeling med predominans av G i et ikke kartlagt område. Genetisk diversitet var lik i Finnmark og to større byer. Klamydiaprevalens hos seksuelt aktive jenter var 7,3% og hos gutter 3,9%. Jenter hadde lavere seksuell debutalder og var tidligere mer seksuelt aktive enn gutter. Ulik risikoprofil kan bidra til å forklare kjønnsforskjeller i prevalens. Tre ganger flere jenter enn gutter rapporterte tidligere testing i klinisk praksis, mens testraten var 93% for begge kjønn i skolescreeningen. Tidligere testing var assosiert med kjente risikofaktorer for klamydia, mens deltakelse i screeningen var assosiert med faktorer som vanligvis ikke er knyttet til infeksjonsrisiko. Dette tyder på at andre motiver var viktige for deltakelse i skole-screeningen. Halvparten av infeksjonene ble påvist blant personer som kun testet seg på skolen. Vi bekreftet at skolescreening øker testing og påviser et større infeksjonsreservoar. Vi foreslår derfor at skolescreening utprøves i selekterte områder med høy klamydiaforekomst som et tillegg til andre forebyggende tiltak mot klamydiainfeksjoner i Norge.
Publisher
UiT Norges arktiske universitet
UiT The Arctic University of Norway
Series
ISM skriftserie, nr 144
Collections
Copyright 2013 The Author(s)
The following license file are associated with this item:
Related items
Showing items related by title, author, creator and subject.
Andersen, Sigve

;

Dønnem, Tom

;

Al-Shibli, Khalid Ibrahim

;

Al-Saad, Samer

;

Stenvold, Helge

;

Busund, Lill-Tove

;

Bremnes, Roy M.

(

Journal article; Tidsskriftartikkel; Peer reviewed

,

2011

)

Angiopoietins and their receptor Tie-2 are, in concert with VEGF-A, key mediators in angiogenesis. This study evaluates the prognostic impact of all known human angiopoietins (Ang-1, Ang-2 and Ang-4) and their receptor Tie-2, as well as their relation to the prognostic expression of VEGF-A. 335 unselected stage I-IIIA NSCLC-patients were included and tissue samples of respective tumor cells and ...

Gabrielsen, Endre

(

Master thesis; Mastergradsoppgave

,

2012-06-01

)

I 1983 oppdaget zur Hausen sammenhengen mellom Humant Papillomavirus (HPV) og livmorhalskreft. På denne tiden visste man ikke at det var HPV som var årsaken til at Helaceller kunne leve in vitro. Ny forskning relaterer HPV til en rekke andre cancertyper. En stor andel anal-, oropharyngeal-, penis-, vaginal-, og vulvacancer skyldes HPV. Det er også påvist HPV i tumorvev fra øsofagus, larynx, lunge, ...

Songstad, Nils Thomas

(

Doctoral thesis; Doktorgradsavhandling

,

2014-09-18

)

Objectives: To investigate how cardiac function, remodeling and gene expression are affected in pregnancy in response to cardiovascular stress, to detect possible adverse effects on the fetus, and to evaluate if coronary endothelial function is influenced by pregnancy and increased cardiac afterload. Methods: Pregnant and non-pregnant rats were subjected to chronic AngII-infusion, transverse aortic ...