Ensuring valid and reliable data for quality control and research from a clinical registry for spine surgery.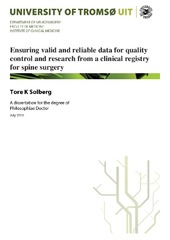 View/Open
Thesis introduction and appendixes (PDF)
Solberg TK, Sorlie A, Sjaavik K, Nygaard OP, Ingebrigtsen T: 'Would loss to follow-up bias the outcome evaluation of patients operated for degenerative disorders of the lumbar spine?', Acta Orthopaedica (2011), vol. 82(1):56-63. (PDF)
Solberg TK, Johnsen LG, Nygaard ØP, Grotle M.: 'Can we define success criteria for lumbar disc surgery? Estimates for a substantial amount of improvement in core outcome measures', Acta Orthopaedica (2013), vol. 84 (2): 196-201. (PDF)
Date
2013-11-29
Type
Doctoral thesis
Doktorgradsavhandling
Abstract
Bakgrunn Behovet for å kvalitetssikre kirurgisk behandling av rygglidelser og utvikle kliniske retningslinjer, er veldokumentert. Derfor ble Nasjonalt kvalitetsregister for ryggkirurgi opprettet. Metodene som brukes må være valide og reliable. Hensikten med avhandlingen var å evaluere målemetodene og å vise hvordan registerdata kan brukes til kvalitetssikring og forskning, slik at pasientbehandlingen kan bli tryggere og mer effektiv. Metode 1325 pasienter ble operert og fulgt i ett og/eller to år (n= 633). Omfattende informasjon om pasientene, diagnose og behandling ble samlet inn sammen med pasient rapporterte resultatmål (PROM), det vil si endring av smerte, fysisk funksjonsnivå, livskvalitet og yrkesdeltakelse. I hvor stor grad utvalgte PROM var valide og reliable, beheftet med systematiske målefeil og om de kunne brukes til å skille de med gode og dårlige operasjonsresultat, ble vurdert. Spesielt ble det fokusert på de som ble verre etter kirurgi og hvilke kliniske retningslinjer som bør gjelde for å forhindre forverring. Resultat Instrumentet EuroQol 5D ga valide og reliable evalueringer av helserelatert livskvalitet og bør kunne benyttes til kostnad/nytte analyser, men var mindre sensitivt og spesifikt i evalueringer av undergrupper av pasientene sammenliknet med sykdomsspesifikke mål som Oswestry Disability Index og numerisk skala for bensmerte. Bedring av PROM var ikke forkjellig hos de som ikke svarte på rutinemessig postoperativ kontroll sammenliknet med de som svarte. Fire prosent av pasientene som ble operert med mikrokirurgisk fjerning av skiveprolaps opplevde at de ble verre etter kirurgi, God fysisk funksjon og langvarig sykemelding før operasjon økte risikoen for å bli verre. Konklusjon Registeret som samler data fra den daglige driften i de kliniske avdelingene kan gi valid og reliabel informasjon som kan benyttes både til kvalitetssikring og forskning. Dette kan gi ny kunnskap, for eksempel om risikofaktorer, noe som kan bidra til å gjøre behandlingen tryggere og mer effektiv.
Description
Papers 1 and 4 of this thesis are not available in Munin:
1. Solberg TK, Olsen JA, Ingebrigtsen T, Hofoss D, Nygaard OP: 'Health-related quality of life assessment by the EuroQol-5D can provide cost-utility data in the field of low-back surgery', European Spine Journal (2005), vol. 14(10):1000-1007. Available at
http://dx.doi.org/10.1007/s00586-005-0898-2
4. Solberg TK, Nygaard OP, Sjaavik K, Hofoss D, Ingebrigtsen T.: 'The risk of "getting worse" after lumbar microdiscectomy', European Spine Journal (2005), vol. 14:49-54. Available at
http://dx.doi.org/10.1007/s00586-004-0721-5
Publisher
UiT Norges arktiske universitet
UiT The Arctic University of Norway
The following license file are associated with this item: