Personality characteristics, depression and the use of an Internet-based intervention among high-school students.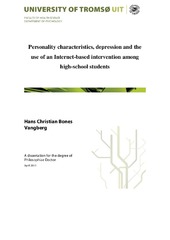 View/Open
Thesis introduction (PDF)
Vangberg, H. C. B., Lillevoll, K. R., Waterloo, K., & Eisemann, M.: 'Does personality predict depression and use of an internet-based intervention for depression among adolescents?', Depression Research and Treatment (2012), Article ID 593068, 11 pages (PDF)
Date
2013-10-29
Type
Doctoral thesis
Doktorgradsavhandling
Abstract
Adolescent depression represents a substantial burden, both for the youth affected and the surrounding family and has poor prognosis when onset is early. Among adolescents, early onset of depression predicts severe and persistent psychopathology in adult life and potential gains from preventing depressive disorders are considerable. This thesis investigated several aspects regarding the dissemination of an Internet based intervention (MoodGYM) for treating and preventing depression among adolescents. Personality was used in trying to predict the use of this program, and several aspects of the participants' characteristics are discussed. Firstly, the validity and psychometric properties of the Norwegian version of the Junior Temperament and Character Inventory was assessed. It proved to have good psychometric properties, a reasonable factor structure, and is significantly correlating with depression, self-esteem, and self-efficacy. Further, it was made clear that disseminating a self-directed MoodGYM intervention proved difficult. An attempt to increase uptake and adherence using weekly tailored e-mail reminders was made, but yet only a very small portion of the participants actually used the program. As the problem with uptake and adherence was evident, an investigation of the association between personality and depression, and the characteristics of MoodGYM users was done. The results revealed that level of depressive symptoms best predicted the use of the program and that personality can provide useful information about the users. Personality may thus represent an important contribution for the understanding of adolescent behaviour concerning mental health and well being and aiding in finding appropriate ways to increase the effective use of Internet based interventions like the MoodGYM program.
Description
Paper 1 of this thesis is not available in Munin:
1. Vangberg, H. C. B., Eisemann, M., Waterloo, K., Richter, J., Rozsa, S., & Cloninger C.R.: 'The Norwegian Junior Temperament and Character Inventory (JTCI): An assessment of its psychometric properties', Comprehensive Psychiatry (2013), vol. 54(7):904–910. Available at
http://dx.doi.org/10.1016/j.comppsych.2013.03.020
The following license file are associated with this item: