Genetic Susceptibility, Lifestyle, Ovarian Hormones, and Mammographic Density – key factors in breast cancer development. The Norwegian Energy Balance and Breast Cancer Aspects-I Study.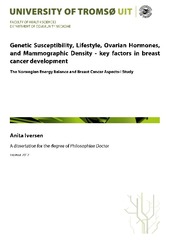 View/Open
Thesis introduction and appendices (PDF)
'Genetic Polymorphism CYP17 rs2486758 and Metabolic Risk Factors Predict Daily Salivary 17 -Estradiol Concentration in Healthy Premenopausal Norwegian Women. The EBBA-I Study', Journal of Clinical Endocrinology and Metabolism, May 2012, 97(5):E852-E857 (
http://dx.doi.org/10.1210/jc.2011-2577
) (PDF)
'Ovarian hormones and reproductive risk factors for breast cancer in premenopausal women: the Norwegian EBBA-I study', Human Reproduction, Vol.26, No.6 pp. 1519-1529, 2011 (
http://dx.doi.org/10.1093/humrep/der081
) (PDF)
'Associations of daily 17β-estradiol and progesterone with mammographic density in premenopausal women. The Norwegian EBBA-I Study', submitted manuscript, forthcoming in European Journal of Cancer Prevention (
http://journals.lww.com/eurjcancerprev/
). (PDF)
Entire thesis in one comprehensive file (PDF)
Date
2013-02-28
Type
Doctoral thesis
Doktorgradsavhandling
Abstract
Breast cancer is the most frequent cancer among women worldwide. Over the last century, the prevalence of overnutrition, overweight and obesity has increased, age at menarche has dropped and age at birth of first child has risen among women in Western countries. These trends may be linked to exposure to ovarian hormones that, in turn, may affect a woman's lifetime risk of getting breast cancer. The Norwegian Energy Balance and Breast cancer Aspects (EBBA)-I Study includes ovarian hormone data from complete menstrual cycles, blood samples, mammograms, clinical measurements, and lifestyle information from 204 healthy premenopausal women aged 25-35 years. The study is designed to explore biological mechanisms linking energy balance and hormonal exposures with breast cancer risk, and to identify new risk patterns of importance for prediction, prevention and treatment of breast cancer. The aim of this thesis was to study levels of endogenous estradiol and progesterone in relation to genetic susceptibility, metabolic and reproductive risk factors, and mammographic density, among healthy premenopausal women using data from the EBBA-I Study. The results from the present analyses show that healthy premenopausal women with the CYP17 rs2486758 minor allele in combination with higher levels of metabolic risk factors had higher levels of estradiol across the menstrual cycle. Larger waist circumference and longer duration of past use of oral contraceptives were associated with higher levels of estradiol across the menstrual cycle among nulliparous women. Higher levels of estradiol and progesterone were strongly associated with higher mammographic density, particularly among nulliparous women. From our findings, we hypothesize that interventions to lower hormonal levels in premenopausal women could decrease mammographic density and improve the sensitivity of mammographic screening, both of which could improve breast cancer prevention. These interventions may be particularly important in premenopausal women before first full-term pregnancy and in a subgroup of women with a specific genetic marker.
Description
This is a dr.philos. thesis.
The following license file are associated with this item: