Tumor hypoxia and hypoxic markers in non-small cell lung cancer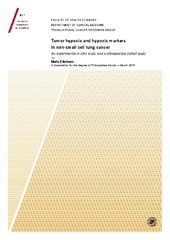 View/Open
Thesis introduction (PDF)
Eilertsen M, Andersen S, Al-Saad S, Kiselev Y, Donnem T, Stenvold H, Pettersen I, Khalid Al-Shibli, Richardsen E, Busund LT, Bremnes RM: 'Monocarboxylate transporters 1-4 in NSCLC: MCT1 is an independent prognostic marker for survival', submitted manuscript. Later published in
PLOS One, September 2014, Volume 9 Issue 9, e105038
(PDF)
Date
2014-03-14
Type
Doctoral thesis
Doktorgradsavhandling
Description
Papers number 1, 2 and 4 of this thesis are not available in Munin due to publishers' restrictions:
1. Andersen S, Eilertsen M, Donnem T, Al Shibli K, Al-Saad S, Busund LT, Bremnes RM: 'Diverging prognostic impacts of hypoxic markers according to NSCLC histology', Lung Cancer (2011), 72, 294-302, available at
http://dx.doi.org/10.1016/j.lungcan.2010.10.006
2. Eilertsen M, Pettersen I, Andersen S, Martinez I, Donnem T, Busund LT, Bremnes RM: 'In NSCLC, VEGF-A response to hypoxia may differ between squamous cell and adenocarcinoma histology', Anticancer Research (2012), 32, 4729-36.
4. Eilertsen M, Andersen S, Al-Saad S, Richardsen E, Stenvold H, Hald SM, Al-Shibli K, Donnem T, Busund LT, Bremnes RM: 'Positive prognostic impact of miR-210 in non-small cell lung cancer', Lung Cancer Volume 83, Issue 2, February 2014, Pages 272–278, available at
http://dx.doi.org/10.1016/j.lungcan.2013.11.005
Publisher
UiT The Arctic University of Norway
UiT Norges arktiske universitet
Collections
Copyright 2014 The Author(s)
The following license file are associated with this item:
Related items
Showing items related by title, author, creator and subject.
Andersen, Sigve

;

Dønnem, Tom

;

Al-Shibli, Khalid Ibrahim

;

Al-Saad, Samer

;

Stenvold, Helge

;

Busund, Lill-Tove

;

Bremnes, Roy M.

(

Journal article; Tidsskriftartikkel; Peer reviewed

,

2011

)

Angiopoietins and their receptor Tie-2 are, in concert with VEGF-A, key mediators in angiogenesis. This study evaluates the prognostic impact of all known human angiopoietins (Ang-1, Ang-2 and Ang-4) and their receptor Tie-2, as well as their relation to the prognostic expression of VEGF-A. 335 unselected stage I-IIIA NSCLC-patients were included and tissue samples of respective tumor cells and ...

Frid, Paula

(

Doctoral thesis; Doktorgradsavhandling

,

2020-10-02

)

The temporomandibular joint (TMJ) is commonly involved in juvenile idiopathic arthritis (JIA), and may lead to impaired mouth opening, pain and facial growth disturbances. Asymptomatic TMJ arthritis may be diagnosed late in the disease course, thus management is challenging. The overall objectives of this thesis were to provide new knowledge on quality of life (QoL), the oral microbiome and interventions ...

Gabrielsen, Endre

(

Master thesis; Mastergradsoppgave

,

2012-06-01

)

I 1983 oppdaget zur Hausen sammenhengen mellom Humant Papillomavirus (HPV) og livmorhalskreft. På denne tiden visste man ikke at det var HPV som var årsaken til at Helaceller kunne leve in vitro. Ny forskning relaterer HPV til en rekke andre cancertyper. En stor andel anal-, oropharyngeal-, penis-, vaginal-, og vulvacancer skyldes HPV. Det er også påvist HPV i tumorvev fra øsofagus, larynx, lunge, ...