Investigation of the antiviral effects of artesunate on BK and JC polyomavirus replication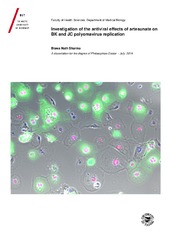 View/Open
Thesis introduction (PDF)
Sharma, B.N., Marschall, M., Henriksen, S., Rinaldo, C.H.: 'Antiviral effects of artesunate on polyomavirus BK replication in primary human kidney cells', Antimicrobial agents and chemotherapy 58(2014), 279-289. (http://dx.doi.org/10.1128/AAC.01800-13) (PDF)
Henriksen, S., Tylden, G.D., Dumoulin, A., Sharma, B.N., Hirsch, H.H., Rinaldo, C.H.: 'The human fetal glial cell line SVG p12 contains infectious BK polyomavirus (BKPyV)', Journal of virology 88(2014), 7556-7568 (http://dx.doi.org/10.1128/JVI.00696-14) (PDF)
Date
2014-09-19
Type
Doctoral thesis
Doktorgradsavhandling
Abstract
The ubiquitous human BK and JC polyomaviruses cause the diseases polyomavirus-associated nephropathy, hemoragic cystitis and progressive multifocal leukoencephalopathy in immunosuppressed patients. There are no antiviral drugs for these diseases which often lead to kidney graft loss, severe disability and premature death. As a first step in the evaluation of the malaria drug artesunate as a future treatment option, we investigated the effect on BK- and JC polyomavirus replication in cell cultures. Our results show that artesunate inhibits BKPyV replication in kidney tubular epithelial cells and urothelial cells, the host cells for BK Polyomavirus in PyVAN and PyVHC. Similarly, artesunate inhibits JC polyomavirus replication in COS-7 cells. Slower cell division was also seen but this was transient. The exact mechanism for viral inhibition is not known yet but probably involves cellular proteins. Taken together, our results suggest that artesunate could be beneficial for treatment of polyomavirus diseases but first, carefully designed clinical studies are needed.
Description
Papers number 2 and 3, and appendix I of this thesis are not available in Munin:
2. Li, R., Sharma, B.N., Linder, S., Gutteberg, T.J., Hirsch, H.H., Rinaldo, C.H.: 'Characteristics of polyomavirus BK (BKPyV) infection in primary human urothelial cells', Virology 440(2013), 41-50, available at
http://dx.doi.org/10.1016/j.virol.2013.01.024
3. Biswa Nath Sharma, Manfred Marschall, and Christine Hanssen Rinaldo: 'Artesunate Inhibits Replication of BK Polyomavirus in Primary Human Urothelial Cells', manuscript.
Appendix I. Rinaldo, C.H., Tylden, G.D., Sharma, B.N.: 'The human polyomavirus BK (BKPyV): virological background and clinical implications', APMIS 121(2013), 728-745, available at
http://dx.doi.org/10.1111/apm.12134
Publisher
UiT The Arctic University of Norway
UiT Norges arktiske universitet
The following license file are associated with this item: