Molecular determinants involved during Staphylococcus aureus colonization and/or infection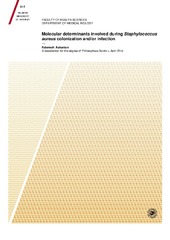 View/Open
Thesis introduction. Pages 35, 36 and 37 are removed following the author's request (PDF)
Mona Johannessen, Fatemeh Askarian, Maria Sangvik and Johanna E. Sollid: Bacterial interference with canonical NFkB signaling. Microbiology, October 2013 vol. 159 no. Pt 10, pages 2001-2013 (http://dx.doi.org/10.1099/mic.0.069369-0) (PDF)
Date
2014-09-26
Type
Doctoral thesis
Doktorgradsavhandling
Abstract
Given the link between the compelling impact of Staphylococcus aureus colonization on the risk and outcome of infection, strategies to prevent nasal colonization could be an appealing method of fighting infection. The ability of S. aureus to colonize and infect a host is a balance between its multitudes of virulence factors and the host immune defence mechanisms. Despite the multiple bacterial factors known to be associated with colonization, little is known about the relative contribution of the host determinants. This study explores selected molecular determinants associated with colonization and/or infection, to present a new insight on S. aureus interactions with the human host. In theory, the breakage of the interaction between host and S. aureus may open new avenues for developing novel therapeutic strategies. However, pursuit of such golden goal merits further investigations.
Description
Papers 1-3 of the thesis are not available in Munin:
1. Fatemeh Askarian, Maria Sangvik, Anne-Merethe Hanssen, Lars Snipen, Johanna U.E. Sollid and Mona Johannessen: 'Staphylococcus aureus nasal isolates from healthy individuals cause highly variable host cell responses in vitro, The Tromsø Staph and Skin Study', Pathogens and Disease, Volume 70, Issue 2, pages 158–166, March 2014, available at
http://dx.doi.org/10.1111/2049-632X.12099
2. Fatemeh Askarian, Nina M. van Sorge, Maria Sangvik, Federico C. Beasley, Jorn R. Henriksen, Johanna U.E. Sollid, Jos A.G. van Strijp, Victor Nizet and Mona Johannessen: 'A Staphylococcus aureus TIR Domain protein virulence factor blocks TLR2-mediated NF-κB signaling', Journal of Innate Immunity, Vol. 6, No. 4, 2014, pages 485-498, available at
http://dx.doi.org/10.1159/000357618
3. Fatemeh Askarian, Nina M. van Sorge, Anne-Merethe Hanssen, Diep Bao Dzung, Jos A.G. van Strijp, Johanna U. E. Sollid and Mona Johannessen: 'Staphylococcus aureus SdrD promotes bacterial adherence to keratinocytes and whole blood survival', manuscript.
Publisher
UiT The Arctic University of Norway
UiT Norges arktiske universitet
The following license file are associated with this item:
Related items
Showing items related by title, author, creator and subject.
Andersen, Sigve

;

Dønnem, Tom

;

Al-Shibli, Khalid Ibrahim

;

Al-Saad, Samer

;

Stenvold, Helge

;

Busund, Lill-Tove

;

Bremnes, Roy M.

(

Journal article; Tidsskriftartikkel; Peer reviewed

,

2011

)

Angiopoietins and their receptor Tie-2 are, in concert with VEGF-A, key mediators in angiogenesis. This study evaluates the prognostic impact of all known human angiopoietins (Ang-1, Ang-2 and Ang-4) and their receptor Tie-2, as well as their relation to the prognostic expression of VEGF-A. 335 unselected stage I-IIIA NSCLC-patients were included and tissue samples of respective tumor cells and ...

Gabrielsen, Endre

(

Master thesis; Mastergradsoppgave

,

2012-06-01

)

I 1983 oppdaget zur Hausen sammenhengen mellom Humant Papillomavirus (HPV) og livmorhalskreft. På denne tiden visste man ikke at det var HPV som var årsaken til at Helaceller kunne leve in vitro. Ny forskning relaterer HPV til en rekke andre cancertyper. En stor andel anal-, oropharyngeal-, penis-, vaginal-, og vulvacancer skyldes HPV. Det er også påvist HPV i tumorvev fra øsofagus, larynx, lunge, ...

Songstad, Nils Thomas

(

Doctoral thesis; Doktorgradsavhandling

,

2014-09-18

)

Objectives: To investigate how cardiac function, remodeling and gene expression are affected in pregnancy in response to cardiovascular stress, to detect possible adverse effects on the fetus, and to evaluate if coronary endothelial function is influenced by pregnancy and increased cardiac afterload. Methods: Pregnant and non-pregnant rats were subjected to chronic AngII-infusion, transverse aortic ...