Designing national electronic services in the public healthcare sector.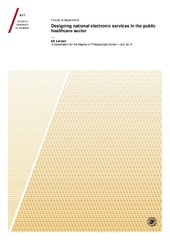 View/Open
Thesis introduction (PDF)
Larsen, E. and G. Ellingsen, (2010), 'Facing the Lernaean Hydra: The nature of large-scale integration projects in healthcare'. In Kautz, K and Nielsen P.A. (eds.): 'First Scandinavian Conference on Information Systems, SCIS 2010 Rebild, Denmark, August 20-22. Lecture Notes in Business Information Processing', Springer: Vol. 60, 93-110. The final publication is available at Springer via http://dx.doi.org/ 10.1007/978-3-642-14874-3_7 (PDF)
Larsen, E. and G. Ellingsen (2012), 'Establishing a Core Health Record: A case study from Norwegian healthcare'. Dugdale, J. et al. (eds.), 'From Research to Practice in the Design of Cooperative Systems: Results and Open Challenges: COOP 2012 Marseille, France, May 30 - 1 June, 2012, Proceedings of the 10th International Conference on the Design of Cooperative Systems', Springer: 1-15. The final publication is available at Springer via http://dx.doi.org/10.1007/978-1-4471-4093-1_1 (PDF)
Larsen, E. and PK. Mydske (2013), 'Developing electronic co-operation tools: A case from Norwegian healthcare'. Interactive journal of medical research 2(1): e9. The final publication is available at http://dx.doi.org/10.2196/ijmr.2346 (PDF)
Date
2014-12-12
Type
Doctoral thesis
Doktorgradsavhandling
Abstract
This thesis deals with a socio-technical approach towards the development of inter-organisational ICT tools in healthcare. My overall case is Norwegian healthcare, and I investigated how national inter-organisational ICT tools were developed and why good results were difficult to achieve. Three public projects make up the basis of my data collection in which the main categories of data are interviews, participant observations and document studies. The data collection period spanned 2005 to the completion of this thesis. The main contribution of this thesis is the empirical insight into the long-standing establishment of inter-organisational health care services in Norway, a country that is characterised primarily by a publicly funded healthcare system. Studying this domain have demanded an inter-disciplinary approach because of the need to understand work practices, the implications of development and the complexities of information infrastructures, financing, project management, political governance and political philosophies. This study demonstrates how the strategies adopted by Norwegian authorities have changed. These strategies began as measures for invigorating the sector through the funding of public projects that establish specifications which vendors can use in developing new services. The strategies have transitioned into a top-down approach, with the Directorate of Health as the dominant stakeholder in a dedicated and specialised market. The recent strategy represents an approach that prioritises projects in a political process instead of basing such projects in extensive discussions in the healthcare sector. On the basis of the results, I suggest that a middle position be adopted in organising large-scale projects on integrated information systems. Such a strategy will give more power to the users of the information system. I believe that in real-world settings, a step-by-step strategy is favourable but requires good conditions for continued growth. Critical tasks are to break down large projects into a series of smaller ones, prioritise direct business value and assemble stable, full-time and cross-functional teams that execute these projects along a disciplined agile and optimisation approach.
Description
Papers 2 and 5 of this thesis are not available in Munin
2. Larsen, E. and LK. Johannessen (2014), 'Top-down or bottom-up? Building information system for healthcare', (manuscript)
5. Larsen, E. and G. Ellingsen (2014) 'Nothing free about free market', Rossitto, C. et al. (eds.), COOP Proceedings of the 11th International Conference on the Design of Cooperative Systems: COOP 2014 Nice, France, May 27 – 30, Proceedings of the 11th International Conference on the Design of Cooperative Systems, Springer: 69-85. Available at
http://dx.doi.org/10.1007/978-3-319-06498-7_5
Publisher
UiT The Arctic University of Norway
UiT Norges arktiske universitet
Collections
Copyright 2014 The Author(s)
The following license file are associated with this item: