"Å sette staven igjen" – tilhørighet til familie, sted, personer og natur. Å fremme et meningsfylt liv for personer med demenssykdom i sykehjem i Nord-Norge.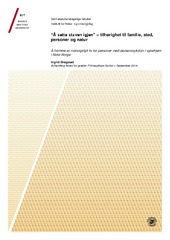 Åpne
Thesis and appendix (PDF)
Ingrid Drageset, Ketil Normann og Ingunn Elstad: 'Familie og kontinuitet: Pårørende forteller om livsløpet til personer med demenssykdom'. Nordisk Tidsskrift for Helseforskning, nr. 1-2012, 8. årgang, 3-19. (PDF)
Ingrid Drageset, Ketil Normann og Ingunn Elstad: 'Personer med demenssykdom i sykehjem: Refleksjon over livet'. Nordisk Tidsskrift for Helseforskning nr. 1-2013, 9. årgang, 50-66. (PDF)
Entire thesis in one comprehensive file. (PDF)
Dato
2015-01-23
Type
Doctoral thesis
Doktorgradsavhandling
Sammendrag
Spørsmålet "Eldre mennesker med demenssykdom: Hva betyr tilhørighet i eget liv for en meningsfylt tilværelse i sykehjemmet?" ble undersøkt ved intervju og feltarbeid med personer med demenssykdom, pårørende, pleiere og sykepleieledere i sykehjem i Nord-Norge. Et livsløpsperspektiv ble lagt til grunn. Dataene fra intervjuene ble analysert ved narrativ- og innholdsanalyse. Å få demenssykdom, og måtte flytte til sykehjem, utgjorde dramatiske livshendelser. Sykdommen fører til hukommelsessvekkelse, konsentrasjons- og språkproblemer, og en risiko for å føle seg fremmed i verden. Studien konkluderer med at en meningsfull tilværelse i sykehjem er knyttet til opplevelse av tilhørighet i eget liv. Med støtte og tilrettelegging var personene med demenssykdom i stand til å fortelle fra livet. Fortellingene uttrykte tilhørighet til familie, hjemsted, natur, dyr og arbeid gjennom livet. Verdiene ble utdypet av de pårørende, som la ned mye engasjement for at interesser, aktiviteter og verdier kunne opprettholdes og videreføres i sykehjemmet. Fordi pasientens og de pårørendes liv var sammenflettet, var demenssykdommen og flyttingen til sykehjemmet dramatiske hendelser også i de pårørendes liv. De prøvde å opprettholde sammenhengen mellom den sykes tidligere og nåværende liv. Studien viser hvordan tilhørighet forutsatte kjennskap til den enkelte. De pårørende ønsket å få fortelle pleierne om livet til sin nærstående i sammenheng. Pleiere og ledere la vekt på å bli kjent med pasienter som selv hadde vansker med å uttrykke sin identitet. Lokal kultur og tradisjoner ble vektlagt. I et mindre sykehjem ble kjennskap og relasjoner bevisst brukt i pleien av den enkelte. Hjemmebesøk før flyttingen til sykehjemmet kunne bidra til kjennskap. Hverdagsaktiviteter som måltider og stell var ikke bare fysiske gjøremål, men ga rom for samhandling og samtale om tidligere liv og interesser. Tilstrekkelig bemanning og fagkunnskap i pleien var en forutsetning i arbeidet med å fremme kjennskap til pasienten og tilhørighet. Det kan være aktuelt å tilsette og utdanne pleiere med lokal kjennskap. Kontinuerlig oppfølging og utdanning av ufaglærte pleiere, og teamarbeid med felles refleksjon over best mulig pleie til pasienten vil være avgjørende.
Older people having dementia disease: The significance of belonging in one's own life to a meaningful existence in the nursing home. This question has been examined from several angles: The participants were older people with dementia disease, their close family members, nursing personnel and leaders. Interviews and fieldwork were conducted in two nursing homes in Northern Norway. The study employs a life-course perspective. Narrative and content analysis were conducted. Experiencing dementia disease, and having to move to a nursing home, constituted profound and demanding changes in the life of the older people. Because of limitations of memory, concentration, and communication in consequence of the disease, the individual is at risk of feeling a stranger in his or her world. The conclusion of the study is that a meaningful life in the nursing home is connected with a feeling of belonging in one's own life. Through support and arrangement, the patients were able to talk about their lives. Their narratives expressed a strong belonging to family, home place, nature, animals and work through life. These values were elaborated by their family members, who in general were actively engaged in continuing the patient's interests, activities, habits and values in the nursing home. Because the lives of the patient and of their close relatives were intertwined, the dementia disease and moving to the nursing home were great transitions also in the family's life. They all made a serious effort to continue the individual life of the person with dementia disease. It was found that belonging required knowing each patient individually. Family members wanted to tell the nursing personnel comprehensively about the life of their relative. Nursing personnel and leaders prioritized to get to know patients who were not themselves able to express their identity. Local culture and traditions were given space. In the smaller nursing home in a rural area, acquaintances and relations in the community were used consciously in individual care. Home visits before the older moved into the nursing home could also make the transition easier. Daily activities such as meals and personal hygiene represented not only physical caring, but also provided opportunities for interaction and conversation about earlier life and interests. Nursing personnel in sufficient numbers and with sufficient competence were necessary preconditions for the work of getting to know the patient and promoting belonging. Personnel with local knowledge may be educated and employed. Continuous training and follow- up of untrained personnel is crucial, as is reflection within the nursing team about the best care of the individual patient.
Forlag
UiT The Arctic University of Norway
UiT Norges arktiske universitet
Følgende lisensfil er knyttet til denne innførselen: