Identification of novel roles and new modes of regulation for the atypical MAP kinases ERK3 and ERK4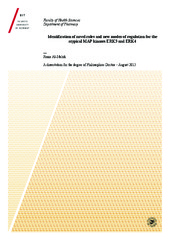 View/Open
Thesis introduction (PDF)
A novel role for atypical MAPK kinase ERK3 in regulating breast cancer cell morphology and migration. Rania Al-Mahdi, Nouf Babteen, Kiruthikah Thillai, Bjarne Johansen, Hilde Ljones Wetting, Ole-Morten Seternes and Claire M. Wells. (Manuscript). Published version available in
Cell Adhesion & Migration, vol 9, issue 6, November 2015, pp. 483-494
(PDF)
Date
2015-11-13
Type
Doctoral thesis
Doktorgradsavhandling
Abstract
The atypical MAP kinases ERK3 and ERK4 are the main characters in this study. ERK3 and ERK4 were for long considered as orphan proteins without known upstream activators. However, in 2011 two studies had detected that group I p-21 protein activated kinase (PAKs) can constitutively phosphorylate ERK3 and ERK4 in their activation loop. The only well-characterized substrate for ERK3 and ERK4 at that time was MAP kinase-activated protein kinase 5 (MK5), also known by the name of PRAK. Recently, the steroid receptor co-activator 3 (SRC-3) has been identified as a substrate for ERK3. What was known about the biological function of ERK3 and ERK4 was limited and working with them was a challenge. In the last four years, more studies were focusing on ERK3 than ERK4. The first aim of this project was to identify novel regulators for both ERK3 and ERK4 in order to gain more knowledge to understand their physiological function. The second aim was to investigate the physiological function of ERK3 regarding cell morphology and migration. Here, in this study we focused mainly about the interaction of ERK3 and ERK4 with two large protein families that are involved in cancer and cancer treatment. The first protein family we investigated was the dual-specificity MAPK phosphatases (DUSPs), where we have used a yeast 2-hybrid assay to analyze all ten members of the mammalian MAP kinase phosphatase (MKP) family for their ability to interact with ERK3 and ERK4. We found that these kinases specifically interact with DUSP2. In paper I, we investigated the interaction between ERK3/ERK4 and DUSP2 in depth. The second protein family that we were interested in was the heat shock protein family. Preliminary data from co-precipitation studies done in our lab to identify interaction partners for ERK3 and ERK4, followed by mass-spectrometry analysis suggested that Hsp90 could be an interaction partner for ERK3 and ERK4. This observation was later supported by results from several high throughput analyses. The interaction between ERK3 and ERK4 with Hsp90 was investigated in paper III. Beside the detection of new targets for ERK3 and ERK4, we chose to investigate the role of ERK3 in cell morphology and migration as described in paper II. Our choice to study only the role of ERK3 in cell migration was based on previous studies, however, that does not exclude ERK4 from also might have a role in cell migration, adhesion and invasion.
Description
Paper I and III of this thesis are not available in Munin.
Paper I. The inducible nuclear phosphatase DUSP2/PAC1 specifically interacts with and dephosphorylates the atypical MAP kinases ERK3 and ERK4 and can regulate the output of the ERK3/ERK4-MK5 signalling axis. Maria Perander, Rania Al-Mahdi, Thomas C. Jensen, Jennifer A.L. Nunn, Hanne Kildalsen, Bjarne Johansen, Mads Gabrielsen, Stephen M. Keyse and Ole-Morten Seternes. (Manuscript).
Paper III. Regulation of the atypical MAP kinases ERK4 by Hsp90. Rania Al-Mahdi, Bjarne Johansen, Hanne Kildalsen and Ole-Morten Seternes. (Manuscript).
Publisher
UiT The Arctic University of Norway
UiT Norges arktiske universitet
Collections
Copyright 2015 The Author(s)
The following license file are associated with this item: