Results from the Tromsø Intervention Study on Preterms until children's age of nine. The influence of structured early parental guidance on behavior-emotional development and well-being among children born preterm and parenting stress in their families.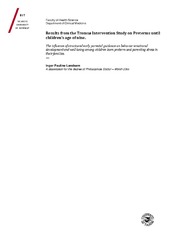 View/Open
Thesis introduction and appendix (PDF)
Landsem IP et al. Early intervention program reduces stress in parents of preterms during childhood, a randomized controlled trial. Also available in
Trials 2014; 15: 387
(PDF)
Landsem IP et al. Early intervention influences positively Quality of Life as reported by prematurely born children at age nine and their parents; a randomized clinical trial. Also available in
Health and Quality of Life Outcomes 2015; 13:25
(PDF)
Thesis entire (PDF)
Date
2016-02-26
Type
Doctoral thesis
Doktorgradsavhandling
Abstract
An early structured intervention program, offered families with preterm infants in the newborn period, has been tested in a randomized, controlled trial [The Tromsø Intervention Study on Preterms]. It's influence on children's socio-emotional behavioral development until age 9, parents reports of parenting stress in the same period and children's quality of life at 9 years have been investigated. Longitudinal analyses showed that the average prevalence of behavior problems varied according to the same pattern in the two preterm groups 2 to 9 years irrespective of the intervention. Significant differences between preterm groups became visible at children's age of 7 and 9 years as parents and teachers reported less attentional problems and better social competence, adaptability and school-related performances in the intervention group. These children were not reported as different from healthy term born children at their age of nine, regarding school adjustment, achievements and the occurrence of problems. On the other hand, children in the preterm control group continued to be reported with more problems and less competencies than terms into middle childhood and lower scores on measures of well-being at age nine. Parents who had received intervention reported decreased levels of parenting stress throughout childhood. The results presented in this thesis indicate that the structured guidance given parents of preterms in the newborn period has promoted positive and long-lasting effects on families as these children perform at similar level as their term born peers at 9 years of age.
Publisher
UiT The Arctic University of Norway
UiT Norges arktiske universitet
Collections
Copyright 2016 The Author(s)
The following license file are associated with this item: