Implementation of the Ecosystem Approach to Fisheries; an institutional solution in fisheries management. The case of the ground-fisheries IFMP, Canada.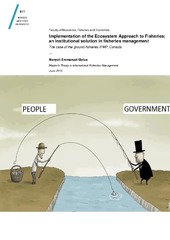 View/Open
Descriptive study of the human dimension of the implementation of the Ecosystem Approach to Fisheries (PDF)
Date
2015-06-05
Type
Master thesis
Mastergradsoppgave
Abstract
Fisheries management institutions, call the shots in fisheries management. Coming at a time when, global fish stocks are experiencing decline at an ever increasing rate, sectorial single species approaches cannot be looked upon solely to provide sustainable fisheries. This is foremost because studies have revealed that, the problems associated with the management of stocks are manmade and have a sporadic effect on the entire aquatic ecosystem, thus management must be holistic, and comprehensive enough in light of those challenges. Global entities such as, the Food and Agricultural Organisation (FAO) and Multi-lateral Agreements have adopted an Ecosystem Approach to Fisheries (EAF) to sustainably manage fisheries. The FAO, charged with the development of guidelines and frameworks for fisheries management worldwide, has developed an EAF implementation roadmap to facilitate its implementation by States and Regional Organizations. The Convention of Biodiversity and the Code of Conduct for Responsible Fisheries represents a move towards the EAF. That move, is within the framework of the Law of the Sea Convention. The duty, to implement an EAF is facultative and depends largely on States sovereign will. Be that as it may, member States of UNCLOS and other global policies such as Canada are committed and have successfully adopt an EAF in their national policies and management plans. The Integrated Fisheries Management Plan (IFMP), was developed to manage the ground-fisheries in the Pacific region of Canada due to decline of stocks and habitat degradation witnessed in the fishery. The IFMP, is consistent with the FAO implementation roadmap, global policy recommendation and has successfully achieved its objectives. Its worthy of note that, the success of the IFMP goes beyond Canada's political will to adhere to global policies and guidelines. This study, explores the institutional and policy framework which underpin an EAF from a global perspective and how the EAF is implemented in the IFMP. This study focuses solely, on the implementation of the EAF from a human dimension. Keywords: Ecosystem Approach to Fisheries; Integrated Fisheries Management Plan; United Nations Law of the Sea Convention; Fisheries management institutions.
Publisher
UiT The Arctic University of Norway
UiT Norges arktiske universitet
Collections
Copyright 2015 The Author(s)
The following license file are associated with this item:
Related items
Showing items related by title, author, creator and subject.
Dyspriani, Polite

(

Master thesis; Mastergradsoppgave

,

2007-05-29

)

Shrimp world production in the last few years has shown very high growth rates. It is marked by an increasing of production volume, and by shifting from capture to aquaculture fisheries within the production system. This has occurred mostly regarding to the brackish water pond. For some years, the government has had to face hard choices in order to ensure shrimp aquaculture developed sustainable. ...

Pettersen, Ingrid Marie

;

Aaknes, Vilde Synnøve

(

Master thesis; Mastergradsoppgave

,

2023-05-15

)

I dag er verdikjeden for fisk og skalldyr bygget opp rundt utnyttelse av et fåtall arter som kan fanges i store volum og med høy markedsverdi. Bruk av lite eller ikke utnyttede marine ressurser kan være en bærekraftig tilnærming for å innfri fremtidige krav og etterspørsel til fiskekonsum. Rødspette (Pleuronectes platessa) er den viktigste flatfisken i volum og verdi i europeiske fiskerier. Både ...

Nolde Nielsen, Kåre

(

Doctoral thesis; Doktorgradsavhandling

,

2008-11-21

)

What is the relationship between science and politics? What should it be? How are their respective roles conceived and acted out in practice? Should science and politics be clearly separated? How? Are there cases in which they can be usefully mixed? What cases are those, and are there some ways of mixing that are better than others? This project explores such questions by examining relationships ...