Using medical birth registries in the Kola Peninsula for birth defects surveillance and investigation of their risk factors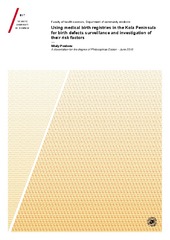 View/Open
Thesis introduction (PDF)
Paper 1: Postoev, V. A., Nieboer, E., Grjibovski, A. M., Odland, J. O.: "Prevalence of birth defects in an Arctic Russian setting from 1973 to 2011: a register-based study". Also available in
Reproductive Health 2015, (12)3.
(PDF)
Paper 2: Postoev, V. A., Grjibovski, A. M., Nieboer, E., Odland, J. O.: "Changes in detection of birth defects and perinatal mortality after introduction of prenatal ultrasound screening in the Kola Peninsula (North-West Russia): combination of two birth registries". Also available in
BMC Pregnancy and Childbirth 2015,15(1):308.
(PDF)
Paper 3: Postoev, V. A., Grjibovski, A. M., Kovalenko, A. A., Anda, E. E., Nieboer, E., Odland, J. O.: «Congenital anomalies of the kidney and the urinary tract: A Murmansk County birth registry study". Also available in
Birth Defects Research Part A, Clinical and Molecular Teratology 2016, 106(3):185- 93.
(PDF)
Date
2016-11-18
Type
Doctoral thesis
Doktorgradsavhandling
Abstract
Medical birth registries are valuable sources of information about maternal and newborn's health. In North-West Russia the registries were initiated in 1997 in the city of Monchegorsk and for all of Murmansk County in 2005. In this thesis we demonstrated the effectiveness of these data sources for surveillance of birth defects with the following objectives: (i) estimated changes in prevalence of birth defects during forty-year period, (ii) identified effect of ultrasound screening during pregnancy, (iii) defined factors which associated with urinary malformations. Our study with data from 1973 to 2011 showed that the prevalence of birth defects demonstrated a two-fold increase, and the initiation of prenatal ultrasound screening was the most likely reason for such changes. The initiation of the screening was also the main reason for the decline in perinatal mortality among newborns with birth defects, primary due to prenatal detection of severe malformations with subsequent terminations of such pregnancies. Moreover, the mothers who had undergone at least one ultrasound examination during pregnancy had a decreased risk of having a newborn die during the first week of life. Congenital anomalies of the kidney and the urinary tract showed the highest increase in prevalence during 1973-2011. During pregnancy, use of medications, infections, diabetes were associated with increased risk of this group of anomalies, as was conception during summer. The medical birth registries in Murmansk County constitute powerful sources for birth defects surveillance and the investigation of risk factors. Combination of these registries with existed system of monitoring birth defects and mandatory registration of pregnancy terminations can increase their research potential.
Publisher
UiT The Arctic University of Norway
UiT Norges arktiske universitet
Collections
Copyright 2016 The Author(s)
The following license file are associated with this item:
Related items
Showing items related by title, author, creator and subject.
Andersen, Sigve

;

Dønnem, Tom

;

Al-Shibli, Khalid Ibrahim

;

Al-Saad, Samer

;

Stenvold, Helge

;

Busund, Lill-Tove

;

Bremnes, Roy M.

(

Journal article; Tidsskriftartikkel; Peer reviewed

,

2011

)

Angiopoietins and their receptor Tie-2 are, in concert with VEGF-A, key mediators in angiogenesis. This study evaluates the prognostic impact of all known human angiopoietins (Ang-1, Ang-2 and Ang-4) and their receptor Tie-2, as well as their relation to the prognostic expression of VEGF-A. 335 unselected stage I-IIIA NSCLC-patients were included and tissue samples of respective tumor cells and ...

Frid, Paula

(

Doctoral thesis; Doktorgradsavhandling

,

2020-10-02

)

The temporomandibular joint (TMJ) is commonly involved in juvenile idiopathic arthritis (JIA), and may lead to impaired mouth opening, pain and facial growth disturbances. Asymptomatic TMJ arthritis may be diagnosed late in the disease course, thus management is challenging. The overall objectives of this thesis were to provide new knowledge on quality of life (QoL), the oral microbiome and interventions ...

Gabrielsen, Endre

(

Master thesis; Mastergradsoppgave

,

2012-06-01

)

I 1983 oppdaget zur Hausen sammenhengen mellom Humant Papillomavirus (HPV) og livmorhalskreft. På denne tiden visste man ikke at det var HPV som var årsaken til at Helaceller kunne leve in vitro. Ny forskning relaterer HPV til en rekke andre cancertyper. En stor andel anal-, oropharyngeal-, penis-, vaginal-, og vulvacancer skyldes HPV. Det er også påvist HPV i tumorvev fra øsofagus, larynx, lunge, ...