Mechanical ventilation and weaning: Roles and competencies of intensive care nurses and patients' experiences of breathing.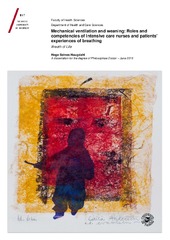 View/Open
Thesis (PDF)
Paper I: Haugdahl, H. S., Storli, S. L., Rose, L., Romild, U., Egerod, I.: «Perceived decisional responsibility for mechanical ventilation and weaning: a Norwegian survey". Also available in
Nursing in Critical Care 2014, 19(1):18-25.
(PDF)
Paper II: Haugdahl, H. S., Storli, S. L.: "In a way, you have to pull the patient out of that state ...": the competency of ventilator weaning".
Nursing Inquiry 2012, 19(3):238-246.
(PDF)
Date
2016-10-21
Type
Doctoral thesis
Doktorgradsavhandling
Abstract
Breathlessness is an under-recognized problem in intensive care. The overall aims of this study were to explore the roles and competencies of nurses in mechanical ventilation (MV) and weaning, and to explore patients' experiences of breathing during and after mechanical ventilation. A multimethod design included: survey data from leaders in Norwegian ICUs, interviews and field observations of intensive care nurses in concrete weaning situations, a prospective observational study of 100 mechanically ventilated patients' self report of breathlessness and, a qualitatively driven sequential mixed method design combining prospective observational breathlessness data during MV and data from follow-up interviews. We found that breathlessness was prevalent among mechanically ventilated patients (62%), and underestimated by nurses and physicians, regardless of expertise or experiences. MV patients' experiences of breathing were not necessarily a separate experience, but intertwined with the whole illness experience and existential dimensions of life. The nurses' roles in MV and weaning are their continuous presence and vigilance detection of early changes in the patients' condition. To acknowledge the presence and impact of breathlessness seems important. Knowing the patient and facilitating well-being was a crucial part of competence in weaning and opened up for establishing trust and confidence, which were necessary to reach into the patients' world and "pull" the patient back to life, to the "here and now". This "pulling" was connected to "pushing" the patient further in the weaning process. A potential link between breathlessness and post-intensive care syndrome is an argument for patients' own reports of breathing to form part of nursing interventions and follow up supporting the patients' quest for meaning. To enhance the quality of care in MV and weaning, intensive care nurses have an important role in the interprofessional team in order to discuss, reflect and learn how to assess and respond to patients' experiences of breathing.
Description
The papers III and IV of this thesis are not available in Munin.
Paper III: Haugdahl, H. S., Storli, S. L., Meland, B., Dybwik, K., Romild, U., Klepstad, P.: "Underestimation of Patient Breathlessness by Nurses and Physicians During a Spontaneous Breathing Trial". Available in
American Journal of Respiratory and Critical Care Medicine 2015, 192(12):1440-1448.
Paper IV: Haugdahl, H. S., Dahlberg, H., Klepstad, P., Storli, S. L.: "The Breath of Life. Patients'Experiences of Breathing During and After Mechanical Ventilation". (Manuscript).
Publisher
UiT The Arctic University of Norway
UiT Norges arktiske universitet
Collections
Copyright 2016 The Author(s)
The following license file are associated with this item: