Brukermedvirkning i distriktspsykiatriske sentre - et interaksjonsteoretisk perspektiv. Praktisering av "brukermedvirkning" i fellesrom og rapporter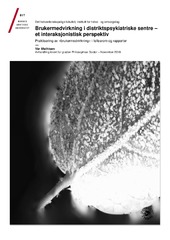 View/Open
Thesis (PDF)
Paper 2: Mathisen, V., Obstfelder, A., Lorem, G., Måseide, P.: "User participation in district psychiatry. The social construction of 'users' in handovers and meetings". Also available in
Nursing Inquiry 2016, 23(2):169-177.
(PDF)
Date
2017-04-28
Type
Doctoral thesis
Doktorgradsavhandling
Abstract
Formålet for studien har vært å få kunnskap om hvordan fagpersoner organiserer og utøver brukermedvirkning som en del av det daglige arbeidet i døgnavdelinger i distriktspsykiatriske sentre i Norge. Et interaksjonsteoretisk perspektiv er brukt for å studere brukermedvirkning som praktisk arbeid. Metoden er kvalitativ. Datainnsamling i denne studien har foregått ved hjelp av feltarbeid, inspirert av fokusert etnografi. Deltagende observasjon og intervju (individuelle og fokusgruppeintervju) med fagpersoner danner grunnlaget for studiens empiri. Studien viser at intensjonene til brukermedvirkning er vanskelige å oppfylle. Involveringsprosesser er utfordrende å få til, og fagpersonene i denne studien kom ofte i situasjoner hvor de eksempelvis; presset og overtalte pasienter til delta i behandlingstilbudet, tok beslutninger på vegne av pasientene, men også ignorerte pasienters initiativ til å samhandle. Studien synliggjør at brukermedvirkning ikke er et resultat av individuell profesjonalitet eller brukernes innsikt alene, men av et komplisert samspill av kultur, rutiner, sykdom og profesjonell orientering. Studien viser at i kompleksiteten, posisjonerte fagpersonene seg mot egne arbeidsoppgaver og rutiner, fremfor å handle på initiativ fra pasienter. Det bidro til å holde pasienter i en passiv pasientrolle, fremfor en rolle som aktiv brukermedvirker. Det kan forstås som maktutøvelse over pasienter, en praksis etter motsatte intensjoner til brukermedvirkning.
Description
The paper 3 of this thesis is not available in Munin.
Paper 3: Mathisen, V., Lorem, G., Obstfelder, A., Måseide, P.: "Whos decision is it anyway? A qualitative study of user participation and how clinicians deal with the patient perspective in mental healthcare". Available in Mental Health Review Journal 2016, 20(4),:1-12.
Publisher
UiT The Arctic University of Norway
UiT Norges arktiske universitet
Collections
Copyright 2017 The Author(s)
The following license file are associated with this item: