Incipient changes in ICU patients' clinical conditions – signs, nurses' assessment and the dialogue between nurses and physicians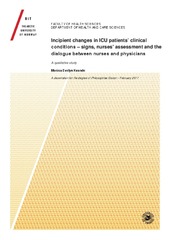 View/Open
Thesis (PDF)
Kvande, M., Delmar, C., Lykkeslet, E., Storli, S. L.: «Assessing changes in a patient's condition – perspectives of intensive care nurses". Also available in
Nursing in Critical Care 2016.
(PDF)
Date
2017-06-09
Type
Doctoral thesis
Doktorgradsavhandling
Abstract
Providing safe care for patients in intensive care units (ICUs) requires both awareness and perception of the signs indicating changes in a patient's condition at an early stage. In addition, ensuring high-quality health care and patient safety in the ICU requires an effective exchange of patient information among health professionals. The overall aims of this study were to explore the phenomenon of becoming aware of incipient changes in the clinical conditions of ICU patients. Furthermore, the study evaluated the dialogue between nurses and physicians regarding the clinical status of patients and the prerequisites for an effective and accurate exchange of information. A multimethod design included: Close observations and in-depth interviews with ICU nurses and focus group discussions with ICU nurses and physicians in two Norwegian ICUs were conducted. We found that identifying the incipient changes in a patient's clinical condition requires understanding the ever-changing dynamics of the patient's condition and images composed of signs that were sensory, measurable, and manifested as the mood of the nurse. Care situations and the following of patients through shifts are essential in enabling nurses to detect these signs. Nurses understand each patient's situation and foresee clinical eventualities through a sensitive and attentive way of thinking and working. The information for each unique patient interacts with past experiences and medical knowledge, which are essential for nurses to understand the situation. Nurses should be aware of their essential role in conducting ongoing clinical observations of patients and their right to be included in decision-making processes regarding patient treatment and care. Accurate and effective dialogue between nurses and physicians on shift requires leadership that is able to organize routine interdisciplinary meetings. Furthermore, this type of dialogue requires physician willingness to listen to and include the nurses' clinical observations and concerns regarding the patient in the decision-making process.
Publisher
UiT The Arctic University of Norway
UiT Norges arktiske universitet
Collections
Copyright 2017 The Author(s)
The following license file are associated with this item: