La creación de la identidad en el discurso político. Un análisis cualitativo del uso de la metáfora y los marcos en el discurso político inaugural de Podemos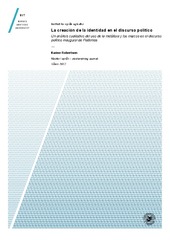 View/Open
(PDF)
Apendiks 1, eneste appendiks. Innholdet består av en sammenhengende transkripsjon av talen som er blitt analysert i masteroppgaven. (PDF)
Date
2017-05-15
Type
Master thesis
Mastergradsoppgave
Abstract
RESUMEN Esta tesis consiste en una investigación exploratoria lingüística de cómo se define la identidad de un partido a través de su discurso público y sus símbolos lingüísticos, para transmitir un marco cognitivo que defina su ideología. El contenido incluye un análisis detallado del discurso de la Puerta del Sol en Madrid el 31 de enero, 2015, el discurso inaugural del partido español Podemos. El análisis es realizado dentro del marco de la teoría contemporánea de la metáfora conceptual y los marcos cognitivos formulada por el lingüista cognitivista americano George Lakoff, junto a la teoría general formalmente aceptada sobre el análisis del discurso social y político. La teoría ofrece una perspectiva y una metodología de cómo se puede analizar la construcción del lenguaje de un discurso político para identificar marcos cognitivos que constituyen los temas y valores expresados, y a través de esta información definir un modelo de pensamiento que va a expresar la identidad verdadera del partido en cuestión. Según el objetivo, se han identificado los procedimientos lingüísticos y discursivos, y se ha mostrado que es posible aplicar la teoría de Lakoff a esa información para desarrollar una propuesta de modelo de pensamiento. La contribución principal de la tesis ha sido una propuesta de un modelo de familia representativo de Podemos, lo cual a su vez se puede aplicar a entender los valores y la identidad del partido. A su vez, tal modelo se puede utilizar para argumentar de forma implícita ante una audiencia objetiva de manera que esta se identifique con el mensaje.
ABSTRACT This thesis consists in an exploratory linguistic investigation centred on how one can define the identity of a political party through their public discourse and linguistic symbols, to transmit the cognitive marc that defines their ideology. The content includes a detailed analysis of the official speech of la Puerta del Sol in Madrid from the 31st of January, 2015, the first campaign speech of the political party Podemos before the Spanish general elections of December 2015. The contemporary theory of conceptual metaphor by George Lakoff, together with the formally accepted general theory regarding analysis of political discourse, constitutes the theoretical foundation that this research is based on. The theory offers both a perspective and a method for how you can analyse language from political discourse to identify cognitive marks that define themes and the expressed values. Through this information, it is then possible to define a model of thinking, a cognitive model that will express the true identity of the political party in question. According to the objective, this thesis has identified the linguistic and discursive procedures of the speech, and it has shown that it is possible to apply Layoff's theories to the information found and create a possible model of thinking. The main contribution of this thesis consists in a proposal for a family model that represents Podemos identity and values, which in turn can be used to understand these aspects of the party.
SAMMENDRAG Denne oppgaven forsker på hvordan man kan definere identiteten til et politisk parti gjennom deres offentlige diskurs og lingvistiske symboler, og kommunisere det kognitive merket som karakteriserer deres ideologi. Innholdet inkluderer en detaljert analyse av den offisielle talen fra Puerta del Sol til det politiske partiet Podemos, utført den 31 januar 2015, i Madrid, hvilket var partiets første tale i deres politiske valgkampanje samme år. Det teoretiske grunnlaget for oppgaven baserer seg på teorien om konseptuelle metaforer utformet av George Lakoff, i tillegg til generelt akseptert teori relatert til analyse av politisk diskurs. Teorien tilbyr både et perspektiv og en metode for hvordan man kan analysere språk i form av politisk diskurs for å identifisere kognitive merker som karakteriserer ulike tema og verdier uttrykt i diskursen. Ved hjelp av denne informasjonen er det deretter mulig å definere en representativ kognitiv modell for partiets tankemønster som vil uttrykke partiets sanne identitet. Jamfør målet har oppgaven identifisert de lingvistiske og diskursive prosedyrene som den aktuelle talen består av, og vist at det er mulig å anvende Lakoffs teorier med hensyn til denne informasjonen og skape en kognitiv modell for partiets tankemønster. Oppgavens største bidrag består derved i et forslag til en familiemodell som representerer identiteten og verdiene til Podemos, og som kan benyttes til å forstå disse aspektene ved partiet.
Publisher
UiT Norges arktiske universitet
UiT The Arctic University of Norway
Collections
Copyright 2017 The Author(s)
The following license file are associated with this item: