Biology of signalling receptors in human articular chondrocytes. Implications for chondrogenesis and cartilage repair.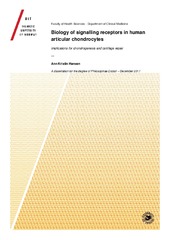 Åpne
Thesis (PDF)
Paper I: Hansen, A. K., Indrevik, J.-T., Figenschau, Y., Martinez-Zubiaurre, I., Sveinbjörnsson, B.: «Human articular chondrocytes express functional leukotriene B 4 receptors". Also available in
Journal of Anatomy 2015, 226(3):268–277.
(PDF)
Dato
2017-12-05
Type
Doctoral thesis
Doktorgradsavhandling
Sammendrag
Articular cartilage is the thin avascular tissue covering the ends of adjacent bones that provides frictionless movement to the skeleton. Cartilage injuries are frequent, but due to its avascular nature the cartilage of skeletally matured individuals has a poor healing capacity. Degenerative diseases such as osteoarthritis (OA), is characterised by the gradual destruction of articular cartilage, typically affecting hand-, hip- and knee joints. In the orthopaedic field, there is a growing interest in transitioning from joint-replacement surgery in end-stage disease to biological repair techniques applied at an earlier stage. Short- and mid-term clinical outcomes of these cell-based therapies are promising, but the long-term results are unsatisfactory. The field is so far progressing based on trial-error approaches and there is an urgent need to increase our understanding on the biological principles governing tissue homeostasis and disease development. Hence, the aim of this thesis was to investigate cell-signalling receptors in chondrocytes in the context of chondrogenesis and cartilage repair. We found novel evidence of functional leukotriene B₄ receptors expressed in chondrocytes, but no clear read-outs upon stimulation of the receptors with their cognate ligand. The vitamin D receptor is expressed at very low levels in cartilage, but its expression is enhanced in monolayer cultures and under inflammatory conditions. We were able to demonstrate that the chondrocyte exhibit 1α-hydroxylase activity facilitating active hormone production. In dedifferentiated chondrocytes, vitamin D promoted cell proliferation, but the overall effect on chondrogenesis was unfavourable. In the last study, we have searched for potential biomarkers of chondrogenesis, with focus on cell adhesion molecules and other cell surface receptors. Our data shows that all studied cell-cell and cell-matrix receptors are not good predictors of chondrogenesis. Of note, high throughput proteomic analyses uncovered the potential of prolyl 4-hydroxylase, an enzyme implicated in collagen biosynthesis, as a predictor of intrinsic chondrogenesis.
Beskrivelse
The papers II and III of this thesis are not available in Munin.
Paper II: Hansen, A. K., Figenschau, Y., Martinez-Zubiaurre, I.: «Co-expression of 1α-hydroxylase and vitamin D receptor in human articular chondrocytes". (Manuscript). Published version available in
BMC Musculoskeletal Disorders 2017.
Paper III: Islam, A., Hansen, A. K., Elvenes, J., Martinez-Zubiaurre, I.: "Uniform expression of cell-cell and cell-matrix receptors in patient-derived chondrocyte cultures with divergent in vitro chondrogenic capacity. (Manuscript).
Forlag
UiT The Arctic University of Norway
UiT Norges arktiske universitet
Følgende lisensfil er knyttet til denne innførselen:
Relaterte innførsler
Viser innførsler relatert til tittel, forfatter og emneord.
Andersen, Sigve

;

Dønnem, Tom

;

Al-Shibli, Khalid Ibrahim

;

Al-Saad, Samer

;

Stenvold, Helge

;

Busund, Lill-Tove

;

Bremnes, Roy M.

(

Journal article; Tidsskriftartikkel; Peer reviewed

,

2011

)

Angiopoietins and their receptor Tie-2 are, in concert with VEGF-A, key mediators in angiogenesis. This study evaluates the prognostic impact of all known human angiopoietins (Ang-1, Ang-2 and Ang-4) and their receptor Tie-2, as well as their relation to the prognostic expression of VEGF-A. 335 unselected stage I-IIIA NSCLC-patients were included and tissue samples of respective tumor cells and ...

Gabrielsen, Endre

(

Master thesis; Mastergradsoppgave

,

2012-06-01

)

I 1983 oppdaget zur Hausen sammenhengen mellom Humant Papillomavirus (HPV) og livmorhalskreft. På denne tiden visste man ikke at det var HPV som var årsaken til at Helaceller kunne leve in vitro. Ny forskning relaterer HPV til en rekke andre cancertyper. En stor andel anal-, oropharyngeal-, penis-, vaginal-, og vulvacancer skyldes HPV. Det er også påvist HPV i tumorvev fra øsofagus, larynx, lunge, ...

Hoem, Gry

(

Master thesis; Mastergradsoppgave

,

2012-06

)

Fragile X syndrome (FXS) is caused by an expanded CGG repeat (>200 repeats) in the 5' un-translated portion of the fragile mental retardation 1 gene (FMR1) leading to deficiency or absence of the FMR1 protein (FMRP). FMRP is an RNA carrier protein that controls the translation of a number of other genes that regulate synaptic development and plasticity. Autism occurs in approximately 30% of FXS ...