Users' role in the making and scaling of an Information Infrastructure for Health Care based on the openEHR specification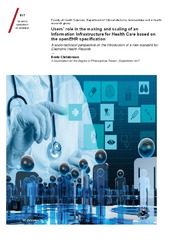 Åpne
Thesis (PDF)
Paper 1: Christensen, B., Ellingsen, G.: "Standardizing Clinical Pathways for Surgery Patients through ICT". Also available in
CEUR Workshop Proceedings 2013.
(PDF)
Paper 4: Christensen, B., Ellingsen, G.: "Evaluating Model-Driven Development for large-scale EHRs through the openEHR approach". Also available in
Int. J. Med. Inf. 2016, 89;43–54.
(PDF)
Dato
2017-11-11
Type
Doctoral thesis
Doktorgradsavhandling
Sammendrag
In this thesis, I discuss the socio-technical challenges in growing and information infrastructure for Health Care based on the openEHR specification, particularly focusing users' role and contribution. Conceptualizing the emerging EPR system as the growing of an Information Infrastructure, the different happenings and activities in the development project have been interpreted as infrastructuring work on the different aspects of an emerging infrastructure. The dual level modeling approach in openEHR poses a different role and different tasks for users contributing in the development of the new EPR system. I see this as a new user domain arising, and a new user role that has been named domain-expert. Given that decision and process support are governments' most prominent ambitions for the next generation EPR system, this work focuses how these features will affect work, as literature describe the effect on work as a potential challenge for adoption and use of such systems. Hence, attention has been to the inertia of the installed base, work practice and the users' efforts in describing and modelling work processes. I find that process and decision supportive features will affect multi-disciplinary work by the way workflow systems can "order" responsibility and sequential dependency of tasks. Moreover, there was a redistribution of tasks as a consequence of the formalization and the accountability mechanism. This research is based on a study that has been ongoing for 5 years, which has allowed us to expand the focus of research longitudinally and across different social settings and scales, addressing multiple moments and sites of innovation. Methodologically, the study adheres to interpretive research and makes use of semi-structured interviews, participatory observation and document studies as methods.
Beskrivelse
The papers 2, 3 and 5 of this thesis are not available in Munin.
Paper 2: Christensen, B., Silsand, L., Wynn, R., Ellingsen, G.: "The Biography of Participation". Available in
Proceedings of the 13th Participatory Design Conference: Short Papers, Industry Cases, Workshop Descriptions, Doctoral Consortium Papers, and Keynote Abstracts 2014, 2:71–74.
Paper 3: Christensen, B., Ellingsen, G.: "User-controlled Standardisation of Health Care Practices". Available in
ECIS 2014 Proc.
Paper 5: Christensen, B.: "Formalization and Accountability in Surgery Planning". Available in:
Proceedings of the 19th International Conference on Supporting Group Work 2016, p. 293–302.
Forlag
UiT The Arctic University of Norway
UiT Norges arktiske universitet
Følgende lisensfil er knyttet til denne innførselen: