Three Essays on Subjective Well-being and Preference-Weighted Health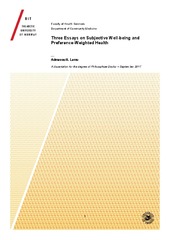 Åpne
Thesis (PDF)
Paper 1: Lamu, A. N., Gamst-Klaussen, T., Olsen, J. A. (2017). Preference weighting of health state values: What difference does it make, and why? Value Health 20(3), 451-457. Also available at
https://doi.org/10.1016/j.jval.2016.10.002
(PDF)
Paper 2: Lamu, A. N., Olsen, J. A. (2016). The relative importance of health, income and social relations for subjective well-being: An integrative analysis. Soc Sci Med. 152:176-85. Also available at
https://10.1016/j.socscimed.2016.01.046
(PDF)
Paper 3: Lamu, A. N., Olsen, J. A. (2017) Yes, health is important, but as much for its importance via social life: The direct and indirect effects of health on subjective well-being in chronically ill individuals. Health Economics. 1–14. Also available at
http://doi.org/10.1002/hec.3536
(PDF)
Dato
2018-01-25
Type
Doctoral thesis
Doktorgradsavhandling
Sammendrag
This thesis aims to: i) explore the importance of preference-weighting in health state utility (HSU) instruments and ii) examine the contribution of policy-relevant factors to subjective well-being (SWB). The analyses herein are based on an international sample of individuals aged 18 and above, and this thesis comprises three papers. Paper 1 examined the relative importance of preference-weighting in two contrasting instruments: the shortest, but most widely-used instrument, the EuroQol five dimensional questionnaire (EQ-5D), and the more comprehensive 15 dimensional questionnaire (15D). Based on the findings of Paper 1, the effect of both weighted and unweighted health-related quality of life (HRQoL) measures on SWB were investigated in two follow-up papers: Paper 2 looked into the relative importance of health, income, and social relationships for SWB; Paper 3 continued to examine the link between health and SWB, and the mediating role that income and social relationships play in this link.
The issue of preference-weighting was examined in Paper 1 in terms of construct validity and level of agreement between preference-weighted and unweighted values for each instrument. The results showed that the preference-weighted and unweighted values performed equally well in terms of both convergent and known-group validities. When the visual analogue scale (VAS) was applied, the correlation coefficients of both preference-weighed and unweighted values were quite large (above 0.60) for each instrument. This thesis showed that both weighted and unweighted measures of the EQ-5D and the 15D showed evidence of knowngroup validity to detect significant differences between known-group variables, such as standard of living and depression. Furthermore, the level of agreement between preferenceweighted and unweighted values was very high in both the EQ-5D and the 15D when the preference-weighted and unweighted values were given on the same scale. This indicates that the importance of preference-weighting is small, at least at the group level.
In Paper 2, the relative importance of health, income, and social relationships was analysed after controlling for socio-demographic variables, such as age, gender, marital status, education level, and employment status, as well as disease and country variables. Five alternative HRQoL measures were applied: four HSU instruments (EQ-5D, short-form six dimensional questionnaire [SF-6D], health utility index mark 3 [HUI3], 15D) and one direct measure of HRQoL (VAS). Depending on which HRQoL measure was applied, all of the aforementioned variables explained about 45-50% of variations in SWB. This implies that the remaining variation could be explained by other omitted variables, such as personality traits and genetic factors. The findings revealed that, in decreasing order of importance, social relationships, health, and income were significantly associated with SWB. The direct measure of HRQoL (VAS) had more influence on SWB than the indirect measures (HSU instruments). Social relationships accounted for nearly half of the total explained variation in SWB, while health accounted for at most one-third. Income accounted for only 7% of the variation, but it was positively significant. The results further revealed that the proportion of effects explained by these variables varied across levels of SWB distributions. The largest contributions were observed at the lower level of SWB.
Results from Paper 3 showed that health influences SWB directly and indirectly via income and social relationships. The effect via income, though significant, was weaker. When measure by the SF-6D, it appeared that more than 50% of the total effect of health was transmitted via social relationships. Thus, the novel finding is that health is important for SWB, but as much for its importance through social relationships.
Forlag
UiT The Arctic University of Norway
UiT Norges arktiske universitet
Følgende lisensfil er knyttet til denne innførselen: