Diagnostic tests for lung and heart diseases in primary care - from quality assurance to epidemiology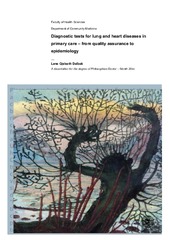 View/Open
Thesis introduction and appendices (PDF)
(PDF)
Date
2018-11-02
Type
Doctoral thesis
Doktorgradsavhandling
Abstract
The use of pulse oximetry and spirometry tests in general practice is increasing. Pulse oximetry is a non-invasive method for measuring oxygen saturation (SpO2). The pulse oximeter is a helpful tool in primary care because it is tolerable for the patient, easy to use and acceptable within the time constraints of a busy practice. Spirometry is used in both diagnosis and monitoring of respiratory diseases. The thesis is based on three studies of adult patients/participants. The first is a quality project at our own practice (Lillestrøm study), the second is a cross-sectional study in seven Norwegian general practices (DIOLUP study) and the third is a cross-sectional study based on the sixth (2007/2008) survey of the Tromsø study. In all three studies, spirometry was performed and in Studies II and III, oxygen saturation was measured by pulse oximetry. Low oxygen saturation was defined as SpO2 <=95%. In the Lillestrøm study, we described how GPs' diagnoses changed after new terms for reimbursement for inhaled corticosteroids were introduced in Norway in 2006. GPs' diagnostic practice changed in a way that made their diagnoses fit better with the treatment given. A clinical audit including spirometry was found to be useful for identifying overuse of inhaled corticosteroids. In the DIOLUP study, based on patients in a stable phase of asthma and/or COPD, patients with decreased oxygen saturation had an increased risk of severely reduced lung function and co-morbid coronary heart disease. This suggests that these patients in general practice should be followed up more closely than patients with normal oxygen saturation. In the sixth Tromsø study, the relationship between low pulse oximetry values and echocardiographic indicators of left ventricular filling was examined. Low oxygen saturation was independently associated with abnormal mitral Doppler flow as a measure of diastolic dysfunction. Diastolic dysfunction should be included as a possible explanation of low SpO2 values.
Has part(s)
Paper I: Dalbak, L.G., Rognstad, S., Melbye, H. & Straand, J. (2013). Changed terms for drug payment influenced GPs' diagnoses and prescribing practice for inhaled corticosteroids. European Journal of General Practice, 19(2), 106–110. Full text not available in Munin due to publisher restrictions. Published version available at https://doi.org/10.3109/13814788.2013.766713.
Paper II: Dalbak, L.G., Straand, J. & Melbye, H. (2015). Should pulse oximetry be included in GPs' assessment of patients with obstructive lung disease? Scandinavian Journal of Primary Health Care, 33(4), 305–310. Also available at http://hdl.handle.net/10037/14236.
Paper III: Dalbak, L.G., Schirmer, H., Straand, J., Mdala, I., Solberg, O.G. & Melbye, H. (2018). Impaired left ventricular filling is associated with decreased pulse oximetry values. Scandinavian Cardiovascular Journal, 52(4), 211-217. Full text not available in Munin due to publisher restrictions. Published version available at https://doi.org/10.1080/14017431.2018.1464662.
Publisher
UiT The Arctic University of Norway
UiT Norges arktiske universitet
Collections
Copyright 2018 The Author(s)
The following license file are associated with this item: