Norwegian General Practitioners Contribution and Participation in Emergency Medicine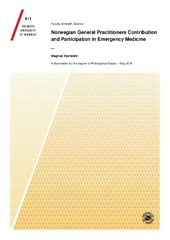 View/Open
Thesis introduction and appendices (PDF)
(PDF)
(PDF)
(PDF)
Entire thesis in one comprehensive file (PDF)
Date
2018-10-31
Type
Doctoral thesis
Doktorgradsavhandling
Abstract
Summary: The utility of using general practitioners (GPs) in pre-hospital emergency medicine is currently under debate. The aim of this thesis is to examine Norwegian GPs' contribution and participation in emergency medicine. As there is limited knowledge in this field, we started by conducting focus group interviews with the stakeholders. During the fall 2012 we interviewed emergency technicians (EMTs) at four, mainly rural, ambulance stations in Norway, and during the winter 2015 we interviewed GPs working at rural casualty clinics. The interviews were followed by an online survey sent to all regular GPs in Norway (n=4701), and 1002 GPs responded. The participants in our interviews and survey experienced that GPs play an important part in emergency medicine, and that GP participation improve the quality of the health care. They thought that the GPs were better at diagnosing and making clinical decisions concerning treatment and hospital admittance. Our findings indicate that the GPs participate in emergency medicine on multiple arenas, such as the GP office, in casualty clinics, by phone and on ambulance call-outs. The GPs have different knowledge and skills than the EMTs and the two professions complement each other during medical emergencies, according to the EMTs and GPs. They suggested interdisciplinary team training could improve this teamwork. In the survey, self-reported participation in emergency medicine was strongly associated with working at a casualty clinic that regularly conducted this kind of training. Participation was also associated with working at a casualty clinic without allied health professionals or other GPs in back-up. My studies indicate that the GPs play an important part in emergency medicine. Interdisciplinary team training may be important for their continued contribution. Future research should explore how the GP contribution in terms of diagnostic and decision-making skills may be related to patient outcomes.
Sammendrag: Nytten av å involvere allmennleger i prehospital akuttmedisin er for tiden under debatt. Hensikten med denne avhandlingen er å bidra med kunnskap om norske allmennlegens deltakelse og bidrag i akuttmedisin. Da det er begrenset med kunnskap i dette feltet valgte vi å starte med kvalitative studier i form av fokusgruppeintervjuer med aktørene. Høsten 2012 intervjuet vi ambulansearbeidere ved fire ambulansestasjoner, hvorav tre var i distrikt, og vinteren 2015 intervjuet vi allmennleger som jobbet på legevakter i distrikt. Intervjuene ble fulgt av et nettbasert spørreskjema til alle norske allmennleger (n=4701), hvorav 1002 leger svarte. Deltakerne i fokusgruppeintervjuene og spørreskjemaet opplevde at allmennlegen spiller en viktig rolle i akuttmedisin, og at legens deltakelse øker kvaliteten på helsetjenesten. De mente at allmennlegen var bedre til å diagnostisere og å fatte kliniske beslutninger om behandling og sykehusinnleggelse. Funnene våre indikerer at allmennlegene deltar på forskjellige arenaer, på legekontoret, på legevakt, over telefon og på uttrykning med ambulanse. Allmennlegen har annen kunnskap og andre ferdigheter enn ambulansearbeidere, og de to profesjonene komplementerer hverandre på akuttmedisinske oppdrag, ifølge informantene. De foreslår tverrfaglig team trening som en viktig måte å forbedre dette samarbeidet. I spørreundersøkelsen var selvrapportert deltakelse i akuttmedisin sterkt assosiert med å jobbe på en legevakt som regelmessig gjennomførte slik trening. Deltakelse var også assosiert med å jobbe på legevakter uten hjelpepersonell eller leger i bakvakt. Mine studier indikerer at allmennlegen har viktige oppgaver i akuttmedisin. Tverrfaglig teamtrening kan være viktig for fortsatt deltakelse. Det er behov for videre forskning på allmennlegens bidrag i form av diagnostikk og beslutningskompetanse og hva dette betyr for pasientene.
Has part(s)
Paper I: Hjortdahl, M., Zakariassen, E. & Wisborg, T. (2014). The role of general practitioners in the pre hospital setting, as experienced by emergency medicine technicians: a qualitative study. Scandinavian Journal of Trauma, Resuscitation and Emergency Medicine, 22(47). Also available at http://hdl.handle.net/10037/7301.
Paper II: Hjortdahl, M., Halvorsen, P. & Risør, M.B. (2016). Rural GPs' attitudes toward participating in emergency medicine: a qualitative study. Scandinavian Journal of Primary Health Care, 34(4), 377-384. Also available at http://hdl.handle.net/10037/10244.
Paper III: Hjortdahl, M., Zakariassen, E. & Halvorsen, P.A. (2018). Self reported involvement in emergency medicine among GPs in Norway. Scandinavian Journal of Primary Health Care, 36(2), 161-169. Also available at http://hdl.handle.net/10037/13977.
Publisher
UiT The Arctic University of Norway
UiT Norges arktiske universitet
Series
ISM skriftserie; 195
Copyright 2018 The Author(s)
The following license file are associated with this item: