Arkeologens stereotypier. Hvordan arkeologer blir framstilt i norsk media.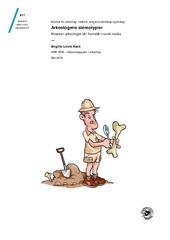 View/Open
(PDF)
(Microsoft Excel 2007)
Date
2019-05-15
Type
Master thesis
Mastergradsoppgave
Abstract
Denne oppgaven handler om hvordan arkeologer blir framstilt i norsk media. Gjennom aviser kan man få et inntrykk av hvilke forventninger og holdninger folk flest vil møte arkeologer med, og hva folk mener arkeologi handler om og hvordan arkeologer jobber. Et stereotypisk bilde av en fiksjonell arkeolog vil være det vi ser på film, Indiana Jones, Lara Croft, og britiske imperialister som forsyner seg av gullskatter i Egypt. Dette er ikke et realistisk bilde, og temaet til denne studien ble å finne den realistiske stereotypen av den norske arkeologen. Blir han/hun framstilt på en måte som arkeologer kjenner seg igjen i? Eller er det bildet som forekommer i media mangelfullt eller overdrevent? For å finne ut dette, ble omkring tusen artikler med tema om arkeologi fra fem ulike aviser gjennomgått og kategorisert. Det ble sett på blant annet hvordan arkeologen ble beskrevet gjennom tekst, hvordan de så ut på bildene, og hvordan de skrev selv i avisene. Andre tema som identifiserte hva arkeologer jobber med var hvilke perioder som avisene likte å fokusere på, hvilke arbeidsmetoder arkeologene benytter, og hvordan arkeologiske funn blir presentert i avisene. This Master thesis is about how archaeologists are stereotypically portrayed in Norwegian news reporting media. The aim was not to look for an Indiana Jones figure, but to see how people percieve the archaeologists; what an archaeologist is, what he/she does for a living, how they work and what they look like. Articles from five newspapers were read and analysed to find out how the Norwegian archaeologist is depicted.
Publisher
UiT Norges arktiske universitet
UiT The Arctic University of Norway
Collections
Copyright 2019 The Author(s)
The following license file are associated with this item: