Neural Attractors and Phonological Grammar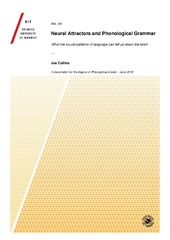 View/Open
Thesis introduction (PDF)
Entire thesis in one comprehensive file (PDF)
File(s) with restricted access are under embargo until
2021-10-18
Date
2019-10-18
Type
Doctoral thesis
Doktorgradsavhandling
Abstract
This volume collects three articles which constitute the bulk of my PhD research. The overarching theme of the volume is the role of attractors - a concept from dynamical systems theory – in the neural realization of phonological grammar.
The motivation for this line of inquiry begins with the claim that the study of language should provide some insight into the workings of the human mind/brain. Indeed this is one of few mantras shared by linguists of the seemingly irreconcilable "Generative" and "Cognitive" schools (e.g. Chomsky 2002; Lakoff 1988). Given this apparent consensus then, it is perhaps surprising that no breakthrough in our understanding of the brain can yet be attributed to some insight from the study of language.
An analysis and critique of this state of affairs is given by Poeppel & Embick (2005), who identify (amongst other things) that we currently have no way of relating the ontologies of linguistics and neuroscience. This Ontological Incommensurability Problem (OIP) can be resolved, they argue, by the use of a Linking Hypothesis, which spells out linguistic computations at the relevant level of algorithmic abstraction, such that the neuroscientist need only find the exact implementations of those algorithms in the brain. If such a hypothesis were sufficiently complete then it could, in principle, predict the kinds of neural configurations required for natural language processing, using linguistic theories as their starting point. In this way, we could finally realize the long sought-after goal of cashing in theories of language for understanding of the human brain. Simultaneously, a Linking Hypothesis also has the potential to unearth lower-level explanations for linguistic phenomena, for example where those explanations might depend on purely neurobiological notions (e.g. neuronal morphology, synaptic density, metabolic efficiency, etc.).
Has part(s)
Paper 1: Collins, J. The phonological latching network. (Manuscript).
Paper 2: Collins, J. Digital Grammar and Analogue Brains: A Defence of Formal Linguistics. (Manuscript).
Paper 3: Kaya, Z., Collins, J. & Treves, A. On the Language Specificity of Vowel Maps. (Manuscript).
Publisher
UiT Norges arktiske universitet
UiT The Arctic University of Norway
The following license file are associated with this item: