"Crafting Our Future Together": Urban Diasporic Indigeneity from an Ainu Perspective in Japan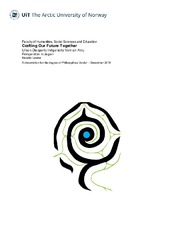 View/Open
Thesis introduction, papers 1 and 3 (PDF)
(PDF)
Date
2020-02-21
Type
Doctoral thesis
Doktorgradsavhandling
Abstract
This dissertation discusses living experiences and stories of urban Ainu youth, Indigenous people of Japan in the twenty-first century. I have weaved my own experiences as a Tokyo Ainu into the discussion in order to illustrate forms of Ainu cultural revitalization in cities. In the thesis, I ask: What attributes in cities facilitate the process of Ainu cultural revitalization? The dissertation investigates Ainu living experiences in the cities of Tokyo and Sapporo by introducing the concept of urban diasporic Indigeneity as an analytical tool to conceptualize contemporary Ainu lifestyles in cities. The dissertation is based on three publications. Firstly, I set out to investigate how Ainu culture comes into life in Tokyo with a focus on the Ainu restaurant Rera Cise (House of Wind). This is done through various cultural practices of food culture, dance, and most importantly, sharing experiences. The dissertation later expands the discussion of Ainu cultural revitalization in cities to social encounters between Ainu and Wajin (Wajin refers to people of non-Ainu ethnicity) youth, with the case study of Sapporo University Urespa club. I argue that Urespa is a social venture that transforms individual and collective values of Ainu people and Ainu culture into more positive experiences. Lastly, the dissertation discusses the bonding of Ainu and Wajin youth together through Ainu cultural practices within Urespa. The main findings of the dissertation are (1) Ainu cultural revitalization goes beyond the boundary between the Ainu and Wajin relations, and (2) geographical locations do not limit the possibilities for Ainu cultural revitalization. Findings in my research indicate that Ainu culture is still alive, and continues to be carried forward with new inspiration and vision for the future.
Has part(s)
Paper 1: Uzawa, K. (2018). Everyday Acts of Resurgence and Diasporic Indigeneity among the Ainu of Tokyo. In G. Roche, H. Maruyama & Å.V. Kroik (Eds), Indigenous Efflorescence: Beyond Revitalisation in Sapmi and Ainu Mosir. Canberra: ANU Press, Australian National University. Also available at https://doi.org/10.22459/IE.2018.20.
Paper 2: Uzawa K. & Watson, M.K. Urespa ("growing together"): the remaking of Ainu-Wajin relations in Japan through an innovative social venture. (Accepted manuscript). Available in the file "thesis_entire.pdf" and in Munin at https://hdl.handle.net/10037/17203. Published in Asian Anthropology, 2020, available at https://doi.org/10.1080/1683478X.2019.1699599.
Paper 3: Uzawa, K. (2019). What does Ainu cultural revitalisation mean to Ainu and Wajin youth in the 21st century? Case study of Urespa as a place to learn Ainu culture in the city of Sapporo, Japan. AlterNative: An International Journal of Indigenous Peoples, 15(2), 168–179. Also available at https://doi.org/10.1177/1177180119846665.
Publisher
UiT Norges arktiske universitet
UiT The Arctic University of Norway
Collections
Copyright 2020 The Author(s)
The following license file are associated with this item:
Related items
Showing items related by title, author, creator and subject.
Kagumba, Andrew Kalyowa

(

Master thesis; Mastergradsoppgave

,

2013-05-20

)

This thesis focuses on the Batwa peoples of Mgahinga area, located in Kisoro District, South-western Uganda. Once inhabitants of the rain forests in South-western Uganda, the Batwa's livelihood was abruptly distracted in 1991 when the Government of Uganda forcefully them from their ancestral lands for the establishment of Mgahinga Gorilla National Park. This forced eviction of the Batwa communities ...

Kavanagh, Jean

(

Master thesis; Mastergradsoppgave

,

2018-05-13

)

The topic of this thesis is the representation and articulation of the concept of place within Indigenous literature. A comparative analysis, exploring different Indigenous worldviews, can lend an insight into the relationship of Indigenous peoples to their land, while retaining specific and distinct aspects of the localized experience. The very definition of Indigenous peoples is tied to an association ...

Rosendahl, Sally

(

Master thesis; Mastergradsoppgave

,

2013-05-13

)

This thesis investigates in which ways learning 'traditional' knowledge such as seal hunting is a strengthening factor for the awareness of being Greenlandic today. It looks at knowledge transfer between one generation and the next as well as the role of knowledge transfer in the education system. Finally, the tension or interplay between possessing traditional knowledge and living as a modern people ...