Mass Protests from a Spatial Perspective: Discontent and Urban Public Space in Kyiv, Minsk, and Moscow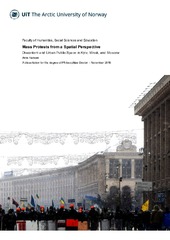 View/Open
Thesis introduction, Paper 1 & 2 (PDF)
Entire thesis in one comprehensive file (PDF)
Date
2020-03-17
Type
Doctoral thesis
Doktorgradsavhandling
Abstract
Mass protests have been an important part of the political environment in Eastern Europe for more than a century. Since the Russian revolutions of 1905 and 1917, people have turned to urban spaces to make their opinions heard and to demand change, with varying degrees of success. This was most notably the case during the 1960s; and from the beginning of the end of the Soviet Union in the late 1980s, through a wave of what are commonly referred to as colour revolutions in the 2000s, to the Ukrainian Euromaidan revolution of 2013–2014. Contention in urban spaces continues to affect politics in the region. How are such mass protests affected by the urban public space in which they occur? Based on a contextualisation of protest space and a review of the academic literature on protests and urban space, this article-based thesis identifies a gap in the literature and then goes on to describe the development of a theoretical model to analyse city spaces, based on the use of theories from political science, urban planning, and sociology. The approach consists of a mapping of the causal mechanisms between spatial elements, the political environment, and their combined effect on protests. This mapping is applied to three case studies—a prestudy of Kyiv, a transitional study of Minsk and the main test-study of Moscow—written for three different academic journals at three different periods in the study's development. In addition to the spatial perspective model, this thesis provides new insights as to how the interactions in space occur, and demonstrates how geography can create limitations and opportunities in a large variety of ways. It also contributes a language and a typology for use in the studies of opposition movements and collective actions.
Has part(s)
Paper 1: Hansen, A. (2016). Majdan Nezalezjnosti: symbolikk og funksjon. Nordisk Østforum, 30(2). Also available in Munin at https://hdl.handle.net/10037/17561.
Paper 2: Hansen, A. (2017). Public space in the Soviet city: A spatial perspective on mass protests in Minsk. Nordlit, 39, 33-57. Also available in Munin at https://hdl.handle.net/10037/11688.
Paper 3: Hansen, A. (2019). A Spatial Perspective on Mass Protests: Moscow's Swamp Square and the March of Millions. (Submitted manuscript). Available in the file "thesis_entire.pdf".
Publisher
UiT Norges arktiske universitet
UiT The Arctic University of Norway
Collections
Copyright 2020 The Author(s)
The following license file are associated with this item: